Josh Hamilton joins Twitter
After seeing people post as him on Twitter, the Rangers' Josh Hamilton has opened his own Twitter account (@thejoshhamilton).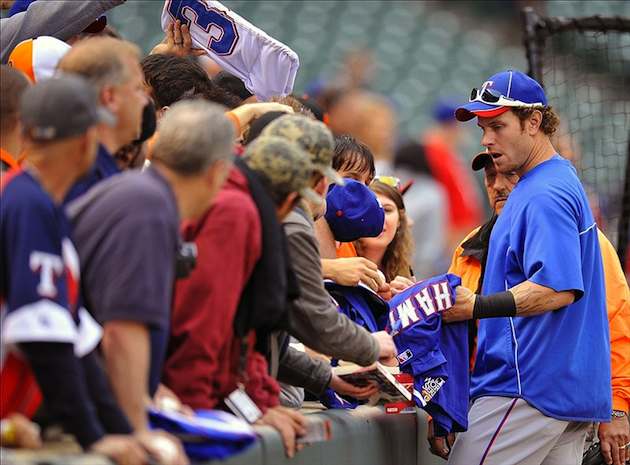 There are people out there, apparently, who get off on pretending be famous people on Twitter. I don't get it either.
Apparently one person tricked 12,000 people into believing they were
Josh Hamilton
, so Hamilton went on the offensive and opened his own Twitter account -- @thejoshhamilton.
Ok everyone- This IS my real account. Working on verification. Will tweet more once that's taken care of. @RangerBlake is working on it!

— Josh Hamilton (@thejoshhamilton) May 15, 2012
Just more than 24 hours after that tweet, Hamilton's account has been verified and he has more than 52,000 followers -- and nine tweets.
"I had to do it, man," Hamilton
told the Fort Worth Star-Telegram
. "When somebody's got 12,000 followers and are acting like they're me... it's terrible.
"I guess it would be good to have an official deal so fans can know it's actually a note from me or a response from me. I'm just sick of having to take people off of Twitter that are acting like me who aren't me. It's not right for the fans."
Hamilton also said much of the work would fall to his agent (or more likely one of his agent's lackeys).

The power-hitting outfielder is headed to Toronto

Martinez could add some power to a Boston lineup void of it

It's almost that time of the year again, time for the Tebow madness to return
Walker was a tremendous all-around player, but Coors Field undoubtedly inflated his career...

A beardless Wilson says that he tried to outrun the police on the second day he had his driver's...

The Diamondbacks outfielder was not impaired, he was just going way too fast