Josh Hamilton out of lineup, hints at cause of struggles
Rangers manager Ron Washington opted to give struggling outfielder Josh Hamilton a night off on Saturday. As for Hamilton, he hinted at something underlying those struggles.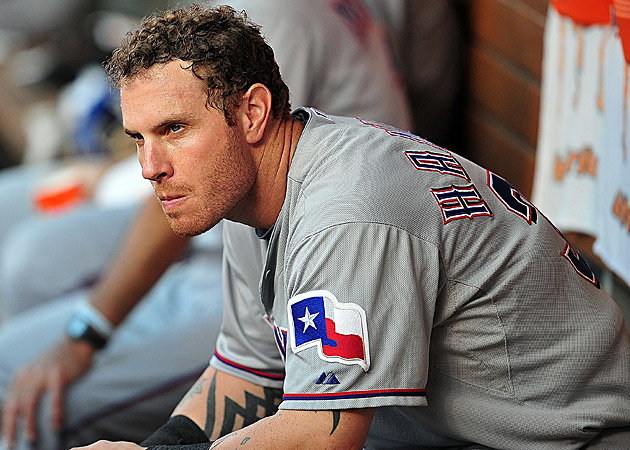 What's wrong with Josh Hamilton? He's not saying ... yet. (Getty Images)
It's been a rough stretch for Rangers star Josh Hamilton. He's struggled badly in July (.145/.215/.290 for the month), Nolan Ryan has criticized his approach, fans are booing him, and now manager Ron Washington is giving him an unsolicited night off.
For his part, Hamilton is doing his best to remain centered. "It is what it is, man," Hamilton told Richard Durrett of ESPN Dallas. "I've been through worse things. I play games for a living. Whatever the president of the team is saying, it's not going to hurt my feelings. Fans booing me, I'm not going to lose any sleep over. Not being in the lineup -- it sucks. I want to be in there every day and help my team win, but when you're struggling or going through tough times, people try to figure out how to help."
In that same interview, though, Hamilton said something rather cryptic regarding his recent difficulties on the field: "The frustrating part is dealing with (the media) and not being able to share everything with you guys," Hamilton said. "When the time is right, you guys will be right in the loop."
Given Hamilton's injury history, it's not exactly a great leap to assume he's got some kind of underlying physical problem. If nothing else, his comments suggest the rest of the story will soon be told.
For more baseball news, rumors and analysis, follow @EyeOnBaseball on Twitter, subscribe to the RSS feed and "like" us on Facebook.