Judge deals blow to A-Rod's planned lawsuit
Alex Rodriguez's camp hoped to look to the courts to overturn the arbitrator's recent decision to suspend him for all of 2014, but things are not looking good on that front.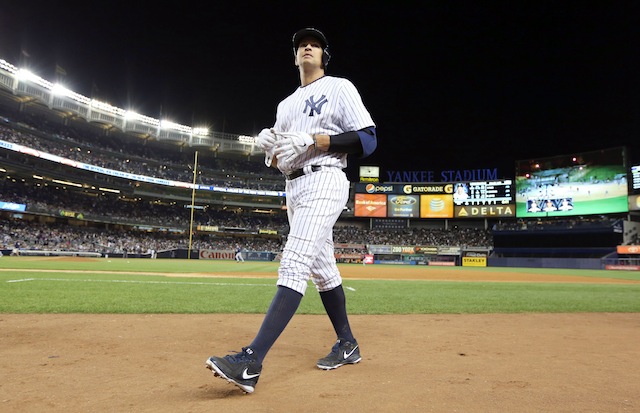 MORE: Shannon Sharpe talks A-Rod
Arbitrator Frederic Horowitz recently ruled that Yankees third baseman Alex Rodriguez, because of his alleged role in the Biogenesis scandal, would be suspended for the entirety of the 2014 season. Not long before Horowitz's decision came down, it was reported that A-Rod's camp planned to fight any unfavorable outcome in federal court. Regarding their efforts to advance that struggle, there's this AP dispatch: 
A federal judge said Monday that Alex Rodriguez cannot file portions of arbitrator Fredric Horowitz's decision under seal as part of a lawsuit seeking to overturn the one-year suspension from baseball given to the New York Yankees third baseman.

U.S. District Judge William H. Pauley III denied a request by Rodriguez's lawyers that was supported by the Major League Baseball Players Association. It came a day after the founder of a now-closed Florida anti-aging clinic said during a "60 Minutes'' interview he administered an elaborate doping program for the 14-time All-Star starting in 2010.
In essence, A-Rod's stable wanted to file Horowitz's ruling while at the same time keeping it out of the public eye. The judge said no to that request. Specifically, Judge Pauley and his tailored robes said there was no evidence of the "bad faith" necessary to override the interests of the public. MLB's attorney said the league, in contrast, was no seeking to seal any portions of Horowtiz's documents. A-Rod and the MLBPA supported redacting "any portions of the arbitrator's ruling that touched on subjects required to remain confidential under baseball's collective bargaining agreement."
Although I have indeed told lies while wearing an ill-fitting men's suit, I am not otherwise an attorney. However, I still feel sanctioned in positing that this is a serious blow to A-Rod's hopes to fight the ruling in court. 
Developing, ad infinitum.