July 12 Prospect Watch: Futures Game prospects who could reach MLB in '14
In this week's Prospect Watch, we look at six players who could play in both Sunday's Future Game as well as MLB later in the season.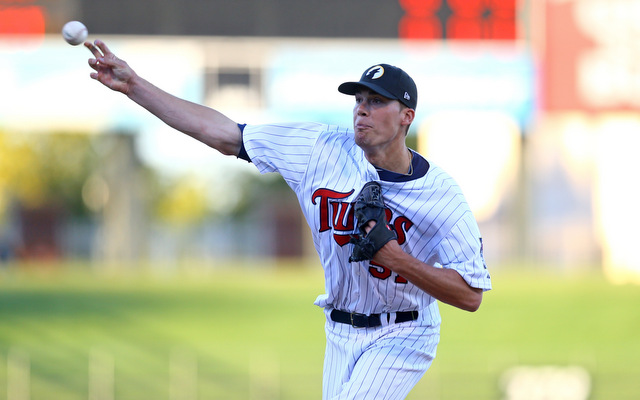 More Futures Game: USA and World Team rosters | Six prospects to watch
The 2014 Futures Game will be played this Sunday (as in tomorrow) at Target Field. Most of baseball's best prospects will be featured in the showcase game and more than a few will make their major league debuts sometime in the second half. Just last season Xander Bogaerts, Yordano Ventura, Billy Hamilton, Kolten Wong and Taijuan Walker went from Futures Gamer to big leaguer in a matter of weeks.
Here are six players -- three position players, three pitchers -- who will play in tomorrow's Futures Game and have a chance to reach MLB later this season. Several 2014 Futures Game prospects have already been called up since the rosters were released (Mookie Betts, Marco Gonzales, and Christian Bethancourt, most notably).
THREE POSITION PLAYERS
OF Dariel Alvarez, Orioles: The O's signed Alvarez for $800,000 last summer even though there were questions about the 25-year-old Cuban outfielder's bat. He has hit .315/.339/.502 with 24 doubles and 18 home runs in 113 total games since signing, however, making up for his "you don't walk off the island" plate indiscipline with hard to find right-handed power. Alvarez is smashing the Double-A level now and will be an option to supplement Baltimore's already powerful offense in September, after a few weeks in Triple-A.
3B Maikel Franco, Phillies: Statistically, this has been a poor year for the 21-year-old Franco. He has hit .230/.285/.364 with 22 doubles and six home runs in 87 Triple-A games, though he is more than six (!) years younger than the average International League player according to Baseball Reference. Franco hit .320/.356/.569 with 36 doubles and 31 homers a year ago and he's been splitting his time between first and third bases this year. The Phillies seem to be inching closer and closer to a firesale, and there are rumors Franco would get the call in the second half to man the hot corner as the team shifts focus to the future.
C Kevin Plawecki, Mets: Travis d'Arnaud has hit well since being recalled from Triple-A Las Vegas (.276 with three homers in 15 games), but Plawecki will soon push him as the team's catcher of the future. The 23-year-old is hitting .308/.367/.474 with 20 doubles and eight home runs in 72 total games this year. He was recently promoted to Triple-A -- basically right as d'Arnaud was called back up -- after starting the season in Double-A. Plawecki is also a standout defender and just a rock solid all-around backstop. The only thing working against him is his own meteoric rise -- he was a 2012 first round pick and does not need to be added to the 40-man roster until after next season. The team may not want to push d'Arnaud just yet.
THREE PITCHERS
LHP Edwin Escobar, Giants: Escobar, 22, has an unsightly 5.06 ERA in 19 starts and 105 innings with San Francisco's Triple-A affiliate, though he is nearly five full years younger than the average Pacific Coast League player according to Baseball Reference. Plus his strikeout (8.0 K/9 and 19.7 percent of batters face) and walk (2.9 BB/9 and 7.2 percent of batters faced) rates are fine. With fellow top Giants pitching prospects Kyle Crick, Robert Stratton and Adalberto Mejia all having down years for one reason or another, Escobar figures to be the club's first in house rotation option since he is closest to MLB.
RHP Alex Meyer, Twins: Meyer was added to the Team USA roster late as an injury replacement for teammate Trevor May. I thought he was going to be selected to original roster as a hometown Twins farmhand, but he's on the roster now and that's what matters. Better late than never. The 24-year-old came over from the Nationals in the Denard Span trade and has a 3.43 ERA with 103 strikeouts in 18 starts and 89 1/3 Triple-A innings this year, and Minnesota's rotation is the land of opportunity right now. No one aside from Phil Hughes is locked into their spot. Of every player on the Futures Game rosters, I think Meyer is the safest bet to make his MLB debut in the second half.
LHP Daniel Norris, Blue Jays: The Blue Jays are in the thick of the AL East race and there has been talk the team may call up both Norris and top prospect Aaron Sanchez to work out of the bullpen in the second half. Norris, 21, has curbed his control problems and owns a 1.84 ERA with a 101/26 K/BB in 17 starts and 83 1/3 innings split between High Class-A and Double-A this summer. (Only four starts in Double-A so far.) He's got a big arm from the left side and his strikeout heavy ways could be a huge boost down the stretch. The only question is whether Toronto is willing to take the plunge and ask him to help a team in a postseason race with no Triple-A experience.