Jumbo-sized difference between playoff A's in '12 and '13: Colon
Unlikely as it is, 40-year-old Bartolo Colon has been the ace of a very talented young staff of Athletics pitchers all summer. Now, as Oakland prepares for a second consecutive AL Division Series with Detroit, can Colon help the Athletics change the outcome? ...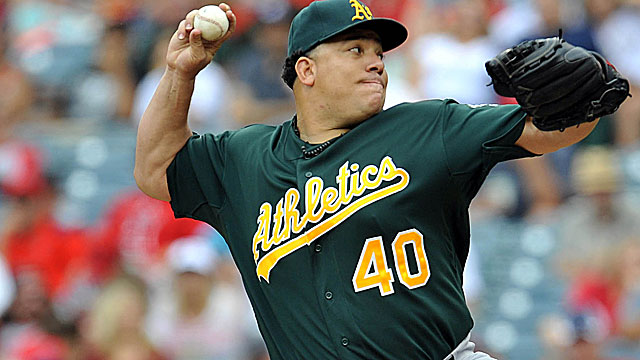 Look at Bartolo Colon go … and go … and go.
Look at him sitting there on the shelf next to Jack Quinn. You remember Jack Quinn, won 18 games for the Philadelphia A's in 1928 at the doddering old age of 40? When Colon won his 18th last Friday in Seattle, he equaled Quinn's Athletics franchise record for most victories by a 40-year-old.
Now, if he can beat Max Scherzer and the Tigers in Game 1 of the AL Division Series, Colon can go where Quinn never did. Quinn, at 45 and 46, failed to win a postseason game during two appearances in the 1929 and 1930 World Series.
You might even call Friday night's battle a cliché-riddled match between Cy Young and Cy Old, with Scherzer the heavy favorite to win this year's AL award and Colon, then with the Angels, the winner back in 2005.
That was many years, several dozen starts and, yes, one 50-game suspension ago.
When Colon sat out the 2010 season following four injury-filled summers, it appeared as if we had seen the last of him. Then he came roaring back with the '11 Yankees, his doctor saying his miracle cure was due to an injection of stem cells into his shoulder and elbow to repair ligament and rotator-cuff damage. MLB investigated and signed off on the procedure.
This Fountain of Youth was interrupted last summer when Colon – who had gone 10-9 with a 3.43 ERA in 24 starts -- tested positive for testosterone and was sidelined for the last third of the season (including the playoffs).
Nevertheless, the A's re-signed him to a one-year, $3 million deal for 2013, and here he is again.
"It's been so much fun every five days watching him take the ball," A's reliever Sean Doolittle says. "He's been our ace. He goes deep into ballgames, eats up innings. When we're not playing great, he's the guy who comes in and gets us back on track."
The importance of Game 1 Friday night, and Colon's task, cannot be overstated. Statistically, the Tigers (3.44 ERA ) and Athletics (3.72) have the best two rotations in the AL. In most postseason series, the best pitching usually wins – and that looks especially true for the Tigers-A's.
Detroit comes into Oakland badly wanting, at the very minimum, at least a split of the first two games. Much as the O.co Coliseum crowd gets ripped during the season for all of the empty seats, come playoff time it is as loud and raucous an atmosphere as there is in the game.
Colon will kick things off after producing his best season since that '05 Cy Young award: 18-6, 2.65 ERA. He finished second in ERA to the Tigers' Anibal Sanchez (2.57) and second in wins to Scherzer (21). His 1.166 WHIP is his best since '05 (1.159).
And yes, there is plenty of mystery and intrigue as to how he's pitching younger and younger.
But for the skeptics, there is one chief answer: MLB's PED-testing program is in full force, and nothing positive turned up on Colon in 2013.
So. Are you buying it?
Even A's manager Bob Melvin, to the question of whether it is a surprise that Colon has come back so strong at 40 and after missing a large chunk of lat season, gives a "yes and no" response.
"Yes, because of his age," Melvin says. "But no because of what we've seen him do for us. He's been really consistent."
Only fine-tuning Colon needed was a rest on the disabled list following a couple of rough starts in early August. Since that breather – he was reinstated from the DL Aug. 29 -- he's gone 4-1 with a 2.25 ERA in six starts.
Overall, Oakland is 21-9 in Colon's 30 starts this season. And talk about anchoring a young rotation: Jarrod Parker (24), Dan Straily (24), A.J. Griffin (25), Sonny Gray (23), Tommy Milone (26) … Colon has been a rock in this garden of thriving pitching.
Especially now that Colon will lead the A's into the postseason, instead of watching from the suspended list like last year.
"It's big," Melvin says. "Last year, it was a blow to lose a guy like that.
"He's a veteran guy who leads the rotation. To not only have him, but to have him pitching well … he takes the pressure off of a lot of guys. He can lead and they can just follow behind as he does his thing."
Colon is unconventional in that he does not throw a bullpen session between starts. Instead, he just throws from flat ground to prepare for his next game. That's part of his secret to staying fresh. So, too, is an economy of pitches: His most potent weapon is strike one. He doesn't fool around, going right after hitters with impeccable command of his fastball.
"I think that's good for the younger guys to see," Melvin says. "He's a prime example of how to do that."
The young guys enjoy having the old man around, and not only because of his results. There is a wisdom in Colon's approach that isn't easily duplicated, but it sure rubs off on teammates.
"He has so much fun playing the game," Doolittle says. "The way he interacts with guys. He'll be smiling on the mound, flipping the ball to himself between pitches."
He has special, elaborate handshake routines with some teammates, and a smile for all.
"I think it gets easier to enjoy yourself the longer you're in the game, right?" says shortstop Jed Lowrie, 29, and a six-year veteran who emerged as an everyday player for the first time in his career with these A's. "You have security, history to back it up, success you can fall back on. …"
Colon never did formally apologize for last year's suspension, several teammates say. But they don't exactly sound like something's missing.
"I don't think anybody expected him to, or felt he had to," Doolittle says. "His comments last year, you could tell he was really sorry.
"Rather than make a fuss over it, he took it as a man and came back. And it's been really good to have him for a full season."
Last time the A's had a starter finish the season with an ERA of 2.65 or lower, it was Dave Stewart in 1990 (2.56).
Maybe it's not a coincidence that that's the last time they played in a World Series, too.
Neither Josh Donaldson nor Brian Dozier have talked about a new contract extension

Francisco leads the Dominican Winter League with seven home runs

Thome deserves enshrinement and here's why the case against him does not hold up
The Twins have already fortified the bullpen with Addison Reed, and now they want to address...

The Orioles likely want pitching, and the Indians have plenty of it

Halladay died in a November plane crash off the coast of Florida