June 21 Prospect Watch: Schwarber's pro career off to unreal start
Fourth overall pick Kyle Schwarber's incredible start to his career headlines this week's Prospect Watch.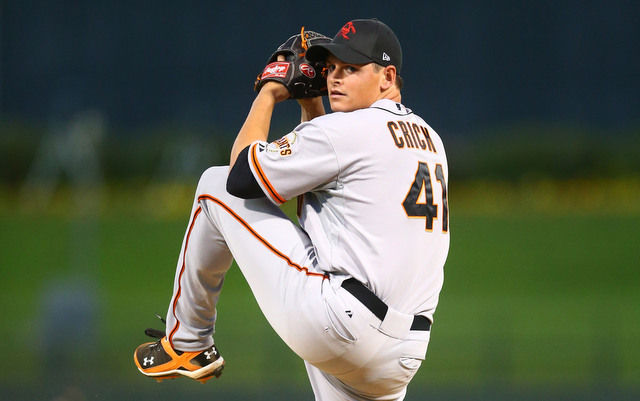 More MLB: Power Rankings | Expert Picks | Latest news & notes | Fantasy news
In this week's edition of the Prospect Watch, we highlight one 2014 draftee off to an incredible start and one big money international free agent signee who is not living up to expectations.
THREE UP
SS Tim Anderson, White Sox: When the ChiSox drafted the 20-year-old Anderson with the 17th overall pick in last summer's draft, everyone knew he was toolsy but raw. There figured to be some developmental bumps in the road as he turned those tools into baseball skills, but instead he is hitting .303/.332/.480 with 16 doubles, seven triples, five home runs and 10 stolen bases in his first 61 High Class-A games. Anderson's power has played better than expected and his defense at short has made huge strides. The only concern is that he's a total hacker (61/7 K/BB), but otherwise Anderson appears to be more advanced than initially believed.
OF Domingo Santana, Astros: Santana, as you may remember, was accidentally traded by the Phillies for Hunter Pence. Something like that could only happen to the Phillies. Anyway, the 21-year-old Santana has since emerged as one of the top prospects in a loaded Astros system. He is hitting .298/.379/.488 with 11 home runs in 75 Triple-A games this season, including .319/.409/.513 with five homers over the last calendar month. Santana has big power from the right side as well as the speed and athleticism to handle center field. It won't be long -- only a matter off weeks, likely -- before he joins George Springer and Dexter Fowler in the Houston outfield.
C/OF Kyle Schwarber, Cubs: The Cubs were in an unfortunate spot during the draft a few weeks ago. They held the fourth overall pick in a draft with three elite talents. Those three top prospects came off the board with the first three picks, essentially forcing the Cubs to call an audible and select the 21-year-old Schwarber, who was considered a first rounder but not top-five material. They signed him to a below-slot bonus and used the savings to sign other high-end talents in the later rounds. Schwarber, however, has already exceeded expectations, hitting .577/.613/1.308 with five home runs and only two strikeouts in his first week as a professional. He's already been promoted a level. The question about Schwarber has always been about his ability to remain behind the plate, but he is showing there are zero doubts about his bat. He can rake.
THREE DOWN
OF Jairo Beras, Rangers: Beras, 18, received a controversial $4.5 million bonus two years ago. He lied about his age and MLB suspended him for a year, which is rather common with Latin American prospects, unfortunately. Beras was supposed to be held to the new spending restrictions when his suspension was over ($2.9 million per team in 2012), but MLB ruled that his previous contract agreement was still valid, giving him that $4.5 million. That was unusual. Regardless of bonus, Beras has not hit at all since signing, putting up a .209/.273/.262 batting line with a 36.1 percent strikeout rate in 55 Low Class-A games in 2014. He's been completely overmatched.
RHP Kyle Crick, Giants: The Giants know a thing or two about pitching, and coming into the season the 21-year-old Crick was the team's top prospect. He had a 2.15 ERA in 180 Single-A innings from 2012-13 despite control problems (5.3 BB/9), though this year Crick is walking more batters (6.1 BB/9). His last start on Thursday is a microcosm of his season: 4.2 IP, 4 H, 2 R, 2 ER, 4 BB, 7 K. Too many walks and a boatload of strikeouts. Crick has lively stuff but he has yet to learn how to harness it.
RHP Ryne Stanek, Rays: Stanek showed elite power stuff during his three years at Arkansas, but an up-and-down junior season and concerns about his mechanics caused him to slide to Tampa Bay and the 29th overall pick in the 2013 draft. The 22-year-old had hip surgery shortly after turning pro and did not return to the mound until early May. Stanek's overall pitching line isn't terrible (3.53 ERA, 7.3 K/9, 2.8 BB/9), but his stuff has not been crisp and he's been far too hittable (9.3 H/9) for a top college pitcher in Low Class-A. Stanek was a high risk, high reward prospect at the time of the draft and his pro career has not gotten off to the best of starts.
The ballparks in Cincinnati, San Diego and Seattle will have expanded netting in place by Opening...

Thursday brings us plenty of stretch-drive MLB action, so keep it right here

Mondesi spent six years as the mayor of San Cristobal in the Dominican Republic after reti...
The veteran skipper has been Mets manager since the start of the 2011 season

The Baltimore third baseman is eligible for free agency following the 2018 season

The clubs breaks ground on Globe Life Field next week