June 28 Prospect Watch: Six Futures Game prospects to watch
Now that the the Futures Game rosters have been released, here are three pitchers and three position players to watch in Minnesota next month.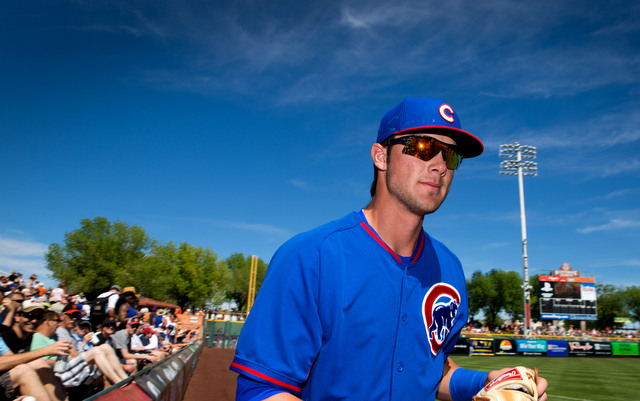 More MLB: Power Rankings | Expert Picks | Latest news & notes | Fantasy news
Earlier this week, Major League Baseball released the rosters for the 2014 Futures Game, which officially kicks off the All-Star break on Sunday, July 13. The game features the very best minor league prospects in the game -- 22 players from last year's Futures Game have since gone on to play in MLB -- including 21 former first round draft picks. The USA Team has won the last four Futures Games and leads the all-time series 9-6.
Rather than the usual Three Up/Three Down format, this week's Prospect Watch will focus on players I am personally looking forward to seeing in Target Field at the Futures Game next month. The game is just a quick little look -- pitchers only throw one inning (at most), position players get maybe two at-bats -- but it is a fun glimpse into the future. There's nowhere else to see so many future All-Stars in one place -- a total of 115 players have played in both a Futures Game and an All-Star Game over the years.
THREE POSITION PLAYERS TO WATCH
3B Kris Bryant, Cubs: Bryant, 22, was the second overall pick in the 2013 draft, and he currently ranks second in the minors with 27 home runs. The Cubbies started him at Double-A and have already bumped him up to Triple-A. Bryant is hitting .349/.451/.719 overall with 23 doubles to go along with all those homers, and he's swatted 36 home runs in only 113 pro games. He is the best right-handed power hitting prospect in the minors and arguably the best power hitting prospect overall. In an age when pop is getting harder and harder to find, Bryant could be a 30+ homer bat for Chicago as soon as next season.
3B Joey Gallo, Rangers: The 20-year-old Gallo leads the minors with 28 home runs and is hitting .306/.439/.714 overall between High Class-A and Double-A so far this season. He was drafted (39th overall in 2012) as an all-power prospect who needed to refine the rest of his game, and by all accounts he has made some serious adjustments this year. Gallo has already set a career high with 60 walks this season, and he cut his strikeout rate from 36.8 percent of his plate appearances last year to 29.6 percent this year. That is still pretty high, but he is trending in the right direction. Gallo, a lefty hitter, might be the third base version of Adam Dunn when it's all said and done. There must be something in water in Las Vegas, because between Gallo, Bryant and Bryce Harper, Sin City has produced three 80-power (on the 20-80 scouting scale) prospects in recent years.
SS Francisco Lindor, Indians: Lindor, 20, might be my favorite prospect in the minors, so this is a homer pick on my part. The eighth overall pick in the 2011 draft is hitting .283/.362/.409 with nine doubles, six home runs and 19 stolen bases in 72 Double-A games this season despite being 4.7 years younger than the average Eastern League player according to Baseball Reference. Lindor is a switch-hitter who is a no-doubt shortstop long-term with slick defense. He also draws rave reviews for his work ethic and makeup. Lindor might not be the next Troy Tulowitzki, but he has all the look of a future franchise cornerstone at a premium position. Because he's from Puerto Rico, Lindor will suit up for the World Team in the Futures Game.
THREE PITCHERS TO WATCH
RHP Lucas Giolito, Nationals: The Nationals selected Giolito with the 16th overall pick in the 2012 draft knowing he would likely need Tommy John surgery. Sure enough, he went under the knife a few weeks after turning pro. Had it not been for the elbow concerns, the 19-year-old from Southern California likely would have been a top three pick, maybe even first overall. Giolito is fully healthy now and has a 2.30 ERA with 10.0 K/9 in 54 2/3 Low Class-A innings this year, but it's his stuff that sets him apart and makes him arguably the game's best pitching prospect. He sits in the mid-90s and will touch 97 with his fastball, holding that velocity deep into games. His mid-80s power curveball is already an MLB-caliber out pitch, and his mid-80s changeup is promising considering he never threw one in high school. Giolito draws (unfair) comparisons to Justin Verlander, though the fastball/curveball combination is truly electric. He might hit 100 mph airing it out in a one-inning appearance in the Futures Game.
RHP Luis Severino, Yankees: Severino, 20, has drawn Julio Teheran comparisons for his advanced fastball/changeup combination. He has a 2.76 ERA with an 84/17 K/BB in 78 1/3 innings split between two Single-A levels this year. The fastball sits in the mid-90s and has hit 99 at times this summer, and that changeup is very advanced with sinking action in the mid-80s. Like Teheran at the same age, Severino's breaking ball is underdeveloped, but he can pitch to both sides of the plate with his fastball and knows how to set hitters up. The Dominican Republic-born Severino is another guy who could hit triple digits in a short outing in Minnesota next month.
LHP Julio Urias, Dodgers: On the surface, a 3.44 ERA with 9.4 K/9 and 4.2 BB/9 in 49 2/3 innings at High Class-A doesn't seem like anything special. But, when you consider that Urias is only 17 years old -- 6.2 years younger (!) than the average player in the league, according to Baseball Reference -- and is pitching is the most hitter friendly environment in the minors (the California League), suddenly that performance looks truly amazing. Pitchers this young should not be succeeding under these circumstances. Urias has a four-pitch arsenal -- low-to-mid-90s two- and four-seam fastballs, low-80s curveball, mid-80s changeup -- with control (throws strikes) and improving command (quality strikes). There's a very good chance the southpaw from Mexico will pitch in MLB as a teenager within the next two seasons.
Astros outfielder Josh Reddick uses Flair's entrance music when he bats

We'll be live-blogging ALCS Game 7 between the Yankees and Astros on Saturday night

Tanaka threw 104 pitches in Game 5 on Wednesday
Bregman is batting second against the lefty CC Sabathia

Ron Wotus and Dave Righetti are both expected to be reassigned to the front office

Cora, the Astros bench coach, is the hottest available managerial prospect