Just a suggestion: Papelbon, Rollins and cash to Tigers for prospects
Detroit could use help at shortstop and in the bullpen.
More MLB: Power Rankings | Expert Picks | Latest news & notes | Fantasy news
This trade proposal is nothing more than a suggestion at this point: The Phillies should move Jonathan Papelbon and Jimmy Rollins plus cash to the Tigers for prospects.
I haven't heard this, beyond from executives not with either of those teams. But I like it.
The Tigers are a very nice team with World Series aspirations and a couple questions. Papelbon isn't quite what he was when he was throwing 98 mph, but he's still pretty good. He would shore up the back end of a bullpen that's pretty iffy at the moment.
Rollins can still play a mean shortstop. While he isn't the offensive threat he was, he isn't bad at all.
The acquisition of those two players might help put Detroit on a par with the A's and Angels at the top of a tough AL crowd. While it would be expensive (Rollins makes $11 million a year through next season and Papelbon makes slightly more, as he's guaranteed $19 million through the end of next season), it would be worth it.
Tigers owner Mike Ilitch is one of the best in the game, and is one owner we can truly say spares no expense. This may be his last best shot for a while as ace pitcher Max Scherzer is a free agent at the end of the season.
The Phillies should want to remake their clubhouse and team, and a trade involving Rollins and Papelbon would be a nice jump start. With 100-mph-throwing Ken Giles coming on, the Phillies have a ready-made closer replacement. Their top prospect, shortstop J.P. Crawford, may be a year away, but the Phillies can fill in the gap until then, just like a regular rebuilding team would do.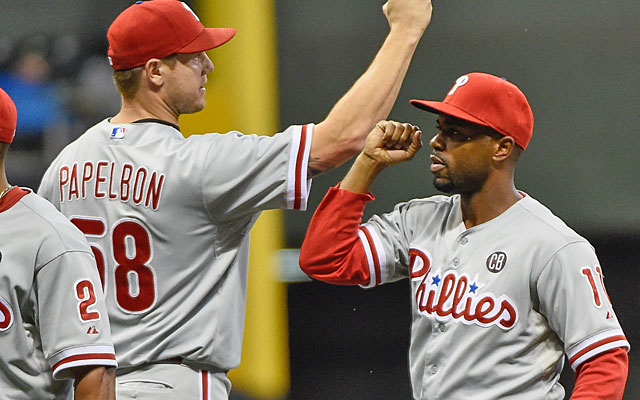 Get 15 percent off any order of more than $75 at CBS Sports Shop

Get your sports fans something that they'll wear all year

No, you're not imagining things. This MLB offseason has been very slow compared to the last...
Francesa will retire from radio next month, so he'll have plenty of free time next summer

The Twins need help in the rotation, and they may look to the trade market to find arms

Here are the bullet-points of what went down Tuesday regarding MLB and the Braves' punishm...