Justin Morneau, Josh Donaldson added to Home Run Derby
The Home Run Derby field is now complete, as Justin Morneau joins the NL team and Josh Donaldson joins the AL.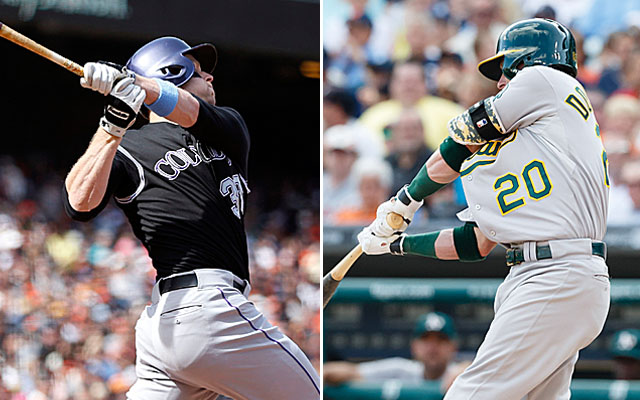 Home Run Derby: First eight participants announced | New format
Justin Morneau of the Rockies has been added to the NL team while Josh Donaldson of the Athletics has joined the AL team to round out the field for the 2014 Home Run Derby.
The Home Run Derby will take place as part of the All-Star Game festivities in Minnesota's Target Field this coming Monday.
The teams:
NL: Troy Tulowitzki (captain), Giancarlo Stanton, Yasiel Puig, Todd Frazier, Justin Morneau
AL: Jose Bautista (captain), Yoenis Cespedes (defending champ), Brian Dozier, Adam Jones and Josh Donaldson.
So there are two guys with strong Minnesota ties, as Morneau spent the first 11 years of his career with the Twins and Dozier is currently playing for them.
The A's have two entrants, including the defending champion. Cespedes isn't the only former champ, though, as Morneau won in 2008 (aka "the Josh Hamilton year" in Yankee Stadium).
Stanton leads the majors in average distance per home run while Puig isn't too far behind and Frazier has a pretty underrated power bat. And, of course, we can't forget about how much power Bautista has.
In all, should be a fun event. I'll take the NL, though.
The Astros scored seven runs in Game 6 after scoring nine runs total in Games 1-5

The Astros are still alive, and Justin Verlander is the reason why

With a six-run lead in the ninth, the Astros used closer Ken Giles for 23 pitches
On Saturday night in Houston, it'll be CC Sabathia against Morton

The ALCS will go the distance after all with the Astros offense coming back to life in Game...

Verlander's stuff was insane during Game 6 of the ALCS