Justin Upton has 8 homers, but D-backs have 'best player in baseball'
Justin Upton has eight home runs, but the Diamondbacks say they have no regrets about trading him away. Part of the reason is that they're so happy with Martin Prado, who teammate Eric Hinske called "the best player in baseball."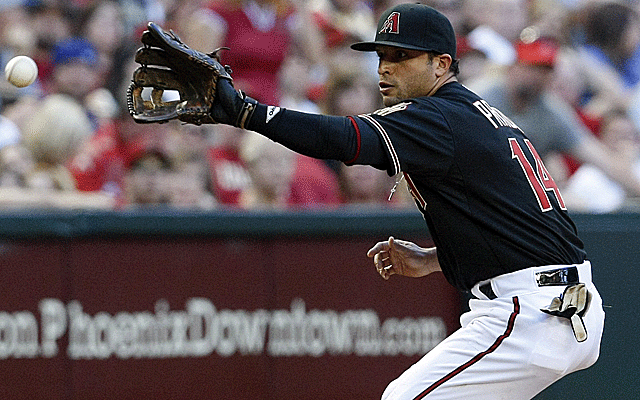 NEW YORK -- Everyone's writing about Justin Upton this week.
He topped Jon Heyman's Stock Watch on Monday. He made it into Dayn Perry's Top 10 on Tuesday.
Everyone's writing about Upton, the guy who got traded from the Diamondbacks to the Braves for . . .
"The best player in baseball," Eric Hinske said Tuesday afternoon.
You mean Justin Upton?
No, he meant Martin Prado.
"He's amazing," said Hinske, Prado's teammate for three years with the Braves and this year with the Diamondbacks.
Prado isn't amazing in the same way Upton can be amazing. He hasn't hit eight home runs in the first 13 games of the season. He didn't enter play Tuesday leading the National League with a 1.230 OPS.
But when the Diamondbacks put Aaron Hill on the disabled list Tuesday, manager Kirk Gibson was able to move Prado to second base. Twelve games into the season, Prado has started games at three different spots (also left field and third base), and has also played shortstop.
"He always has the right answer," general manager Kevin Towers said. "Where do you want to hit in the order? Wherever. Where am I playing today, second base? OK."
Towers said his only concern is that Prado will see Upton's early success with the Braves and feel that he's expected to match it.
"I feel for him, because there's always going to be comparisons," Towers said.
The deal wasn't one for one. The Diamondbacks got four other players, all minor-league prospects, and also gave up Chris Johnson in the deal for Upton. But the prominent major leaguers in the deal were Upton and Prado, and the somewhat overworked narrative behind the deal -- that Prado is "gritty" and Upton isn't -- increased the focus on those two.
The Diamondbacks loved Prado right away, which really would be no surprise to anyone who spent time with him in the Braves clubhouse.
Diamondbacks owner Ken Kendrick said this spring that he had spent a half-hour talking with Prado one on one.
"In five minutes, you get it," Kendrick said. "We're proud to have him."
The only problem with statements like that is that it's easy to use them to suggest the Diamondbacks weren't proud to have Upton, especially given Kendrick's public statements last year questioning what had happened to the Upton who was fourth in National League MVP voting in 2011.
There's no doubt that there were times over the last two years that the Diamondbacks seemed far too anxious to trade Upton, something they finally did in late January.
But both Towers and Gibson say they're happy for Upton. Towers repeated Tuesday what he said right after the trade, that Upton was always going to be the subject of too much scrutiny as long as he played for the Diamondbacks.
"I don't know if he'd be doing the same thing with us [as he has with the Braves]," Towers said. "It was a deal that was best for both parties. He needed a new start. We needed a new identity, instead of being Justin Upton and the Diamondbacks.
"I think we know who we are now: a band of 25 brothers."
The 25 have been changing regularly, though, a result of many early-season injuries. The Diamondbacks took an 8-4 record into Yankee Stadium on Tuesday, but they were without Hill, without leadoff man/center fielder Adam Eaton, and without utility man Willie Bloomquist.
Hill, who went on the disabled list with a broken bone in his left hand, is expected to miss the next 4-6 weeks. The Diamondbacks called up shortstop Didi Gregorius to take Hill's place on the roster, and Gibson said his starting infield is likely to remain fluid, with Prado and Cliff Pennington sharing second base, Pennington and Gregorius sharing shortstop and Prado and Eric Chavez sharing third base.
"I didn't know I was going to have to use [Prado's] versatility this early," Gibson said. "He's been a savior. The guy is a 100 percent quality guy. He would do anything you ask, and he wants to do it."
Again, it's easy to take that the wrong way. Gibson isn't saying that Upton is less than 100 percent quality, or that he wouldn't do anything you ask.
"There's no ill feelings," Gibson said. "I think people are misguided in the way they think. You know what, I'm happy for him. I don't want Justin Upton to fail."
Justin Upton isn't failing. It's true that he once had a streak similar to this with the Diamondbacks (7 home runs and a 1.494 OPS in 12 games in late July and early August 2011). But the most home runs he ever hit for the Diamondbacks in any calendar month was eight; he hit his eighth for the Braves on Tuesday, with half of April still to play.
No matter how good Martin Prado is, he's not doing that. But no matter how well Upton does, you're not going to hear Towers say he regrets making the deal.
"No hard feelings," Towers said. "I'm still happy we did the deal. And I'm happy for Justin."
He's happy, and why not. He got "the best player in baseball."
The former Braves star served as a race official for the Daytona 500

He'd be a good fit in the Bronx, but can they make it work and still stay under the luxury...

The slugger had shoulder surgery in November
Tebow reported to spring training with Mets position players on Sunday

Santa Clara senior Jake Brodt did the honors Saturday

Eric Hosmer's eight-year contract with San Diego has wide-ranging ramifications