Justin Upton traded to Braves in seven-player deal
All-Star outfielder Justin Upton has been traded from the Arizona Diamondbacks to the Atlanta Braves.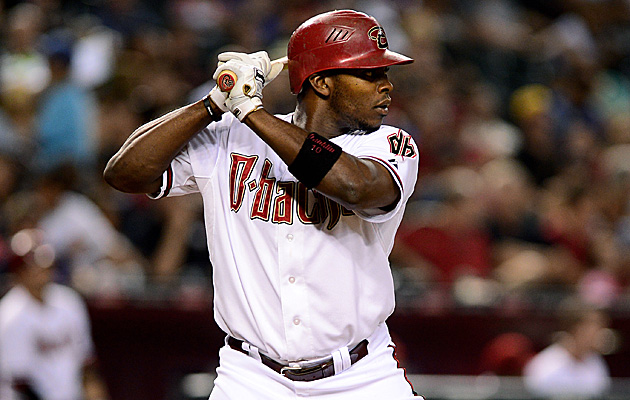 Juston Upton is headed to Atlanta to play with his brother, B.J. (US Presswire)
All-Star outfielder Justin Upton has been traded from the Arizona Diamondbacks to the Atlanta Braves, the Diamondbacks announced Thursday afternoon.
The Braves received Upton and third baseman Chris Johnson for third baseman/outfielder Martin Prado, starting pitcher Randall Delgado, minor-league shortstop Nick Ahmed, minor-league pitcher Zeke Spruill and minor-league infielder Brandon Drury.
Upton, 25, hit .280/.355/.430 with 17 homers, 67 RBI, 107 runs and 18 stolen bases last season. In 2011, he hit .289/.369/.529 with 31 homers, 88 RBI, 105 runs, 39 doubles and 21 stolen bases, leading the Diamondbacks to an unlikely NL West title and finishing fourth in NL MVP voting. He appeared headed for superstardom but fell out of favor with Arizona brass at some point in 2012.
The obvious storyline is that Upton will join his brother, B.J. Upton, in the Atlanta outfield. B.J. signed a five-year, $75 million deal earlier this offseason with the Braves.
So the setup in the outfield appears to be a question mark on the corners. That is, we know it'll be Justin Upton and Jason Heyward, but both are right fielders by trade. So one of them moves to left (I'll guess Upton) with B.J. Upton manning center.
With Johnson at third, he'll join Freddie Freeman, Dan Uggla and Andrelton Simmons in filling out the Atlanta infield.
As for the Diamondbacks, once they signed free agent Cody Ross we knew either Upton or Jason Kubel were likely to be traded -- and Upton had already vetoed a potential deal to Seattle earlier this offseason. So now the Diamondbacks have an outfield of Ross (RF), Gerardo Parra (CF) and Kubel (LF). Remember, they also traded center fielder Chris Young earlier this offseason.
Prado, 29, hit .301/.359/.438 with 10 homers, 70 RBI, 81 runs, 42 doubles, six triples and 17 stolen bases last season. He can play almost anywhere on the diamond but seems a natural fit at third base for Arizona. So he'll join Paul Goldschmidt, Aaron Hill and Cliff Pennington in rounding out Arizona's infield.
Prado is a pretty good return here, but let's keep in mind he will be a free agent after the 2013 season.
Delgado, 22, went 4-9 with a 4.37 ERA, 1.41 WHIP and 76 strikeouts in 92 2/3 innings last season for the Braves. Before last season, he was ranked as the 46th-best prospect in baseball by Baseball America.
Ahmed, 22, hit .269/.337/.391 with 40 steals last season for High-A Lynchburg. Spruill, 23, went 9-11 with a 3.67 ERA, 1.26 WHIP and 106 strikeouts in 161 2/3 innings for Double-A Mississippi last season. Drury, 20, hit .229/.270/.333 with six homers, 51 RBI and 47 runs last season for Class-A Rome.
For more baseball news, rumors and analysis, follow @EyeOnBaseball on Twitter, subscribe to the RSS feed and "like" us on Facebook. Also, individually interact with us on Twitter: @MattSnyder27, @daynperry and @mikeaxisa.

As part of the deal, Brandon Drury is reportedly headed to the Bronx

Stoneman Douglas caps will be worn during Friday's spring training games

Arrieta is the top starting pitcher left on the market
The Angels are lowering the fence from 18 feet to 8 feet, so we should see a jump in home...

Mathis is one of the best at something that cannot be measured but is valued

J.D. Martinez is reportedly headed to Boston on a free-agent contract