Justin Verlander loses no-hitter with two outs in seventh inning of Game 5
In a winner-take-all Game 5, Justin Verlander held the Athletics hitless for 6 2/3 innings.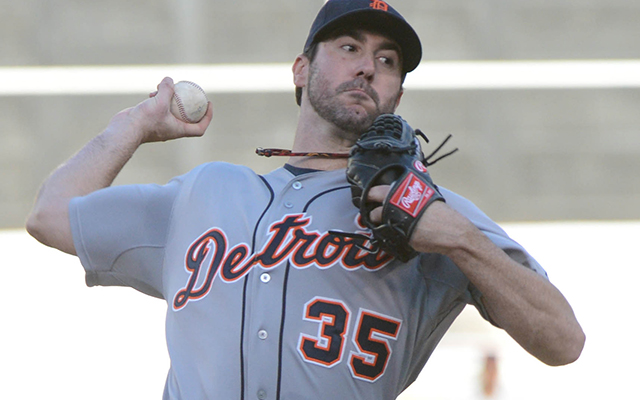 The Tigers asked Justin Verlander to deliver a big performance in ALDS Game 5 against the Athletics, and that's exactly what he did. The former AL MVP and Cy Young Award winner held Oakland hitless through 6 2/3 innings before Yoenis Cespedes singled back up the middle.
Here's the base hit that ended Verlander's run at history:
Verlander, 30, threw 94 pitches before allowing the base hit. He's shown time and time again that he's good for 130 or so pitches in a start if need be, so pitch count was never really a concern. It almost never is. Josh Reddick drew a walk with one out in the sixth to break up the perfect game.
In 34 starts this year, Verlander went 13-12 with a 3.46 ERA (121 ERA+) with a 1.32 WHIP and 2.89 K/BB in 218 1/3 innings. That's a career year for most pitchers but a down year for Verlander. He struck out 11 Athletics in seven scoreless innings in Game 2 of the ALDS.
Verlander has thrown two regular season no-hitters in his career -- one in June 2007 and another in May 2011. Don Larsen's perfect game in the 1956 World Series and Roy Halladay's no-hitter in the 2010 NLDS are the only no-hitters in postseason history.
The Athletics were last no-hit in June 1991. Four Orioles pitchers combined for the no-hit effort in that game.
The Tigers had a 3-0 lead in Game 5 at the time of Cespedes' hit thanks largely to Miguel Cabrera's two-run homer.
Our annual look back at the preseason predictions and rankings shows lots of good and bad

Keep it locked right here for everything you need to know about the world of baseball Tues...

There have been several racially charged incidents at Fenway Park this year
Washington's right fielders have sputtered offensively since Harper went down

The good news? Wichita still has a chance to win the series Tuesday night

The 2017 season is going to shatter the all-time collective home run record