Justin Verlander's $200 million quote a lesson in context
Late last week, controversy surrounded Justin Verlander for saying he wanted to be the first $200 million pitcher, but all he really did was answer a question honestly.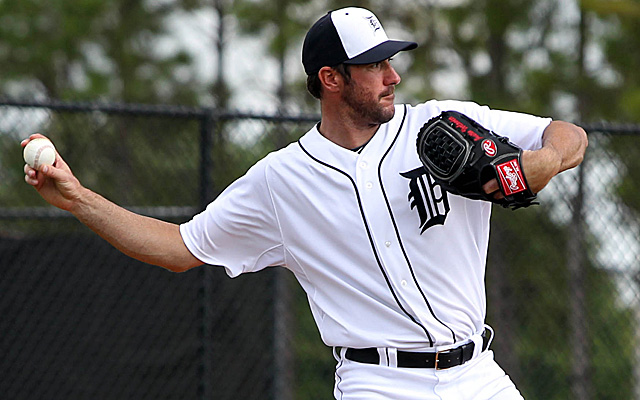 Late last week a Yahoo story on Tigers ace Justin Verlander boasted a gaudy headline, which was that Verlander wants to become baseball's first $200 million pitcher. It definitely piqued my interest enough to click through. Several blogs also posted on the topic. I didn't. Why? Well, let's look at his quotes in the Yahoo story.
"Of course," he told Yahoo! Sports on Friday morning. "I don't play this game to make the most money. But I do feel like it would be nice to be compensated for what I feel like I've been: one of the best, if not the best, the last few years. In my career, I feel like I've been one of the top. But the last two years, I've kind of separated myself, me and a handful of other guys."
See, when there's an "of course" at the front like that, it's easy to see what happened. Verlander was asked if he would like to be the first $200 million pitcher. What's he supposed to say? No? C'mon. So he says "of course" and everyone blogs on it and Internet commenters crucify Verlander for being "greedy."
I might agree if Verlander wasn't led to the answer and instead voluntarily offered up something like: "My goal is to be the first $200 million pitcher." But he didn't do that.
Sunday evening, Verlander tried to clarify his remarks, and he was essentially confirming what I expected happened in the first place.
"When people ask me questions -- you guys know me -- I'm honest and I talk about things," Verlander said Sunday regarding questions about a recent Yahoo! Sports article. "When the question is posed to me, 'Do you want to be the first $200 million pitcher?' Well, yeah. What kind of question is that?"

As an example, Verlander was asked if he wanted to be baseball's first $500 million pitcher.

"I'd say yes to that, too," he said. "I answered those questions honestly."

Verlander turned the tables on a media member in the scrum surrounding his locker.

"Would you like to be the first $200 million writer?" Verlander asked.
Well, first of all, yes, I would very much love to be a $200 million writer. That would rule.
But the real point here is to look at the entirely of quotes and see what the player actually said before jumping to conclusions. Calling Verlander greedy in light of his comments would have been a major stretch in my opinion. This isn't an attack on Yahoo or Jeff Passan -- not even close to that. I've met Jeff. He's a great guy and a great writer. I'm merely defending Verlander against the Internet commenters who went after him for being greedy, when all he was really doing was being honest and saying something that every one of us would say.
For more baseball news, rumors and analysis, follow @EyeOnBaseball on Twitter, subscribe to the RSS feed and "like" us on Facebook. Also, individually interact with us on Twitter: @MattSnyder27, @daynperry and @mikeaxisa.

This would undoubtedly be the worst trade in Miami Marlins history

The Pirates recently shipped Gerrit Cole and Andrew McCutchen to Houston and San Francisco,...

Surely, Martinez and his agent are holding out for more
The reliever had a very good 2017 season with the NL Central champs

We don't need to discuss Chipper's Hall of Fame case, so let's have fun instead

Dioner Navarro still hopes to return someday