Kemp starts looking like himself, but will it be enough to lift Dodgers?
Matt Kemp was off to a horrible start for the Los Angeles Dodgers, and opponents were saying he looked awful. Two games in New York suggest that Kemp is on the way back. The Dodgers still have issues, but he no longer looks like he's one of them.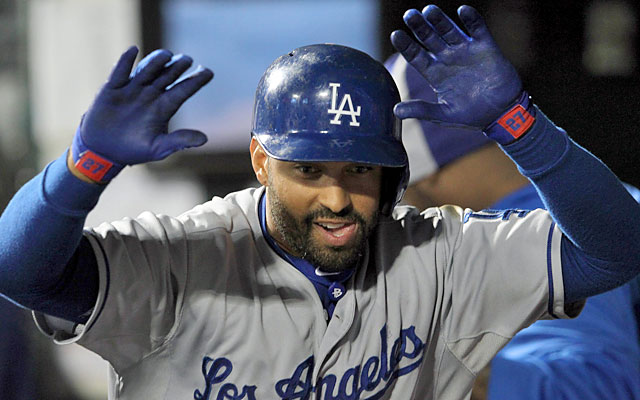 NEW YORK -- Two days ago, the word on Matt Kemp was that he was a mess.

"You can throw the ball by Kemp," said a big-league coach whose team recently faced Kemp's Dodgers. "That's a bad swing right now. He reminds me of [Alex] Rios when Rios was in a funk."

Sometimes it's worth waiting a day or two before you write, because here's the updated word on Matt Kemp: He's beginning to look like himself again.

He's not there yet, just like the sub-.500 Dodgers aren't there yet. But this isn't the time to write off Kemp, not after two games at Citi Field where he drove the ball with power to the opposite field.

"That's what I do," Kemp said Wednesday, even before he finally hit his first home run of the season. "I've just got to continue to swing at pitches I can drive. That's what I do. If I drive the ball to right-center field, we'll be a very successful team."


More on Dodgers-Mets
Related links
Kemp's home run Wednesday, which broke an 86 at-bat drought that was the third-longest of his career, actually went down the right-field line, almost at the foul pole. But his double Tuesday night was to right-center.

"That ball was a home run in a lot of parks," teammate Mark Ellis said. "That's him."

It's also worth noting that Kemp's home run came on a 95 mph fastball from Matt Harvey, the Mets' super young pitcher. Harvey has one of the better fastballs around, but he was not able to "throw the ball by" Kemp.

One more thing worth noting: Despite Kemp's home run and despite being the first team this season to score more than a single run off Harvey, the Dodgers didn't win Wednesday's game. The Mets were able to tie the game in the ninth off Dodgers closer Brandon League, and win it in the 10th on Jordany Valdespin's grand slam.

"We lost," Kemp said. "We've got to get better."

Three and a half weeks into the season, the Dodgers have still lost more games than they've won. Colleague Jon Heyman covered many of the reasons why and also the reasons why the Dodgers could still get considerably better, but it's clear that the one way they get much better is to get more production from Kemp.

Besides the lack of home runs, the Dodger cleanup hitter had just six RBI in the first 19 games.

Manager Don Mattingly predicted Wednesday afternoon that Kemp's power "is coming back," but he also cautioned that the Dodgers shouldn't expect or need Kemp to put up the numbers he did in his near-MVP season of 2011.

"You see that one year, you hope it's the norm," Mattingly said. "That really hasn't been the norm. We need the normal year from him. . . . I'd like to see his normal numbers: 25-30 home runs, hopefully around 100 [RBI], and around .300."

Two days ago, it was obviously too early to write Kemp off, but it also didn't feel right to predict that he could be counted on for those normal numbers.

Good thing I waited. The Dodgers aren't done, but they still have their issues.

Kemp isn't yet at his best, but he's no longer one of the big issues.
After acquiring Ian Kinsler and Zack Cozart in recent days, the Angels are trending upward

Cozart's coming off a big season as the Reds' shortstop

The veteran slugger spent the last eight seasons with Cleveland
The Padres may be poised for an active winter

Yes, Bryce Harper is going to make a lot of money next winter

Outfield prospect Clint Frazier might be part of the talks