Kenley Jansen and the high-velocity cutter
On Tuesday night, Dodgers closer Kenley Jansen uncorked a 98-mph cutter. When it comes to things like that, he's in exclusive company.
More MLB: Power Rankings | Expert Picks | Latest news & notes | Fantasy news
In this space, we have previously rhapsodized about the wipeout cutter of Dodgers closer Kenley Jansen. For instance, back in June he did this ...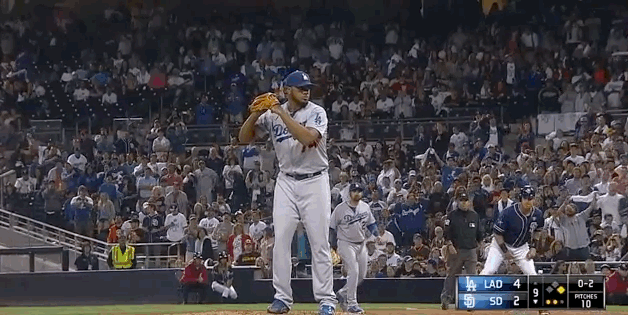 Given the glove-side run on that baby, that's not unlike a 95-mph slider, which is as unfair as it sounds. Well, on Tuesday night against the Angels (LAD 5, LAA 4), Jansen victimized Collin Cowgill with this ... 
As you can see, that's a 98-mph cutter -- 98.4 mph, to be exact (per Brooks Baseball) -- with impressive late action on it. You don't hit that. 
So how rare is it for a pitcher to snap off a cutter that hits 98 on the gun? Very rare, as you might imagine. In the era tracked by the Pitchf/x system (i.e., since 2008), just 12 pitchers have managed to throw a cut fastball clocked at 98 or higher (data via the most excellent Baseball Savant). Those 12 pitchers have combined to throw just 58 cutters at 98 mph or higher. David Price leads the way with 24 of them. Jansen checks in at fifth with five of them. 
However, the little miracle you see above isn't the fastest cutter Jansen has ever thrown. Again via Baseball Savant, we learn that just five pitchers -- Jansen, Price, Yordano Ventura, Kevin Jepsen and Daniel Webb -- have ever registered 99 with the cutter. Ventura and Jansen are the only ones to do it more than once (three times apiece). Ventura has twice hit 99.6, while Jansen has topped out at 99.3.
Jansen ranks "just" seventh in average cutter velocity this season (minium 30 innings pitched), but he goes to the pitch more than 83 percent of the time, which easily leads all of baseball. As well, Jansen gets a good bit more horizontal movement on his cutter than anyone else ahead of him on the average velo list.
So thanks in part to his ability to dial up that cutter to the high 90s as he did on Tuesday night, Kenley Jansen can be considered the post-Mariano Rivera master of the cut fastball. In case you didn't already think of him as such.  
This would undoubtedly be the worst trade in Miami Marlins history

The Pirates recently shipped Gerrit Cole and Andrew McCutchen to Houston and San Francisco,...

Surely, Martinez and his agent are holding out for more
The reliever had a very good 2017 season with the NL Central champs

We don't need to discuss Chipper's Hall of Fame case, so let's have fun instead

Dioner Navarro still hopes to return someday