Keri the 10: AL MVP may be in Cleveland, Dodgers silver lining and more MLB notes
Plus everything you need to know about inside-the-park grand slams and more from the week in MLB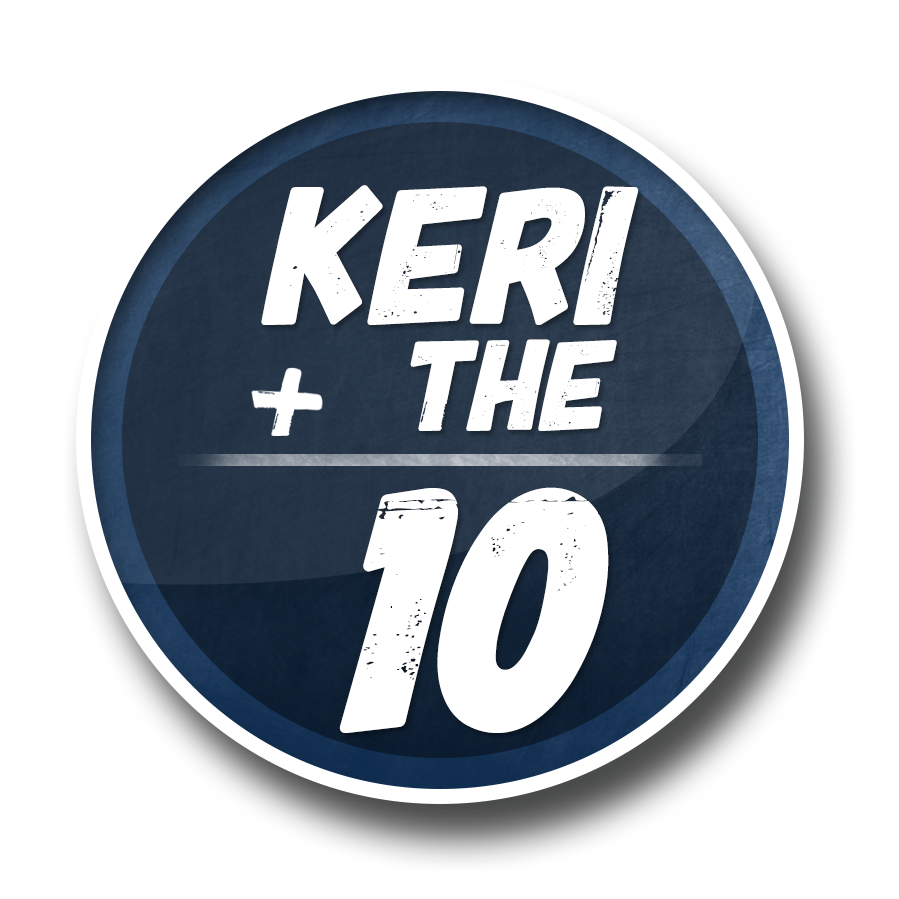 Tightly contested awards races, the tale of a lights-out rookie getting zero attention, and a walk through history with inside-the-park grand slams. #KeriThe10 has all this, odes to Stephen Strasburg, Luke Weaver, the DH rule, and much more.
1. The wild and woolly AL MVP race
With their 22nd straight win Thursday night, the Cleveland Lindors set a new record for the longest uninterrupted winning streak in major league history. With that historic team success, plus a breakout season of his own, Jose Ramirez has thrust himself into the discussion for AL Most Valuable Player honors.
His resume's a pretty strong one. In a year that's threatening to topple all-time records for both home runs and strikeouts, Ramirez has been masterful at slashing balls into play. He's hammered 48 doubles, leading all of baseball. He's an extreme contact hitter, striking out less than 11 percent of the time, the fourth-lowest rate in the majors. His gap power, speed, and baserunning derring-do also make him the most likely player in baseball to have his helmet fly off when he's in full stride.
What's new is his over-the-fence power. Ramirez has swatted 26 home runs this year, an explosion of power compared to the 11 he socked in his first full season last year. As the terrific Cleveland beat writer Jordan Bastian recently noted, Ramirez is just the eighth player in franchise history to ever total 80 extra-base hits in a season, joining luminaries like Earl Averill, Manny Ramirez, Albert Belle, and Tris Speaker. Add it all up and you not only one of the best but also one of the most exciting players in the league.
He just wouldn't be my pick for American League MVP. In fact, with all respect to Ramirez's stellar season, he wouldn't even be my pick for MVP of his own team.
That honor goes to Corey Kluber, who should join Chris Sale as two of the three most worthy MVP candidates in the league (along with Jose Altuve). When voters receive MVP ballots, there's nothing written anywhere that says pitchers should be excluded for the vote. The old canard that a pitcher must have a truly extraordinary season (with no position player doing anything all that remarkable) to get MVP love is an equally big copout. Most Valuable = Best, and Best can often be a pitcher. In the case of Sale and Kluber, you've got the only two starting pitchers in the game with more than seven strikeouts for every one walk, the top two in the AL in park-adjusted ERA and the top two in park-adjusted, fielding-independent pitching.
Don't bother with the argument that position players play every day, while starting pitchers only throw every five days, thus making pitchers unworthy. The major league leader in plate appearances is Charlie Blackmon, with 665. Sale has faced 774 to date, while Kluber, even after spending a month on the disabled list, has faced 702.
This is all premature handicapping of course, since we still have two and a half weeks left in the season. But when the 2017 campaign comes to a close, let's tip our caps to Jose Ramirez... and then give the AL MVP award to the best player in the league, regardless of what team he plays for, or what position he plays.
2. Finally, here's our chance to bring up every nerdy memory in the world on inside-the-park grand slams
That's thanks to Michael Taylor, whose line drive to center last Friday against the Phillies snuck just over the glove of Odubel Herrera, rolled all the way to the wall, and cleared the bases, with Taylor sliding in safely to complete the feat.
How cool is that?! Pulling off an inside-the-park grand slam typically requires a hard-hit ball, lots of speed, an ill-advised gamble by a fielder, and usually a very spacious part of a ballpark -- not to mention three ducks on the pond. Taylor got all of the above last Friday, continuing a breakout season in which he's hitting .274/.321/.490 while playing solid defense in Adam Eaton's absence.
Ready for some fun facts about inside-the-park grand slams? No? TOO BAD. Here they are:
--To the best of the Internet's knowledge, there is no one, iron-clad source for all inside-the-park homers ever. A multi-step query on Baseball-Reference (thanks, Sean Forman) reveals 34 such shots since 1930; but Forman notes that said list isn't complete, because home runs aren't always classified as inside-the-parkers in the record books.
Inside-the-park home runs were way, way, way more common in the old days of baseball, due in large part to the hugely spacious outfields in some old parks. (The Polo Grounds in New York played as 455 feet to dead center. Also Mel Stottlemyre once hit an inside-the-park grand slam at old Yankee Stadium, aided by the monuments in Monument Park being in play). So the 224 inside-the-park grand slams proposed by a Yahoo Answers commenter from the start of the majors to the year 2000 may very well be true, and the fact that only two have occurred since due to much smaller modern parks also makes sense in that light.
--Those two inside-the-park grand slams since 2000? Taylor's vs. the Phillies this year... and a Phillies hitter (Aaron Altherr) just out of the reach of one Michael Taylor in 2015!
--Another player who nearly hit an inside-the-park grand slam in 2015? Michael Taylor! (The play was ruled to have contained an error, negating the home run.)
--This excellent Washington Post story has lots more fun details on Taylor's feat. My favorites, as you might expect, revolve around the brilliantly named Bombo Rivera, the last player in franchise history (if one counts the Nats and Expos as the same franchise) to hit an inside-the-park grand slam, back in 1976. Scroll back to September 8 on Washington Post writer Jorge Castillo's Twitter timeline and you'll get an armful of delightful #BomboFacts.
--J.P. Crawford hit an inside-the-park grand slam in July of this year. As Phillies beat writer Ryan Lawrence notes, the best part of Crawford's shot was the fakeout slide at the end.
--The best inside-the-park grand slam of all time? We're going with the great Roberto Clemente, who came to the plate on July 25, 1956 with his team trailing by three runs in the bottom of the ninth... and lashed an inside-the-park salami that was also a walkoff(!!!).
3. Advanced baseball metrics have reached the mainstream
The eight-year-old Jonah who read Bill James many moons ago can't believe this display on the scoreboard at New Comiskey. Hell, 30-year-old Jonah can't believe it.
4. Dodgers' silver lining
It's tough to stay optimistic after reeling off the longest losing streak in franchise history. But the bottom line is that this Dodgers team is better than any we've seen in decades, and notably deeper than the multiple Dodgers clubs that have melted down in the playoffs the past few years. In particular, Los Angeles boasts one of the best and deepest bullpens in franchise history, a huge strength that should prevent the kind of Clayton Kershaw-is-totally-gassed-but-let's-run-him-into-the-ground mishaps that happened multiple times before Kershaw's (partial) playoff redemption in 2016.
Forget for a second that Kenley Jansen is Mariano Rivera but with more velocity, given how unhittable (and unseeable) his trademark cutter is. L.A. has assembled an army of setup men who, along with whichever of the many talented Dodgers starters don't crack the playoff rotation, should give the team a phalanx of great relief options. By advanced stats, the Dodgers have featured the best collection of relievers in the National League, by far.
This Tweet, put out during the teeth of the Dodgers' 11-game losing streak, helps tell the tale -- Watson and Cingrani were scrap-heap finds, and they too have become bullpen mainstays.
5. The Unhittable Stephen Strasburg
No pitcher in baseball has been more dominant over the past three weeks than the Nationals' Stephen Strasburg. The big right-hander hopped off the disabled list on August 19 to deliver six quality innings against the Padres, striking out eight and allowing just two runs.
Turned out that was merely the warmup act. In four starts since then, Strasburg hasn't allowed a single run. Moreover, he's been racking up strikeouts by the bushel. His total line in his past four starts: 29 innings, 17 hits, three walks, 33 strikeouts, and yes, a 0.00 ERA.
By going four straight starts throwing six or more innings, allowing no runs, and striking out at least seven each time, he's put himself into superelite company. According to MLB.com analyst Andrew Simon, the most recent other pitchers to pull off the same streaks are Clayton Kershaw, Clayton Kershaw, Johan Santana, and Pedro Martinez.
6. Darwin Barney is trying to tunnel his way to the center of the Earth
Wish him luck!
7. Two more pieces of evidence submitted in our fight for a universal DH
First, the Brewers lose talented number-two starter Chase Anderson for nearly two months in the middle of a pennant race, due to an oblique injury suffered while swinging the bat. Then, staff ace Jimmy Nelson suffered a season-ending shoulder injury while diving back to first base. As if watching pitchers bat .087 wasn't enough of a reason to implement the DH rule in both leagues, we also get even more painful and pointless pitcher setbacks suffered while hitting and running, in the form of major injuries.
There is no rational reason to continue to have pitchers hit. Pitching is an incredibly difficult exercise as is, leaving little to no time for pitchers to practice hitting and running, thus leaving them vulnerable to embarrassing performances, and yes, injuries. If Major League Baseball played its first game tomorrow, it's a mortal lock that every team would get to deploy designated hitters. It's only because of silly and stubborn clinging to some nebulous idea of tradition that we get to watch the vast majority of pitchers fail miserably at jobs they have no business doing.
In a just world, the Brewers' Cinderella season very possibly going for naught because they lost their two best pitchers for no good reason would speed up the transition toward league-wide DHs. Here's hoping.
8. I'll give you three guesses who's tied with Clayton Kershaw for the major league lead in wins
Nope.
Nope.
Nope.
It's Zach Davies. This is the part where I tell you how wins are an absurd category to keep tracking in 2017, given how heavily dependent they are on so many factors (run support, bullpen support, defense, etc.) beyond a pitcher's control. Davies racking up his first 11 wins of the season while rocking a 5.08 ERA that point, forcefully.
But Davies has actually earned those W's over the past few weeks, quietly emerging as one of the most effective pitchers in the league. Davies in his past six starts? 39 1/3 innings, 34 hits, eight walks, 28 strikeouts, zero home runs, and a 1.14 ERA.
Brewers fans can feel a bit disappointed to have fallen out of first place in the NL Central, after an extended run atop the division. Still, go back to the start of the season and ask if they'd be happy to be just three games out of first and still in playoff contention this late in the season, and they'd all say yes. The emergence of Zach Davies -- wins silliness notwithstanding -- is a big reason why.
9. Speaking of young pitchers having a big impact on the NL Central race...
...How about Luke Weaver? The 24-year-old rookie right-hander has flourished in the thick of a playoff race, claiming a regular turn in the Cardinals rotation. For more on Weaver and his impressive performance down the stretch, let's turn to our ace pitching correspondent, Nick Pollack:
With two and a half weeks left in the regular season, the Cardinals are still in the playoff hunt. With Adam Wainwright's injuries and Mike Leake getting shipped off the Seattle, an unlikely hero has stepped forward over the last month: Luke Weaver.

Since his return to the rotation on August 23, Weaver has flashed a sparkling 1.15 ERA across 31 1/3  innings and five starts. He's collected 42 strikeouts while walking just four batters, holding opponents to a .209 batting average.

Weaver's success hinges on a fantastic four-seamer/changeup combination that confounds batters. He's throwing either pitch about 90 percent of the time, using one to amplify the effect of the other.

To showcase how Weaver beautifully mixes his arsenal, here's a GIF of Weaver throwing his changeup and fastball back-to-back:
There are two things to notice here. First, out of Weaver's hand both of these pitches appear to be heading to the same spot along the outside corner. The changeup continues a little more toward the plate with a little dip, while his heater gets a small tail and barely clips the outside edge. Being able to locate each pitch this well makes batters second-guess what's coming out of his hand.

The second part is just as important. Now that batters are having difficulty picking which pitch is coming, it's important for each pitch to be dramatically different. Weaver gets that in two ways: velocity and movement. Weaver's fastball and changeup have a near 10 mph gap between them, getting batters often on their front foot too soon or reacting to his heater too late. The pitches themselves also break differently, with Weaver's changeup dropping four inches more than his fastball. In other words, even if batters can adjust their timing, they still need to change their bat angle through the zone to get decent wood on the ball.

Weaver doesn't have an overpowering fastball or a wipeout breaking ball that makes our jaws drop. However, having a strong foundation of pitch mix and execution could secure his spot in the Cardinals rotation for a long time to come.

Even if the Cardinals find themselves playing golf in October, they have to be excited for the future. With Weaver set to take a firm role in the rotation and Alex Reyes slated to return next spring, St. Louis is creating a rotation that could terrify the National League in 2018 and beyond.
10. Burning Question of the Week
I love this question. And I immediately thought of the answers:
Adrian Beltre -- If the end of days is coming, I want the most entertaining athlete alive to liven up my final days.
Mike Trout -- I just assume he's good at everything.
Joey Votto -- Things could erupt into chaos, so we'll need a Mountie to restore law and order.
Aaron Judge and Bartolo Colon -- The two biggest guys around can shelter you from the elements. Also if we're talking apocalypse scenarios like the movie Alive, Bartolo will prove extra useful.
CBS Sports HQ Daily Newsletter
Get the best highlights and stories - yeah, just the good stuff handpicked by our team to start your day.
Please check the opt-in box to acknowledge that you would like to subscribe.
Thanks for signing up!
Keep an eye on your inbox for the latest sports news.
Sorry!
There was an error processing your subscription.
Consider it an effort to grow the game, much like the series played in Williamsport

Mr. Brault is more than 'just' a big-league pitcher

SportsLine's Mike McClure, a DFS pro with nearly $2M in winnings, gives optimal lineup adv...
Plus Seattle tries to avoid its third straight loss and everything you need to know about Wednesday's...

The lesson here being never wear pants

St. Louis is currently in third place in the National League Central