Keri the 10: Break up the Twins, Fantasy baseball advice and more MLB observations
Plus Ervin Santana's dominance, the new type of leadoff hitter, David Price's impact and more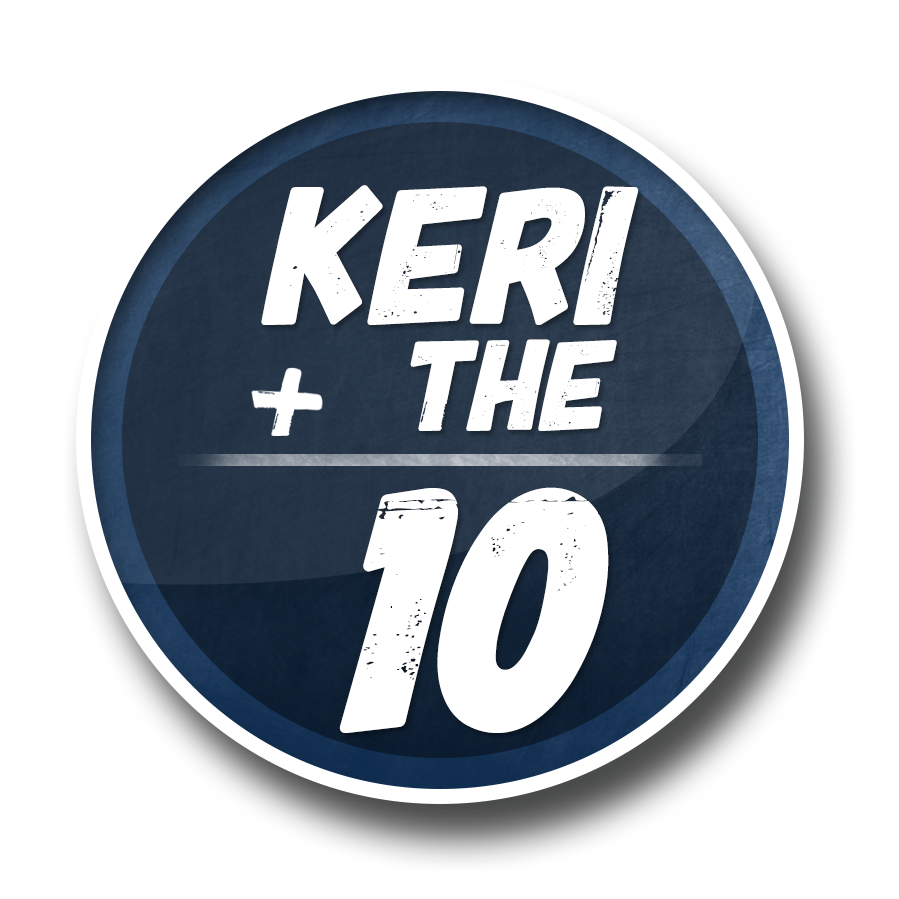 Welcome to this week's edition of Keri The 10! As always, we'll go around the majors with 10 stories that caught our eye from the past seven days. There will be numbers, and occasionally, memes. As always, we will have fun.
1. Break up the Twins!
As much emphasis as we thrust on games in September and October, sometimes the biggest moments of a team's season happen in April and May. That goes double for a team like the Twins, who've had very few late-season moments to celebrate over the past few years.
The eighth inning of Wednesday's game against the Orioles felt like one of those moments. With two outs, two on and the Twins clinging to a one-run lead, left-hander Taylor Rogers faced fearsome Baltimore slugger Chris Davis. Rogers quickly fell behind 3-0, eliciting visions of a game-turning three-run jack from the last major-league player to hit 50 homers. Then Rogers started fighting back. He fired one well-placed low fastball for strike one, then another well-placed low fastball for strike two. Then with the game on the line, Rogers hurled his fourth curveball of the at-bat, a sweeping rainbow of a pitch that dropped right into the zone for strike three. Rogers and catcher Chris Gimenez both pumped their fists as they ran off the field. Even in May, it feels good to win a battle that actually matters.
Yes, Davis leads the majors by a mile in taking called strike three, and looked awful keeping the bat on his shoulder for six straight pitches in that big of a spot. But by beating the O's 4-3 on Wednesday, the Twins swept a road series against one of the best teams in the league, extended their winning streak to four games, won their 10th game in 14 tries and extended their AL Central lead to two games.
Repeating: It's Memorial Day weekend, and the Minnesota Twins are in first place.
Last week, I wrote about the emergence of electric right-hander Jose Berrios, who looks like the ace of the staff after just three starts. Watch this Wiffle Ball of a breaking pitch he throws to O's catcher Caleb Joseph, remember that he pairs that piece of evil with a mid-to-high-90s fastball, and try not to freak out.
The good news is that Berrios isn't alone. Ervin Santana leads the majors with a 1.80 ERA (more on him shortly). Key relievers like Brandon Kintzler and Craig Breslow also sport microscopic ERAs not supported by their peripheral stats, but they too have been effective all season, along with the second-year man Rogers.
The common denominator for all this pitching success -- Berrios' mind-blowing talent aside -- is defense. Last season, the Twins finished 13th in the American League in Defensive Runs Saved, coughing up 32 more runs than the average AL club per Baseball Info Solutions. This year, Minnesota has surged to second in the league, saving 32 more runs than the average team.
Chalk some of that up to the vagaries of defensive stats in small sample sizes if you like. But let's grant a good chunk of the credit to the starting eight actually catching baseballs this season. Byron Buxton is still struggling mightily to hit, but he has emerged as one of the best defensive center fielders in the game, and that defense is keeping him in the lineup despite his sub-Mendoza line offense (his 6 Defensive Runs Saved ranks third among all MLB center fielders). The three-year, $24.5 million contract the Twins gave Jason Castro over the winter looked like a typo, given his own precipitous offensive decline. But Castro has helped improve the Twins' pitching results with his work behind the plate, most notably with his ability to steal strikes for his pitchers.
There are reasons to wonder how long this will last. Even acknowledging the improved defense, Santana is not going to impersonate Bob Gibson for much longer. Even with an improved bullpen, the Twins probably aren't going to win two-thirds of their one-run games for much longer. When you scan the standings and find a division leader that has scored only four more runs than it has allowed, you have to wonder when the merciless hand of regression will come crashing down. Still, the new Twins regime led by first-year general manager Thad Levine seems to have found a relatively quick fix for a team that lost 103 games last season: Get some guys who can catch the ball, add a budding pitching star and two young hitters mashing toward breakouts, and the future suddenly starts to look a whole lot brighter.
2. Swervin' Ervin
We need to talk some more about Ervin Santana. June is right around the corner, and he has allowed one run, total, on the road.
Ever since Baseball Prospectus writer Voros McCracken introduced DIPS theory in 2001, we've spent the past 16 years trying to figure out how much of a pitcher's performance should be chalked up to skill, and how much of it should go to luck. The related stat that has gained the most traction is Fielding Independent Pitching. Better known as FIP, the stat incorporates strikeout rate, walk rate, home-run rate and ground-ball rate into one figure that runs along the same scale as ERA; 2.00 is Cy Young-worthy, 3.00 is very good, 4.00 is unimpressive, 5.00 and higher is terrible. I mentioned Santana's MLB-leading 1.80 ERA earlier. At the same time, the veteran right-hander has posted a 4.11 FIP, marking the biggest gap between those two stats (in that direction) for any pitcher in baseball. Put another way, Santana has benefited more from luck than any other pitcher this year.
His underlying numbers bear that out. Santana has walked batters more frequently than all but four other AL starting pitchers. Meanwhile, his strikeout rate is hanging out at a level with second-tier starters like Jesse Hahn and Daniel Norris. So how has Santana stifled opponents? First, he has allowed a tiny .136 batting average on balls in play, miles below his career .282 mark, the lowest in the majors (by far), and also easily the lowest by any qualified starter in MLB history if it were to hold up (it won't). Of all the runners he has put on base, 91.5 percent of them have failed to score, easily the highest mark in the league (and also a figure largely governed by luck).
Still, chalking all of Santana's success to good fortune wouldn't be right. Santana's slider in particular has been unfathomably great. For some additional perspective on that pitch and the rest of Santana's success, we turn to our pal Nick Pollack, the excellent analyst at PitcherList.com.
How good has Santana's slider been this season? It has been better than any other pitcher's slide piece, edging out even perennial Cy Young candidate Max Scherzer. Opponents are hitting .057 against that pitch when Santana throws it. Even wilder, they've recorded zero extra-base hits against it all season. Over the years since McCracken first introduced DIPS, we've come to realize that results on batted balls in play aren't all about defense, or luck. Pitchers can and do induce weak contact.
Check out the batted-ball rates on Santana's slider and we see some astonishing results in 2017:
Line drives dropped from 25.0 percent to 13.0 percent

Fly balls up from 31.1 percent to 45.7 percent

Infield fly balls (i.e. automatic outs) up from 23.5 percent to career-best 42.9 percent(!)
Santana's fastball has similarly produced more fly balls, a lot more infield popouts and fewer line drives this season. In short, a pitch-to-contact approach has so far paid off handsomely. As Pollack notes:
"With his heater, Santana is focusing intently on jamming the pitch inside to both left-handed and right-handed batters. Here's a GIF articulating how heavily he likes to jam batters with the pitch, freeing up the rest of the strike zone for him to drop a low slider for a strikeout against Joey Gallo:

And then against right-handed Mike Napoli, he gets a strike with his slider away, following by a fastball inside for the weak pop-up:
Will Santana keep producing like an ace in the Dead Ball Era? Most assuredly not. Could he improve upon past results thanks to an improved defense behind him and strong command of his fastball and slider that induces weak contact? He sure could.
3. Gallo's humor
We can't go through this column with our man Joey Gallo being nothing more than the victim of a GIF. Not when he's one of the most fascinating characters in the game.
Adrian Beltre's injury has allowed Gallo to play third base just about every day for the Rangers. He has responded by flashing his trademark light-tower power: Only Aaron Judge and Mike Trout have topped his total of 14 home runs, making Gallo's start one of the most powerful in Rangers history. At the same time, the holes in Gallo's swing haven't gone away: Only Keon Broxton has struck out more often this season. All those strikeouts take a toll on a hitter's batting average, and Gallo has been no exception. Only four AL hitters have posted a lower batting average than Gallo's .191.
Gallo's playing time could soon be in peril. Beltre is off to extended spring training this week, and could return in the next couple weeks. A shift to first base might've seemed the natural move a couple weeks ago when Mike Napoli couldn't hit a cantaloupe with a tennis racket, but the bearded one has heated up lately. Designated hitter could open up if and when Shin-Soo Choo suffers his latest injury, but he's healthy and getting on base for now.
Gallo getting pushed out of the lineup would be a damn shame, given what's at stake. Gallo is on pace for 47 home runs to go with his sub-.200 batting average. In the long history of baseball, no player has ever hit 40 or more homers and batted below .200 (Adam Dunn's .204 in his 41-homer 2012 season comes closest).
A chance to make baseball history, even if it's of a slightly dubious nature? This is our shocked face.
Actually wait ... this is.
4. Not your father's leadoff men
It's not too surprising to see two leadoff men leading the majors in hits. After all, a place atop your team's batting order ensures you'll come to the plate often. If those same leadoff hitters are true, durable everyday players who don't walk much, the chances for big hit totals only increase. Charlie Blackmon and Corey Dickerson ranking 1-2 in hits starts to make lots of sense.
Thing is, these aren't the little, slap-hitting waterbugs you might imagine as leadoff hitters. Both Blackmon and Dickerson have been slugging standouts for their teams.
For Blackmon, the weirdness comes with his RBI total. Even playing half their games at Coors Field, pitchers aren't going to hit, or get on base, all that often. Yet all those outs in the No. 9 spot haven't slowed Blackmon's ability to knock in runs: He leads MLB with 42 steaks. Hitting an MLB-best .465 with runners in scoring position helps a lot.
At least Blackmon brings a strong track record and the league's most advantageous home park by his side. Dickerson, on the other hand, is a year removed from staying up nights wondering why he was no longer playing at Coors Field. The former Rockie had a rough time with the Rays last year. Dickerson did hit 24 home runs, several of them tape-measure jobs. But he also hit just .245 with a .293 on-base percentage. The power has returned this year. Dickerson ranks among the league leaders with 12 round-trippers, included a stretch of six in six games that ended Monday. But more hard-hit balls and a 100-point surge in batting average on balls in play have Dickerson batting .332 while he leads the AL in hits.
We'll see how long the experiment lasts for both teams. With all those home runs atop the order, the Rockies and Rays might start to worry about killing rallies.
5. #AllRise
We already loved Aaron Judge for his cartoonishly copious power. Sunday's spectacular catch against the Rays only added to the behemoth Yankee's legend.
Now, Yankees fans are taking their love for Judge a step further: They've given him a cheering section. Fans can now congregate in a special 18-seat block in right field to cheer on their young star, so long as they tote gavels (and wear robes, if possible) to acknowledge that court is in session. With the New York Times publishing a scathing article slamming the Yankees for causing low attendance at the ballpark (ticket prices are indeed high, but the article doesn't properly address the notion that the Yankees had been mediocre for three years, and that ticket sales typically surge the year after a big season), fostering this kind of fun in the Bronx becomes even more welcome.
The #AllRise movement is one of the best things going right now in baseball.
6. How much will David Price help?
The big lefty will make his MLB season debut Monday in Chicago. In some ways, his return can't come soon enough. Red Sox starting pitchers not named Sale, Porcello and Rodriguez have been unbelievably bad this season. Meanwhile Price is one of the most highly decorated pitchers in the league, winning AL Cy Young in 2012, winning the ERA title in 2015 and leading the league in innings pitched in 2016.
Problem is, Price looked anything but ready to return during his two rehab starts for Triple-A Pawtucket, surrendering 12 hits and flashing a 9.53 ERA in 5 2/3 innings. Price says he also struggled during his rehab stint in 2013, a claim which is categorically false. We don't know what kind of velocity and command he'll have coming off the most serious injury of his career, an elbow ailment that looked so mysterious during spring training that some feared Tommy John surgery might be coming.
The good news here is that the Sox have scored a lot more runs lately, tallying 38 over the past four games and winning all four. Still, a lineup that looked power-laden coming into the season even without David Ortiz has shockingly generated fewer home runs than any other team, and Price of course can't do anything to fix that.
Granted, neither can embattled manager John Farrell, who has had chopping-block rumors swirling around him in controversy-courting Boston, even as his boss denies those rumors. If Price looks like the Pawtucket version of himself upon his return, though, that speculation could heat up again.
Because obviously the manager should be the No. 4 and No. 5 starter and also hit a bunch of home runs.
7. A very good boy
The University of North Carolina this season became the first baseball team to hire a service dog to sit in the dugout. The dog's name is Remington, and he's a nearly 3-year-old Golden Retriever who focuses on players fighting injuries or who otherwise look down. In related news, I am now suddenly a huge UNC Tar Heels fan.
8. Joe Ross, human rabbit's foot
Stick the right-hander on the mound, and the already potent Nationals offense becomes illegally good.
Of course, it helps a hell of a lot when he can do this:
... and this:
With Ross rediscovering his old form with eight innings of one-run ball against the Mariners on Tuesday (he flashed a 3.43 ERA last year so the track record of success is there), the Nats might've solved the problem at the back of their rotation. Add in young right-hander Koda Glover grabbing hold of the previously shaky Washington closer role with devastating stuff of his own, and the Nationals look like the class of the National League right now.
9. Home cooking
Your 2017 leaders in runs scored at home: The Arizona Diamondbacks.
Your 2017 basement dwellers in runs scored on the road: The Arizona Diamondbacks.
Chase Field consistently ranks just below Coors Field as the most offense-friendly ballpark in the National League. This year, in a small sample (likely too small to form a firm conclusion), it has been the single best hitter's park in all of baseball.
But none of that can explain a gap this gigantic. Not when the D-Backs have scored 102 more runs at home this season than they have on the road. Not when strikeout-happy lefty Robbie Ray owns a 6.75 ERA at home ... and a 0.81 ERA on the road after seven more shutout innings Thursday in Milwaukee. The vastly superior road performance of pitchers like Ray still doesn't even out the team's home vs. road records, though: They're 21-8 at home and just 9-11 on the road, the biggest split for any team.
If you're a Fantasy player, the answer here is simple: Start every hitter short of the batboy when the Diamondbacks are at home. And if you're a D-Backs fan, hope that the surprise team with the second-best record in the National League can start to play up to its home performance away from the desert. If that happens, the Diamondbacks could remain one of the league's most pleasant surprises deep into the summer, and maybe into fall.
10. BURNING QUESTION OF THE WEEK
This week's Burning Question has the most straightforward answer so far this season: Yes, Adam, it does.
By reputation, you would peg many other teams as having better left sides to their infield. The Blue Jays with Josh Donaldson and Troy Tulowitzki. The Indians with Francisco Lindor and Jose Ramirez. The Cubs with Kris Bryant and Addison Russell. A bunch of other contenders too. But there's no denying the supremacy of the Reds' shortstop-third base combo this year. Zack Cozart ranks among the top 10 hitters in the National League this year, while Eugenio Suarez cracks the top 20.
In Cozart's case, you have a 31-year-old shortstop feasting off an incredibly flukish .395 batting average on balls in play, after never before posting a BABIP above .285 in a full season. Suarez, though, might be for real. The 25-year-old third baseman enjoyed a mini-breakout last year, blasting 25 homers in his first season as an everyday player. Power and plate discipline often grow hand in hand, and Suarez is walking more, striking out less and swinging at fewer bad pitches, a combination that tends to yield strong results. Toss in some skepticism for a home run-fly ball rate that has magically doubled from last year. But Suarez's improved skill set makes 30-plus homers and a high on-base percentage a legitimate possibility. If that happens, multiple All-Star Games will surely come right along with it.
Send a Tweet to @jonahkeri using hashtag #KeriThe10  to submit questions for future No. 10s. 
CBS Sports HQ Daily Newsletter
Get the best highlights and stories - yeah, just the good stuff handpicked by our team to start your day.
Please check the opt-in box to acknowledge that you would like to subscribe.
Thanks for signing up!
Keep an eye on your inbox for the latest sports news.
Sorry!
There was an error processing your subscription.
SportsLine's advanced computer model simulated Wednesday's Cardinals vs. Royals game 10,000...

SportsLine's advanced computer model simulated Wednesday's Mariners vs. Rangers game 10,000...

Jesus Sanchez is a good prospect, albeit one whose volatility could determine what the Rays...
Here is everything you need to know about the day in baseball

We haven't seen anyone hit .400 since Ted Williams in 1941

The veterans' beef dates back to when they were teammates