Keri the 10: Brewers flip NL central, tough Mets calls and more MLB observations
Plus Ian Happ's impact to a Cubs turnaround, Jose Berrios' value to the Twins future and more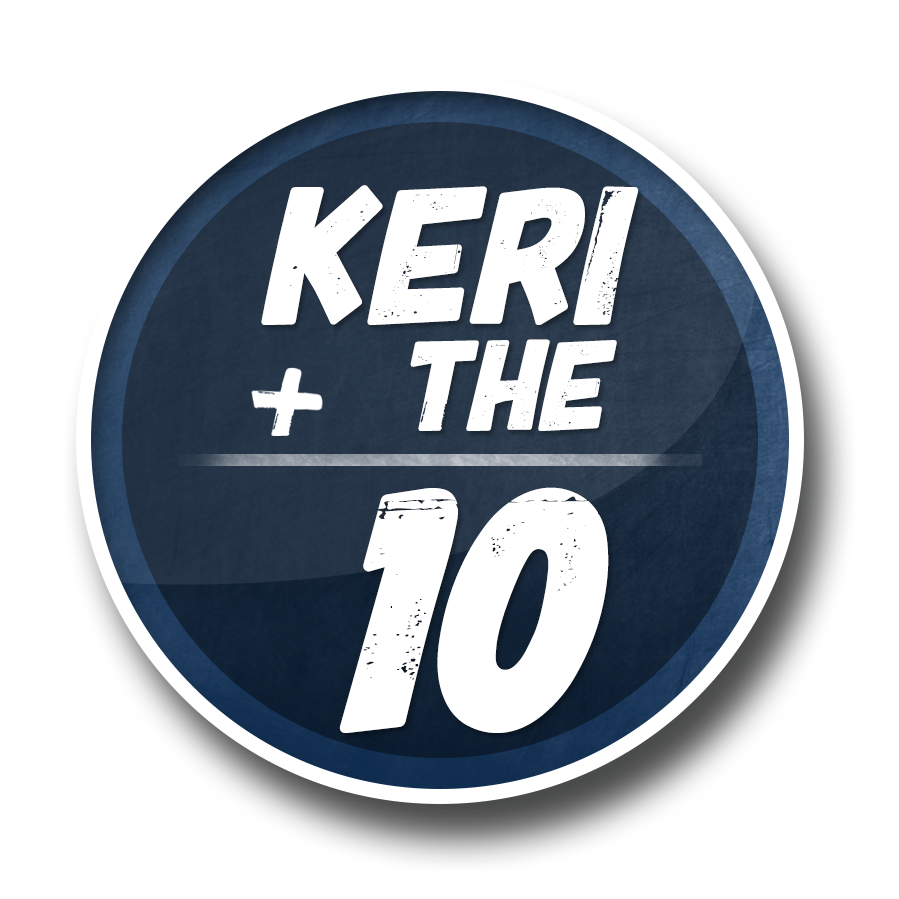 Welcome to this week's edition of Keri The 10! As always, we'll go around the majors with 10 stories that caught our eye from the past seven days. There will be numbers, and occasionally, memes. As always, we will have fun.
1. The Brewers have flipped the NL Central upside down
In 2016, the Chicago Cubs enjoyed one of the most dominant seasons by any team in decades, winning 103 games and claiming the NL Central by a jarring 17 1/2 games before going on to win their first World Series in 108 years. With a roster loaded with young stars, 2017 figured to produce similar results on the North Side.
More than one-quarter of the way through this season, the Brewers have had other plans. Milwaukee is suddenly one of the hottest teams in baseball, winning nine of its past 11 games. And in a season that has given us multiple surprises, the Crew sitting atop the NL Central might be the biggest of them all.
One of the Brewers' biggest problems early on this season was the erratic pitching of Neftali Feliz. Acquired as a free agent in January, Feliz's one-year, $5.35 million contract ranks as the third-highest payout given to any Brewer this season ... not a huge surprise given Milwaukee sported the lowest Opening Day payroll in all of baseball. Opposing hitters have whacked him for five home runs in 17 innings, making him unfit to stick at closer.
Enter Corey Knebel. A big-strikeout, high-walk pitcher from day one of his career, the 25-year-old right-hander has improved the command on his 97 mph fastball, so much so that opponents are hitting .154 against that pitch this year. Moreover, Knebel's strikeout rate has reached stratospheric levels: He has punched out nearly 44 percent of the batters he has faced in 2017, the seventh-highest figure for any pitcher in the majors. Promoted to the closer role last week, Knebel has already notched three saves in three attempts, striking out the side Thursday to shut down the Padres.
Keon Broxton has offered a big assist. He hit a brutal .191/.276/.324 in April, striking out 31 times while walking just six times and hitting one homer in 23 games. Broxton has caught fire in May, batting .350/.381/.600 with three long balls in 15 games. The underlying indicators suggest this won't last much longer: Broxton's batting eye has actually grown worse in May (23 strikeouts and just two walks), and much of his recent success rides on a batting average on balls in play above .500(!) this month. Still, the toolsy but erratic outfielder is at least making harder contact, and a Brewers lineup currently missing star slugger Ryan Braun has reaped the benefits.
Perhaps the weirdest and most fun story has been the resurrection of Eric Sogard. The bespectacled infielder missed all of last season with a knee injury. Inked to a minor-league deal over the winter, Sogard headed to Triple-A Colorado Springs to start this season after failing to crack the major-league roster. Called up to offer depth with Braun on the disabled list, Sogard has instead turned into Rogers Hornsby all of a sudden, going 4 for 4 against the Padres on Tuesday and 4 for 4 again against those same Friars on Thursday. With Jonathan Villar struggling at the plate, the Brewers are riding Sogard's out-of-the-blue hitting jag while they try to fix their second baseman's struggles.
Broxton and Sogard in particular aren't likely to light the world on fire for much longer. Still, this is a team coming off two straight losing seasons, with just two playoff berths in the past 35 years. And hey, add do-it-all top prospect center fielder Lewis Brinson on the verge of a big-league callup, and things could get interesting in Milwaukee.
2. It's all #Happening
From Jake Arrieta suddenly losing his command to Kyle Schwarber hitting below the Mendoza line atop the order, the Cubs have struggled to recapture their 2016 groove. The good news? Ian Happ might help that happen. When the Cubs called up their top prospect last week, the expectation was that Happ would hang around for a few days spotting for sidelined teammates like Jason Heyward, then quickly return to the minors.
With each passing day, that scenario gets more and more difficult to imagine. Happ went 2 for 4 on Thursday, raising his batting line to a preposterous .353/.500/.824. He has started each of the Cubs' five games since his callup and has manager Joe Maddon all but vowing to keep him up and find room for him in the lineup as long as he keeps hitting.
Happ struck out in 23 percent of his minor-league plate appearances dating to Opening Day 2016 and some scouts have wondered how long it'll take him to control the strike zone in the Show. Right now, that kind of talk amounts to nitpicking. Schwarber, Anthony Rizzo, Addison Russell and Javier Baez have all struggled mightily to start the season. Meanwhile Happ boasts copious power, a history of drawing walks and enough versatility to make Maddon the mad lineup scientist's eyes light up. The smart money says that Happ stays put, rakes and becomes an integral part of the Cubs' drive for a repeat.
3. Height doesn't measure homers
You need a tape measure for that.
How often do you think Marcus Stroman's teammates are going to hear about him becoming the first Blue Jays pitcher to homer in 14 years? Every day? Every hour? Every time some other team whines about Jose Bautista flipping his bat?
4. The Twins' future is Berri osciting!
Yet another unlikely club leads the AL Central, and a pitcher who has made all of two starts this year offers the best hope for continued success.
Jose Berrios was the Twins' unanimous No. 1 pitching prospect last season, striking out 125 batters and allowing just 74 hits over 111 1/3 innings at Triple-A Rochester. But the lanky right-hander failed miserably in his first brush with the majors, posting a ghastly 8.02 ERA. The Twins opted for patience this year, both to help ensure that Berrios was ready for the Show, and to avoid making him free agent-eligible a year earlier than necessary.
So far, so great. Through his first two starts this season, Berrios has tossed 15 1/3 innings, allowing just one run on four hits, with two walks and 15 strikeouts. His Thursday start against the Rockies was an absolute masterpiece. The right-hander used force rather than finesse, firing 47 four-seam fastballs that averaged better than 94 mph, and registering a dozen whiffs with that pitch. Yes, the normally potent Rockies offense looks a lot less scary away from Coors Field. But 11 strikeouts for a pitcher who couldn't get anyone out a season ago can't help but make you wonder if the Twins might've already found that elusive ace they've been pining for all these years.
5. Sometimes there is crying in baseball …
... as the red-hot Eric Sogard's adorable daughter Saydee showed Tuesday, as her dad's Brewers lost to the Padres.
Fortunately, cupcakes are the answer to all of life's problems.
6. The Mets might soon have some tough decisions to make
They've lost seven in a row and now sit in the NL East gulag with the downtrodden Marlins, Phillies and Braves, looking up at a Nationals team that might ostensibly clinch by Memorial Day. ESPN's Jerry Crasnick wrote a thorough (and depressing) piece highlighting the barrage of injuries that have crushed the Mets this year (and in the past several years), offering little reason to expect a big improvement in team health, and the wins that would come with it.
That means the Mets could join the Royals, Blue Jays, Giants and other veteran-laden teams as a significant seller a few weeks from now. Queens' finest could have as many as 11 free agents at season's end (depending on how a couple of option-year decisions shake out), meaning the trades could come fast and furious in June and July. Nobody's going to want Jose Reyes when he is not hitting at all, and Curtis Granderson's awful numbers wipe out his value on a $15 million walk-year salary. That still leaves multiple pieces of trade bait, including Jay Bruce and his huge power surge, ascendant closer Addison Reed and, if they can finally stay healthy, veteran infielders Asdrubal Cabrera and Lucas Duda.
The Mets boast the oldest collection of position players in the National League, and their injury-ridden pitching staff is likely missing too many horses to make a run this year. Big changes could be coming.
7. We'll miss you, Freddie
Among active hitters, only Mike Trout has hit better than Freeman has since Opening Day 2016 on a park-adjusted basis. Get well soon, you delightful kinda sorta Canadian.
8. Jason Vargas might be a new man
For this week's spotlight pitcher, we turn once again to our pal Nick Pollack of PitcherList.com for perspective on Royals lefty Jason Vargas.
The veteran southpaw came into this season with a pedestrian 4.18 career ERA, along with an ugly 5.9 strikeouts and 3.6 walks per nine innings and an 8.3 percent whiff rate. When Vargas did find success, he did so with his changeup, which has long been his best pitch. In his first seven starts of 2017, that changeup climbed to elite level, helping to key a surprisingly great start to the season. Watch the way Vargas manhandles the Rays' Rickie Weeks with that change.
So should you be buying shares of Vargas if you're a pitching-needy team eyeing a likely deadline seller in K.C., and a pitcher who can test free agency at season's end?
A few indicators might make him seem like a great catch. Vargas pumped his strikeout rate to 7.9 per 9 innings in his first seven starts of 2017, slicing his walk rate to a tidy 1.6 free passes per 9 frames. Vargas' whiff rate surged to 12.5 percent, suggesting the possibility of real improvement. His ERA during that stretch? A microscopic 1.01.
But small sample sizes can be deceiving. First, Vargas hadn't reached the point of the season where we could say with conviction that his numbers had taken a sustainable turn for the better. Second, luck has played a huge role in his early success. Vargas stranded a sky-high 88.7 percent of the runners he put on base (league average is in the low-70s), while allowing home runs on just 2 percent of the fly balls hit against him -- an unsustainable low number in this, the year of the home run.
On Wednesday, Vargas' luck ran out. The Yankees torched him for six runs on seven hits in four innings. That once-unhittable changeup? Aaron Hicks was not fooled.
9. Alex Rodriguez is going to be on Shark Tank
Unlike the catchphrase originator's political career, A-Rod is most assuredly not dead to me. Between his impressive work doing TV analysis for Fox, his adorable pairing with Jennifer Lopez and now his inevitable overshadowing of Kevin O'Leary on "Shark Tank" we here at #KeriThe10 salute the Rod.
10. Burning Question of the Week
A highly relevant question from Andrew, given that the Rockies' young ace has been throwing bullpen sessions while wearing a walking boot in an effort to speed up his rehab and make it back by month's end, and that Colorado is yet another surprise division leader, two games clear of the equally surprising Diamondbacks in the NL West.
The easiest way to answer this question is to predict that a spot will organically up in Colorado's rotation by the time Gray returns. Between the natural attrition that comes with pitching, the chance for nightmarish results from any pitcher spending half his time at Coors Field and the need to closely monitor the workloads of the three rookies currently manning the rotation, there's a good chance Gray will fill an obvious hole when he's ready to pitch in the bigs again.
Rookie German Marquez did seem a logical choice to (eventually) get bumped, after giving up eight runs in four innings against the Nats on April 25. Since then he has allowed no more than one run in three of his past four starts. Tyler Anderson didn't bring quite as big a workload concern as a second-year major-league starter who's also old for that level of experience at age 27. But he didn't seem long for the rotation after posting a 7.71 ERA through his first six starts of 2017. Since then, Anderson has allowed just four combined runs in his past two starts, fanning 18 batters in 11 2/3 innings.
If the Rockies want to leave those two improving starters and their more statistically successful teammates in the rotation, a move to a six-man rotation could be the best bet here. Making each pitcher's starts less frequent could go a long way toward addressing the inevitable workload issue that would otherwise threaten to cut the rookies' season short, while also easing Gray's transition back to the mile-high pressure cooker.
The broader picture is a delightful one for long-suffering Rockies fans. After years of mound incompetence, there's actually a chance that they might soon have too much pitching. And now I need a cold shower just to process that possibility.
Send a Tweet to @jonahkeri using hashtag #KeriThe10  to submit questions for future No. 10s.      
CBS Sports HQ Daily Newsletter
Get the best highlights and stories - yeah, just the good stuff handpicked by our team to start your day.
Please check the opt-in box to acknowledge that you would like to subscribe.
Thanks for signing up!
Keep an eye on your inbox for the latest sports news.
Sorry!
There was an error processing your subscription.
The Mets said they 'do not condone this type of behavior'

This pretty well sums up how loaded the Dodgers organization is with talent

Here is everything you need to know about the day in baseball
SportsLine's advanced computer model simulated Sunday's Angels vs. Cardinals matchup 10,000...

Darryl Strawberry previously set the mark in 1983

Liam Hendriks deserves a ninth-inning look