Keri the 10: Cleveland finally rocks, Shark attack, Honeywell watch, more MLB notes
Plus the Dodgers continue to make history, Goldschmidt owns the Cubs and more observations from the week in MLB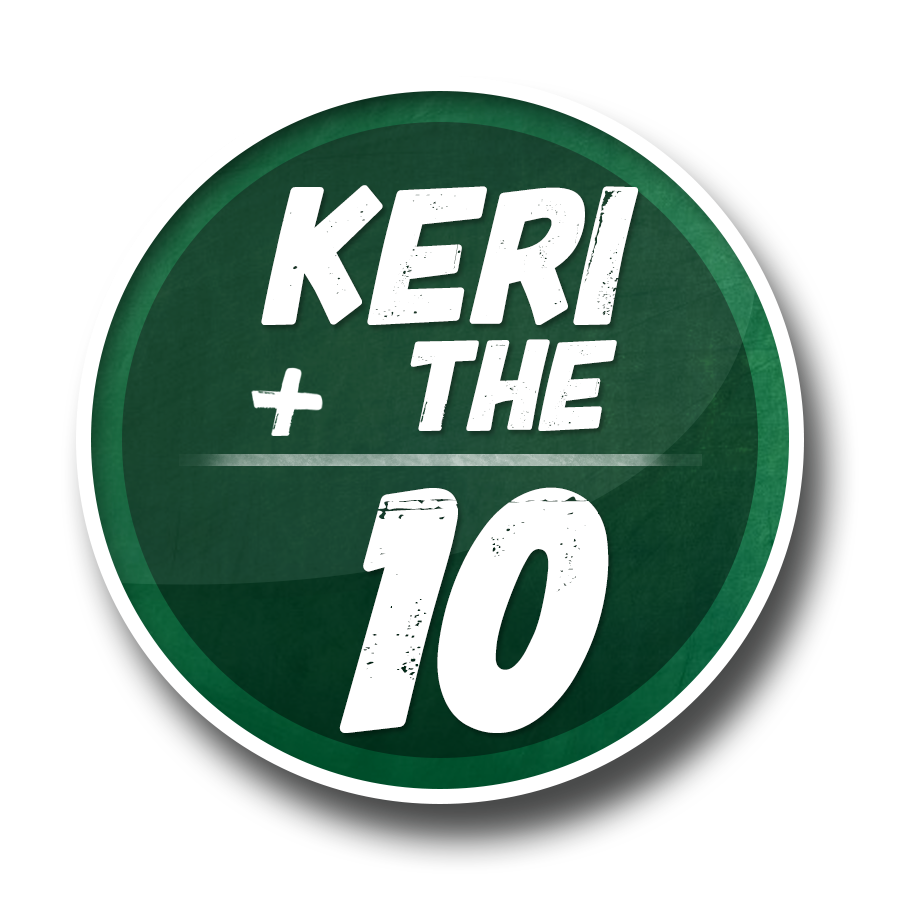 Another week, another 10 stories to follow in the world of baseball. Let's go!
1. Cleveland rocks (finally)
It didn't make any sense.
Cleveland won 94 games last year, then stormed to within an eyelash of their first World Series crown in 68 years. This spring, they boasted a much better collection of talent than they'd trotted out last year. Michael Brantley, Yan Gomes, Carlos Carrasco, and Danny Salazar were all healthy, something that could rarely be said in 2016. Andrew Miller was on board to anchor the bullpen from day one, after spending the first four months of last season with another club. Edwin Encarnacion had arrived to bolster the team's lineup. Before long, Bradley Zimmer would make his own Cleveland debut, bringing a blend of speed, athleticism, and defense in center field that the team sorely needed. If this wasn't the most talented squad in baseball, it had to be pretty damn close.
So why the hell was this barely a first-place team -- barely even a .500 team(!) -- less than three weeks ago?
There were a few obvious anchors weighing them down, to be sure. The normally reliable and productive Jason Kipnis has had a rough year, batting just .232/.292/.402 while struggling with injuries. Meanwhile, Trevor Bauer and Josh Tomlin (who just hit the DL and could be out as much as six weeks, further straining the Indians rotation) have struggled at the back of the rotation, despite strikeout-to-walk rates ranging from solid to eye-popping. But much of Cleveland's struggles boiled down to bad luck. A second straight one-run loss to the lowly Giants on July 19 left them at 48-45, just a half-game up in the American League's weakest division, and just 9-11 in one-run games (despite carrying a strong bullpen). The offense has also come up small in big spots: Only four teams have hit worse with runners in scoring position and two outs, and only seven teams have left more potential runs on the table as a result of abnormally unlucky hit clustering.  
Fortunately, the team's luck is starting to catch up to its skill. Cleveland has won 12 of its past 17 games, including a 3-1 record in one-run contests over that span. Jose Ramirez is on fire as his breakout season continues, Francisco Lindor has erased his slow start with some huge recent numbers, and Cleveland has swung hotter bats than any other team over the past couple weeks. Throw in continued dominance by last week's Keri The 10 featured pitcher Corey Kluber, and the Indians are who we thought they were. Finally. 
2. It didn't count in the standings, but ...
On Tuesday night at Fenway Park, Carlos Carrasco interrupted Cleveland's hot streak, getting knocked out in the second inning en route to a 12-10 loss. If this season ends with another deep playoff run, though, it'll be Austin Jackson's Superman catch to rob Hanley Ramirez of a home run, not that loss, that will punctuate the club's highlight reel. 
3. Don't pitch to Paul Goldschmidt
The Diamondbacks first baseman has crushed the dreams of many fan bases en route to becoming one of the best hitters on Earth and a perennial MVP candidate. His work against the Cubs, though, is starting to enter capital crimes territory.
Thursday's game against the Cubs at Wrigley Field was a soggy and weird affair, with three separate rain delays making for a seemingly endless afternoon. Goldschmidt, apparently granted superpowers by super showers, followed each of the three rain delays with mammoth home runs. 
Goldy's Wrigley onslaught left him with this career line against the Cubs. .363/.473/.710. Let this Cubs fan tell you how good that is. 
4. Where the hell is Brent Honeywell?
The Tampa Bay Rays have gone from last place in 2016 to the thick of the American League wild-card race this year. They also have an extremely talented, screwball-wielding pitching prospect named Brent Honeywell who's punched out 129 hitters in 100 1/3 innings this year. In his past five starts for Triple-A Durham, Honeywell's posted the following line: 27 innings, 21 hits, six walks, 39 strikeouts, and a 1.33 ERA.
So why isn't one of the best prospects the Rays have developed since Evan Longoria and David Price still riding the buses in the bushes, instead of befuddling major-league hitters with his scroogie?
Honeywell certainly seems like a better bet to succeed in the big leagues than Blake Snell. The 24-year-old left-hander isn't far removed from being considered a top pitching prospect in his own right. But he's been awful this season, posting a 4.98 ERA and struggling in each of his two stints in the majors. The Rays did wisely send Snell down after he lasted just four innings in his last start against the Astros, preferring to let him develop his skills in the minors rather than weigh the big club down in the heat of a pennant race. Right-hander Jake Odorizzi is set to come off the disabled list and start on Wednesday, so that should give the team a lift.  
Still, consider the Honeywell watch officially in full swing. Austin Pruitt did throw 6 1/3 miraculous scoreless innings against the league's best offense on Aug. 2, but he's been otherwise erratic this season, and ranks well below Honeywell on both talent and results. The Rays do have a track record over the past decade-plus of developing pitching prospects as thoroughly as possible in the minors before calling them up, often with positive results. Throw in Honeywell progressing faster than most of the team's young pitchers through the system, not wanting him to fail in his first big-league stint and then get jerked around thereafter, as well as concerns about workload and 40-man roster flexibility, and you can see the logic in being patient.
That said, even if the Rays wanted to go easy on their top young arm, Honeywell could give a big lift to a bullpen that's been highly shaky this season too. Every day that passes without him toiling at the Trop (good reasons and all) has us feeling like this:
5. Update your shopping lists ...
... because Jay Bruce is available. In an otherwise miserable season for the Mets, Bruce is quietly in the midst of a career year, on pace to bash more than 40 home runs (his career high is 34). He cleared waivers last year, making him eligible to be traded to any team. With the price tag for his services likely just the less than $4 million he's owed the rest of the season, plus an RC Cola, it would behoove several contenders to make a play for him.
Here's a thought: Matt Holliday is hitting .120 with one homer in his past 23 games, and just hit the DL with a back injury. Jacoby Ellsbury's been hitting like a pitcher for weeks. The Yankees badly need another bat to augment their lineup for the home stretch. Bruce taking aim at that short porch in Yankee Stadium could bring some late-season fireworks in the Bronx.
6. Ladies and gentlemen, here's your saddest stat of 2017
7. Rarefied air
After beating the Mets on Saturday, the Dodgers recorded their 43rd win in 50 games, the best such streak in 105 years. And after completing a series sweep of the Mets on Sunday, the Dodgers jumped to 79-32 for the season. That record works out to a .712 winning percentage.
To put things into historical perspective, this year's Dodgers are on pace to post the best record in club history, Los Angeles or Brooklyn. As for that .712 winning percentage, only six post-1900 teams have ever fared better: the 1906 Cubs, the 1902 Pirates, 1909 Pirates, 1954 Indians, 2001 Mariners, and yes, the Murderers' Row Yankees of 1927. Coming to grips with this year's Dodgers possibly being nearly as dominant as the Ruth-Gehrig Bombers and the Tinker-to-Evers-to-Chance Cubs might take some getting used to.
Probably not as much as this, though.
8. Speaking of Dodgers making history ...
... Chris Taylor is unreal. The journeyman utilityman has suddenly become a force this season in Dodger Blue, hitting .312/.378/.550 and thriving at multiple positions. Check out this bid of statistical insanity:
9. Shark Attack
You can usually tell a lot about a pitcher by glancing at his strikeout-to-walk rate. If you're fanning more than a batter per inning and keeping the free passes low, you're almost always going to be successful.
That's what's made Jeff Samardzija so perplexing this season. The starting pitcher with the best K/BB rate in the majors this year isn't Chris Sale, Clayton Kershaw, or Max Scherzer ... it's Samardzija, who's punched out nearly eight batters for every one walk this year. That's why it's so maddening to see the Shark with a 4.77 ERA, eighth-worst among all NL starters with enough innings to qualify for the ERA title.
For more on that disconnect, and other Samardzija nuggets, we turn to our pitching correspondent, ace analyst Nick Pollack of PitcherList.com.    
Following a pair of disappointing seasons in 2015 and 2016, Jeff Samardzija has been a different animal in 2017. He's holding a career-high 25.6 percent strikeout rate and a career-low 3.2 percent walk rate, both phenomenal numbers that should indicate success. Yet the bottom line shows a 4.77 ERA and a 6-11 record. There are shallow-level peripherals that do indicate some bad luck for Samardzija, such as a low 65.4 percent left-on-base rate and a 3.54 FIP + 3.21 xFIP. But is there something else going on that can explain the Jekyll-and-Hype results from Samardzija?"

Let's talk about his slider. This season has shown a new iteration of Samardzija's slide piece, which has bumped its velocity nearly two points from 86.8 mph to 88.6 mph, while adding about 1.5 extra inches of side-to-side movement. The result is what you'd expect -- a career-high whiff rate of 16.8 percent and a career high 33.6 percent strikeout rate with his slider. All of that while throwing the pitch in the zone at an exceptional 56.3 percent rate. It's obvious that Samardzija's improved slider is an impetus for his spike in strikeouts, while its increased strike rate is helping him get ahead to keep the walks down.

At the same time, there are plenty of disconcerting numbers. Batters are offering at the pitch more often than ever at a 57.2 percent rate, while he's allowing a high .326 BABIP and a 15.4 percent HR/FB rate on the slider. On one hand you have a dominant pitch – remember, 33.6 percent strikeout rate and career-high whiff rate – and on the other you have a pitch susceptible to getting punished.

Digging a bit further into the pitch illuminates just how reliant Samardzija is on his slider's effectiveness. In all 22 starts in 2017, Samardzija has featured a slider with a negative pitch performance grade eight times. In those eight starts, he's holding an atrocious 7.88 ERA and averaging fewer than six innings per start. In the remaining 14 outings where Samardzija performed well with his slider, he earned a 3.32 ERA. There's your difference maker.

Could this be attributed to bad luck? Let's take a look. The first GIF is from one of Samardzija's poor outings, throwing a slider to Brian Dozier that was crushed for a home run:

Notice how this pitch was supposed to be along the outside corner and ended up right in the heart of the plate. Still that's just one bad pitch. What about another outing where his slider was ineffective?

Each of these pitches lacked both good location and movement, resulting in extra-base hits. It wouldn't be fair to say these were a product of bad luck.

By comparison, let's look at how Samardzija's slider performs when he does well. Here's a GIF from his solid start against the Marlins. Watch how much movement is on the pitch as it eats up Dee Gordon for the strikeout:

Put it all together and the reason for Samardzija's volatility is pretty clear: He lives and dies by the feel for his slider. Among all the numbers, the velocities, and peripherals, there are times that the tweaks are the ones that can't be quantified. There will be days when Samardzija gets into a rhythm with his great breaking ball, and there will be days when his feel for the pitch eludes him. Let's hope those latter days are few and far between.
10. Burning Question of the Week
He's almost certainly not going to win it. The position player who won an MVP award with the fewest number of games played in a non-strike year was Gabby Hartnett, with 116 games played in 1935 ... and he wasn't even one of the five most deserving candidates, by the numbers. If Trout played every game from here until the end of the season, he'd reach 117 games played, and that's in a 162-game season, not the 154-game format that was the standard in Hartnett's days. Meanwhile, Jose Altuve has been an unstoppable force on the best team in the American League, and Aaron Judge has put up video-game numbers on a surprise Yankees contender (even accounting for his recent slump), making voters highly unlikely to give Trout the nod.
Of course there's a big difference between "win" and "deserve to win." There is definitely a scenario in which Trout could deserve to win the AL MVP this year, even at Gabby Hartnett levels of games played.
For starters, Trout already ranks as the third-most valuable position player in the American League this season according to Fangraphs' version of Wins Above Replacement -- and that's despite playing in just 67 games to date. His .343/.463/.703 batting line tops all major-league hitters by a sizable margin, and looks even better once you adjust for the pitcher-friendly confines of Angel Stadium. Give him 50 more games at that pace and he could easily leapfrog Altuve and Judge to lead the league in most advanced metrics by season's end.
It can be tough to appreciate history when it's unfolding before our eyes. Don't make that mistake with Mike Trout. He's Willie Mays, helicoptered into 2017 for our enjoyment.
CBS Sports HQ Daily Newsletter
Get the best highlights and stories - yeah, just the good stuff handpicked by our team to start your day.
Please check the opt-in box to acknowledge that you would like to subscribe.
Thanks for signing up!
Keep an eye on your inbox for the latest sports news.
Sorry!
There was an error processing your subscription.
Keep it right here for all of Sunday's MLB action

Lots of home runs were hit Sunday. Lots and lots of home runs

Mike Trout is amazing, the Nats are in trouble, and the Royals and O's are embarrassing
The game is buried on a Sunday at 4 p.m. ET/1 p.m. PT while 15 MLB games are in progress

With the benefit of hindsight, the Cardinals looked to have messed up

Samardzija had been rumored to be available