Keri the 10: Rich Hill the unlikely star, a Yankees-Tigers brawl and more MLB notes
My favorite parts of the brawl, Dodgers make another great move and more from the week in MLB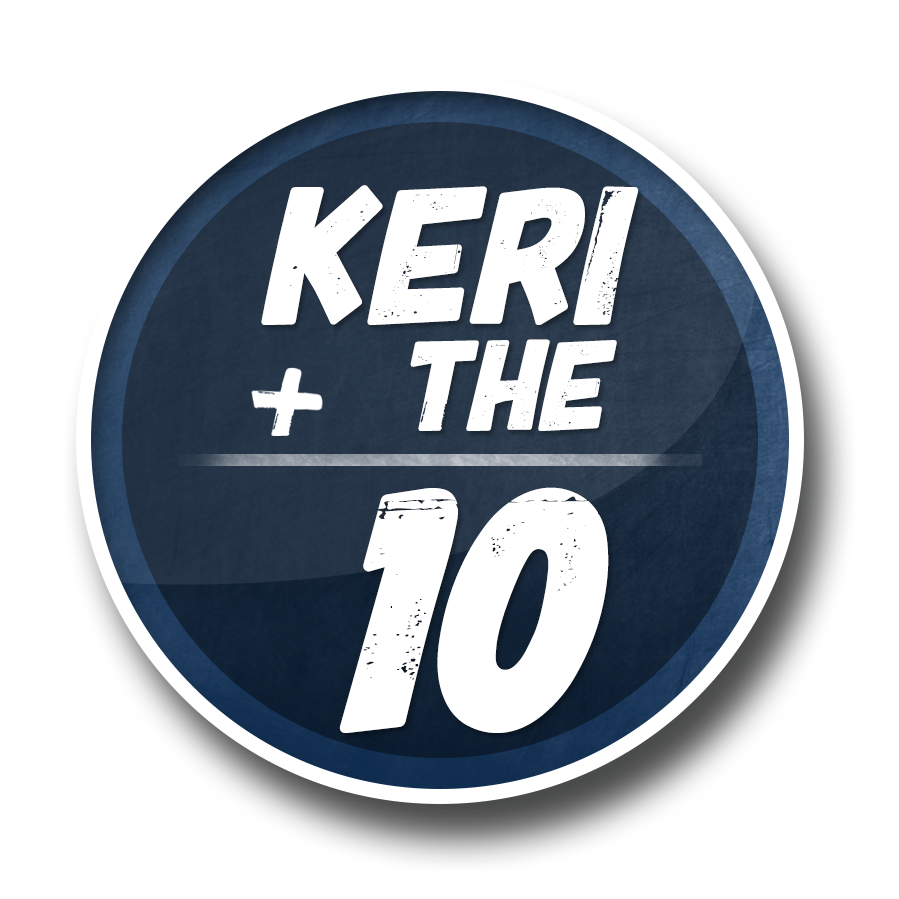 Welcome to this week's edition of Keri The 10! As always, we'll go around the majors with 10 stories that caught our eye from the past seven days. There will be numbers, and occasionally, memes. As always, we will have fun.
1. Rich man, poor man
Three days after wearing those glorious Little Leaguer-signed cleats, Josh Harrison dashed the hopes of Dodgers fans, and Rich Hill, with a walkoff home run at PNC Park. To that point in Wednesday's Dodgers-Pirates tilt, Hill had twirled nine no-hit innings, with only a ninth-inning Logan Forsythe error separating him from perfection. Harrison's homer ruined Hill's shot at history.
That's the pessimist's view, anyway. The optimist would argue that Hill is in good company, joining the likes of Harvey Haddix, Pedro Martinez, and others who no-hit opponents through nine innings, only to fall short of completing the game with flawless results, due to factors both in and out of their control.
More importantly for Hill and the Dodgers, Wednesday night's outing marked the latest gem from one of the most unlikely stars in baseball. Hill enjoyed a standout season way back in 2007, riding his wicked curveball to 183 strikeouts in 195 innings. Then, injuries ravaged his career, limiting him to just 192 combined major league innings over the next eight seasons. The last of those seasons might've been the wildest, with Hill falling so far off MLB scouts' radar, he actually pitched for the indy-league Long Island Ducks. But at the end of that season, Hill turned the tide, firing four strong starts with the Red Sox, including a 10-strikeout, two-hit shutout in his second-to-last start, which ended on a shutout-saving miracle of a catch by Mookie Betts.
He's pitched brilliantly much of the time since then, posting a microscopic 2.12 ERA last season, and striking out a jaw-dropping 122 batters on 103 innings this year -- including 10 in his scintillating performance Wednesday night. All of that despite dealing with some of the most severe blister problems that any pitcher in recent history has faced.
Hill's excellence highlights one of the most subtly amazing elements of this Dodgers team: their ability to dominate, despite so many injuries to the pitching staff. Hill missed a month with those blister issues. Hyun-Jin Ryu missed the end of June and most of July with a foot injury. Right-hander Brandon McCarthy's tossed just 86 2/3 innings due to multiple different ailments. Young southpaw Julio Urias lasted just 23 1/3 innings before going down for the season with a shoulder injury. And veteran lefty Scott Kazmir hasn't thrown a pitch all season. Right now, the Dodgers have five starters on the disabled list: McCarthy and Kazmir, as well as their top three starters: Alex Wood, recently acquired righty Yu Darvish, and the incomparable Clayton Kershaw.
One of the Dodgers' chief goals since Andrew Friedman and Farhan Zaidi took over baseball operations has been to build a team with incomparable depth, one that can withstand injuries, the wear and tear of a long season, even simple player slumps. Despite their avalanche of pitching injuries, the Dodgers sport a .714 winning percentage, which puts them in line to win 116 games... which would tie the single-season record for most wins by an MLB team, ever. So far, mission most definitely accomplished.
2. The Grandy Man...did!
Last week, we begged contending teams to trade for Curtis Granderson, the veteran outfielder a few weeks from free agency who's been absolutely raking since May 1. The Dodgers, again lusting after depth, took the bait.
The deal made tons of sense before Granderson ever pulled on his new Dodger blues. Joc Pederson was in the midst of a rough season, one that had seen him bat just .156/.253/.312 with two homers in 28 games since the All-Star break. Pederson's lack of production, combined with Andrew Toles' season-ending knee injury, created a void in the outfield, even after accounting for Chris Taylor's wonderful (and wonderfully surprising) campaign as the club's surprise left fielder.
Granderson made the deal pay off in a hurry. With two outs in the sixth inning, Granderson came to bat against former Tigers teammate Justin Verlander. Having rediscovered his old, dominant self, Verlander was in the midst of twirling a no-hitter against the fearsome Dodgers. Then, this happened:
Granderson has since smashed two more homers, a grand slam on Monday and a solo shot on Thursday. Though he's batting just .174 in his first six games as a Dodgers, it's hard to quibble with a batting line that also shows three homers and seven walks over that same span -- typical of his three-true-outcomes approach at this later stage of his career. Add in Granderson's habit of wearing high socks colliding with the legacy of the player who inspired that fashion choice, and you wonder what took the Dodgers so long to make the move.
3. Brawlball
There's so much to analyze in Thursday's brawl pitting the fightin' Yankees against the rasslin' Tigers. I'll leave it to my talented colleague Matt Snyder to break down all the details.
In this space, I'll submit a simpler approach: my three favorite moments from this ridiculous game.
3. Tigers catcher James McCann, eschewing the fisticuffs that became the theme of the evening, instead takes out his frustrations on a fan in the bleachers. Probably inadvertently. Probably.
2. Justin Verlander runs out of patience with Victor Martinez, offers brief summary of his feelings, in digital form.
1. CC Sabathia is extremely amused by...all of it.
4. Carsten Charles In Charge
More than just an appreciator of unreasonably angry teammates, Sabathia's came up huge against the Red Sox on Sunday.
Desperately needing a win to stay on the fringes of the AL East race, the big lefty fired six strong innings, allowing just two runs on four hits and one walk. That performance snapped a streak of three straight starts in which Sabathia had allowed four runs in each, failing to make it out of the fifth inning in two of those outings. But Sunday's gem, Sabathia's first after returning from the DL with a knee injury, triggered three fascinating statistical milestones.
First, Sabathia moved to 3-0 on the season against the Red Sox with his Sunday win, in the process dropping his ERA against Boston to a sparkling 0.90. Second, the Yankees moved to 8-0 on the season in games started by Sabathia immediately following a loss. And third, Sabathia's four strikeouts on Sunday moved him past Mickey Lolich to a most incredible perch; he's now struck out more batters than any other left-hander in American League history.
5. Inside voice
Christopher Kamka, ace researcher for CSN Chicago and one of the best purveyors of intriguing stats anywhere, passes along two delightful nuggets on inside-the-park home runs. Last Friday, Twins outfielder Byron Buxton and White Sox rookie Nicky Delmonico both hit inside-the-parkers, marking the first time we'd seen two of those occur on the same day in baseball since July 8, 2015. The six inside-the-park home runs already hit during the month of August mark the most for any month in more than seven years.
Please enjoy this video of Buxton's inside-the-park job. Just be sure not to blink. At 13.85 seconds, Buxton rounded the bases faster than anyone who's ever hit an inside-the-park home run since we started tracking such things in the Statcast era.
6. Lord Byron, redux
We're writing about him for the second straight week. Only this time, instead of praising his always excellent defense and speed, it's time to praise his (gasp) offense!
Buxton's inside-the-park homer last week marks just the tip of the iceberg for one of the biggest hot streaks in baseball. In the past two weeks, Buxton has slugged a massive .698, whacking five home runs over that span. In the past 30 days, he's hitting a still excellent .298/.330/.560, with a sharp increase in his hard-hit rate and a dip in his chase rate on pitches out of the strike zone.
If Buxton can harness even a portion of his recent offensive gains, his all-world speed and defense plus that playable bat could turn him from an offensive liability to a borderline All-Star in a hurry. For a Twins team with real playoff aspirations a year after a 103-loss season, that transformation would be most welcome.
7. Win (Big,) Twins
On Sunday against the Diamondbacks, the Twins trotted out the following lineup:
2B- Brian Dozier
LF- Eddie Rosario
CF- Byron Buxton
DH- Eduardo Escobar
1B- Mitch Garver
SS- Jorge Polanco
RF- Max Kepler
C- Chris Gimenez
3B- Ehire Adrianza  
Even after accounting for recent hot streaks and platoon plays, this was still a Sunday lineup in every sense of the year, with top slugger Miguel Sano out with a shin injury that would ultimately shove him to the DL, and multiple other regulars getting a breather.
So what did the Twins do? How about score nine first-inning runs, the most they'd scored in the game's opening frame in 37 years. You can't predict baseball, Suzyn.
8. Tito The Best
9. Dylan Bundy, dealing again
The Orioles are hanging on the edge of the AL wild-card race, hoping to get a jolt of starting pitching help in an otherwise miserable season for their rotation. While none of their pitchers have come through consistently this season, 24-year-old right-hander Dylan Bundy has shown flashes of brilliance, especially lately. What should we make of that recent hot streak, and his overall performance? For more on Bundy, let's turn to our ace pitching correspondent, Nick Pollack of PitcherList.com:
Dylan Bundy's 2017 has been mostly underwhelming. After a tumultuous journey through the minor leagues and a mix of starts and appearances out of the pen in 2016, Bundy has become a full-time starter, producing a pedestrian 4.17 ERA, 1.21 WHIP, and 117 strikeouts in 140 1/3 innings. Orioles fans have been waiting for their heralded ace to arrive, and most of Bundy's first 21 starts suggest he hasn't yet. However, after averaging fewer than five strikeouts per start and holding a 6.45 ERA across his previous eight outings, Bundy has dominated in his past three starts, averaging more nine strikeouts per game and producing a 2.96 ERA over his past four. Is it time for Baltimore to get excited, or should the O's temper their expectations?

Two stats stick out in recent excellent outings when compared to the rest of his season: velocity and pitch usage. Outside of his past three starts, Bundy had been averaging 92.5 mph on his four-seam fastball. Then following a little extra rest, Bundy's velocity jumped significantly to 93.3 mph across two straight starts – including two of the highest velocities he's held all season. It's great news, but it was short lived. There's been a theory that the extra rest was improving Bundy's ability to pitch, and it would make sense in the context of throwing harder. However, on Wednesday afternoon, Bundy pitched with 10 days rest… and showcased one of his lowest velocities of the season at 91.7 mph. It's possible he reclaims it, but it makes it tough to believe there is a one-size-fits-all solution for him.

Why does Bundy's velocity matter so much? One significant reason is how higher velocity can mask poor fastball locations. The most damaging pitch in Bundy's arsenal this year has been his four-seam fastball, which is allowing a massive .850 OPS and has surrendered 23 extra-base hits, including 10 long balls. These numbers are a product of Bundy holding poor fastball command, with the pitch catching too much of the plate too often instead of painting the corners and inducing chases off the plate. Increasing the difficulty of hitting those poorly thrown fastballs would reduce the number of mistakes that are getting punished over the fence. Additionally, throwing the ball harder can also widen the difference in velocity between his fastball and secondary pitches, making his changeup and slider even more effective as hitters have their timing thrown off.

Let's dive into that slider, which had been known as a cutter prior to 2017. For many years, the Orioles prevented their pitchers from throwing cutters, but that philosophy was put to rest last offseason, with Bundy finally getting the green light to throw the pitch once again. Ben Palmer of The Baltimore Wire explained the importance of Bundy integrating the pitch as a starter, and it has worked wonders this year. Entering Wednesday's game, Bundy's slider generated swings-and-misses at an elite 23.6 percent mark, holding a whopping 43.2 percent strikeout rate as batters are hitting just .170 off the pitch. It made Josh Donaldson throw his bat in a fruitless effort to make contact:

Yet despite being the most successful pitch in his arsenal, Bundy was throwing the pitch just 20 percent of the time across his first 21 starts. It's a common theme in these breakdowns to highlight pitchers throwing their best pitches most often, and Bundy is no exception. His past three starts have seen a dramatic increase in sliders, rising to 29.7 percent usage and generating whiffs 34.8 percent of the time, raising its already elite mark to an unrivaled level. Needless to say, the more Bundy throws the pitch, the more likely he'll continue to make batters uncomfortable in the box, generate more swings-and-misses, and continue producing quality outings.

It's too soon to suggest that Bundy has hit a level where we can expect an ace-like performance more times than not. Still, if he were to become the ace Baltimore desperately needs, these are the first steps he would need to take.
10. Burning Question of the Week
Mid-30s veterans like Justin Verlander and Miguel Cabrera are likely to decline. Michael Fulmer might be considered the most likely candidate to be the team's resident star given his 2016 Rookie of the Year award, but we heard rumors that the Tigers might be willing to trade him despite his talent, impressive early-career results, and controllable service time.
So let's focus on Justin Upton. The Tigers left fielder has been absolutely raking lately, batting an obscene .329/.412/.685 after the All-Star break, following a more moderate first-half line of .265/.350/.491. That's the same late-season rally trend he showed in 2016. It also creates an interesting decision for Upton at the end of this season. Upton, who celebrates his 30th birthday, can opt out of the final four years of his contract at the end of this season, in the process turning his back on a guaranteed $88.5 million.
Given teams' rich coffers and a weak free-agent class this winter, though, Upton could realistically target a nine-figure contract over that same span. Remember that Yoenis Cespedes signed a four-year, $110 million deal with the Mets after opting into free agency, and Upton would be a bit younger than Cespedes at the time of his own opt-out, with the added bonus of being a more productive hitter in the years leading up to that opt-out (the same, by the way, can be said of former Tiger and 2017 free-agent-to-be J.D. Martinez).
If Upton opts not to opt out, he could emerge as the team's most dependable offensive star; if Cabrera's weak 2017 numbers stick, Upton might already be that guy. For a franchise whose most recognizable players are mostly old, retaining Upton's services into next decade could be a viable and potentially fruitful option. 
CBS Sports HQ Daily Newsletter
Get the best highlights and stories - yeah, just the good stuff handpicked by our team to start your day.
Please check the opt-in box to acknowledge that you would like to subscribe.
Thanks for signing up!
Keep an eye on your inbox for the latest sports news.
Sorry!
There was an error processing your subscription.
The Major League Baseball rulebook lacks clarity on checked swings

Also, watch SportsLine on CBS Sports HQ live at 6 p.m. ET for all today's best bets

SportsLine's advanced computer model simulated Friday's Reds vs. Cubs matinee 10,000 times
SportsLine's top experts have released their best MLB parlay for today

This is the second son of a Hall of Famer that has been called up this season by Toronto

SportsLine's Mike McClure, a DFS pro with nearly $2M in winnings, gives optimal lineup adv...