Keri the 10: Stanton trade? Together for Bettis, the Mets plague and more
Plus why teams should trade for Granderson, a pop quiz, breaking down Kimbrel's dominance and more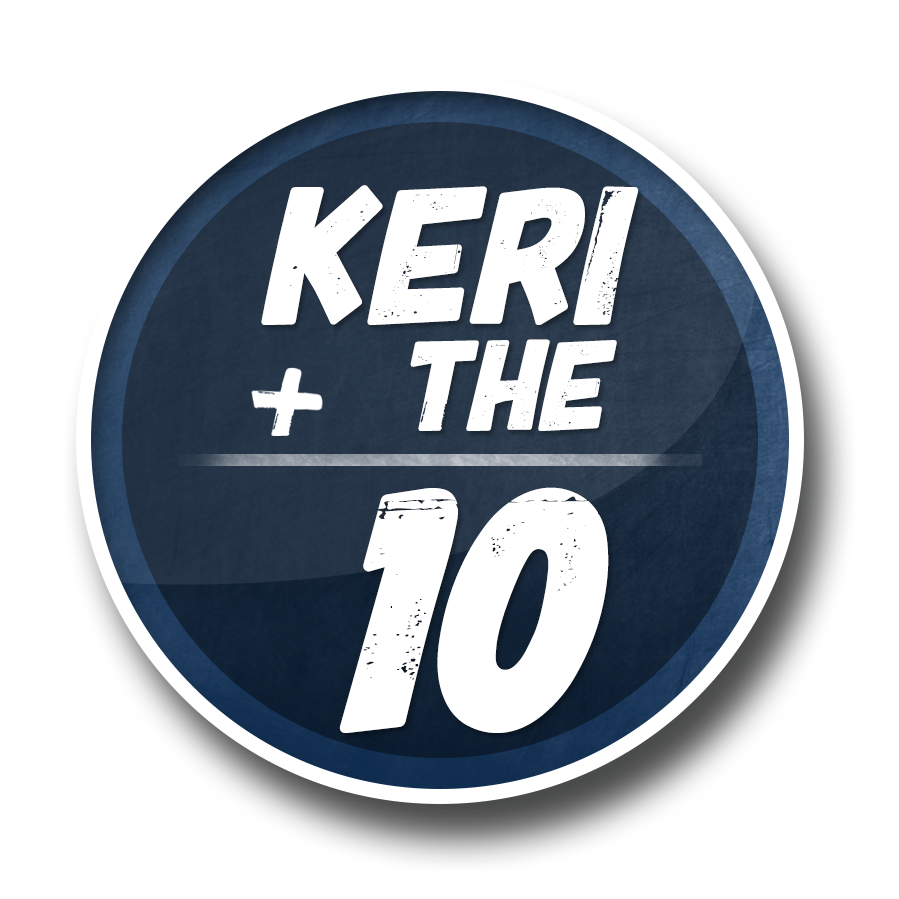 Welcome to this week's edition of Keri The 10! As always, we'll go around the majors with 10 stories that caught our eye from the past seven days. There will be numbers, and occasionally, memes. As always, we will have fun.
1. Stanton Smash
Wednesday was a shocking, unsettling and upsetting day in the world of baseball. On that day, Giancarlo Stanton ... did not hit a home run.
That non-event was noteworthy because it marked the first time in seven games that the Marlins slugger hadn't gone yard. Still, the damage he has done lately is on par with some of the biggest runs in baseball history. Consider:
In addition to homers in six straight game, he just completed a run of 11 round-trippers in 12 games.

Stanton's 43rd homer of the season, hit Monday against the Giants, set a new single-season franchise record.

Stanton's recent run of 19 homers in 31 games marked the first time any major leaguer had done that since 2003. (Source: Miami Marlins)

Stanton has smashed 23 homers since July 5. The Giants' entire team has hit 24. 

All the talk of Stanton taking aim at Roger Maris' record is hilarious and misguided, given that Maris hasn't held the record for 19 years, and no amount of revisionist, drug-warrior hysteria is going to change that. That aside, anyone hitting 60 homers in a season under any circumstances is a monumental feat, one accomplished just eight times in baseball history. Here's hoping we see a lot more of these in the final month and a half of the season.
2. Stanton trade?
For the 8,000th season in a row, bored sports radio hosts have decided that because Stanton is really good and really cool and the Marlins are neither, he should -- nay, will! -- get traded to another team, any minute now.
In theory, you might argue that there's at least a tiny bit of smoke to go with the fire this time. Stanton recently cleared waivers, and CBS Sports' Dayn Perry has all the details on what that means, when it comes to setting odds on whether the Marlins might consider trading their superstar. I still think the chances of a trade in the immediate future are pretty much nil. There are simply too many machinations and X-factors in play at this point in the season for a blockbuster trade to happen with the highest-paid player in baseball at the very height of his powers as the centerpiece.
As for the future, here's the rub: If the new Marlins owners really want to consider trading their franchise player, they shouldn't -- can't! -- stop there. They should then market Marcell Ozuna, Christian Yelich and every other valuable asset on the major-league roster. Turning your ballclub from kind of crummy to bad in the name of some faraway rebuilding plan makes no sense, unless you go all in with that rebuild. The point of new, well-heeled owners taking the reins is that financial restrictions should hopefully no longer dictate how the club gets built. But if you can move Stanton at his absolute peak for enough young talent to fuel a future Marlins juggernaut, that's worth considering ... so long as you keep going from there.
Chad Bettis' start Monday night against the Braves was going to be emotional, no matter what happened. The right-hander was making his first start of the season after spending months receiving treatment for cancer. Little did anyone know that Bettis would fire one of the best starts by a Rockies pitcher all year -- no minor feat for a team that has boasted surprisingly impressive pitching in 2017.
The game started in wild fashion, with a play you might never see again. The very first batter for the Braves, center fielder Ender Inciarte, looped a ball to left that scooted past Gerardo Parra. In a wildly aggressive move, Inciarte tried to stretch his triple into an inside-the-park home run, only to be thrown out by a lot.
After that, Bettis was nearly untouchable. He breezed through seven innings, striking out two, walking none, allowing just six hits ... and firing nothing but goose eggs at the Braves, despite pitching at run-happy Coors Field. Bettis' modus operandi on the night? Killing as many worms as possible, in this case by racking up 11 groundball outs.
The reaction to Bettis' performance was nearly as impressive as his actual pitching. It started when the Rockies' excellent social media team tweeted a picture of Bettis on the mound to start the game, noting that no matter how he fares, fighting against cancer and returning to the mound is an incredibly impressive feat in its own right. A passel of other major-league teams responded with a big GIF party, tipping their virtual caps to Bettis for his return.
Maybe the best moment came after Bettis threw his final pitch. Watch Bettis' face, and that of Rockies manager Bud Black, as the two acknowledge what has just happened. Helluva moment, helluva game, helluva story.
4. Lord Byron
Can we just go ahead and give Byron Buxton his Gold Glove award for being the best center fielder in baseball?
Do we really have to wait six and a half more weeks to acknowledge what both the numbers, and the highlight reels, have already told us?
5. The Grandy Man can (help your team, so trade for him!)
Curtis Granderson's awful April (.128/.174/.221) skewed his season-long stats. But since May 1, he has been raking, hitting a fantastic .262/.379/.560. Those numbers grade out as 45 percent better than league average on a park-adjusted basis. To put that into perspective, Corey Seager, Kris Bryant and Daniel Murphy haven't hit that well over this full season.
The Mets have made no secret of their willingness to trade Granderson, who's 36 years old and eligible for free agency at season's end. Multiple teams could benefit from his outfield bat, most notably the Angels (leading the wild-card chase, but with no legitimate hitters on the roster after Mike Trout and Andrelton Simmons) and Nationals (seven more Nationals outfielders got injured while you read this sentence), and the cost wouldn't be prohibitive at this point, given we're talking about acquiring just 40-plus regular-season games of his service (plus playoffs). So while the Tigers and Astros keep playing their neverending game of Justin Verlander Chicken, there's a much easier and potentially just as beneficial deal sitting out there, just waiting to happen.
6. Also, Granderson needs to leave the Mets before he contracts the plague
How else can we read a season in which every Met since Jerry Koosman has spent weeks on the disabled list? What else can we say after the latest Mets injury debacle?
Before Wednesday's game against the Yankees, manager Terry Collins was forced to scratch both Jose Reyes and Wilmer Flores from the lineup with strained rib cage muscles. That forced Collins to start catcher Travis d'Arnaud at third base for the first time in his career. It also led to one of the wildest boxscores you'll ever see. Collins had so little faith in d'Arnaud's glove as a non-catcher, he repeatedly flipped d'Arnaud and Asdrubal Cabrera between third and second, all in an effort to minimize the chances that anyone would actually hit balls to d'Arnaud.
Credit d'Arnaud for successfully handling his one and only chance of the evening, a popup to second base. And credit Collins for giving us this piece of grotesque beauty, one that's oh so perfectly Mets.
7. Pop quiz
Which starting pitcher owns the lowest home ERA in baseball this year? You want to say Chris Sale, right? Max Scherzer? Corey Kluber? Who else could it be?
The answer, bizarrely, is Gio Gonzalez. The Nationals left-hander's stinginess at home has fueled a 2.49 ERA that's the third-lowest among all major-league starters with enough innings to qualify for the ERA title.    
It's probably fool's gold. Gonzalez has long been one of the wildest pitchers in baseball, and this season is no exception. Despite his sparkling ERA, he also owns the fifth-highest walk rate. Just seven hurlers with a minimum of 1,500 pitches thrown this season have thrown a smaller percentage of their pitches for strikes. That list includes known punching arsonists Wade Miley, Mike Pelfrey and Francisco Liriano. Gonzalez has gotten away with his usual lack of command with a bunch of luck: Only one pitcher has stranded a higher percentage of runners, and only four have seen a lower percentage of balls in play fall in for hits.
Whether you're a fantasy player or a Nats fan, know this: That kind of off-the-charts luck rarely lasts. If you're wondering about Gonzalez's fortunes in September and October this year ... bet the under.   
8. All the news from Cleveland
Three streaks came to an end for Cleveland on Thursday. All three, in their own way, speak to good tidings.
Good: Cleveland's rookie center fielder Bradley Zimmer finally snapped one of the worst streaks for any hitter in baseball Thursday night, collecting his first hit in August.
Better: Cleveland just ended a streak in which its pitchers struck out 10 or more batters in 13 straight games ... an all-time major-league record.
Best news: The Twins snapped Cleveland's six-game winning streak Thursday night. But Cleveland still leads the AL Central by 5 1/2 games, just shy of the team's biggest division lead of the season (six games), set Tuesday.
The Red Sox closer isn't merely having the best season of his dominant career. He's also on pace to post one of the best seasons by any relief pitcher in years. In 51 innings, Kimbrel has punched out an incredible 94 batters, walking just eight and allowing a mere 25 hits.
How has he done it? For the answer, we turn to our ace pitching correspondent, Nick Pollack of PitcherList.com:
After a dismal 3.40 ERA in 2016 with a horrific 13.6 percent walk rate, Kimbrel has been phenomenal this year, holding a sparkling 1.41 ERA, 4.3 percent walk rate and striking batters at a massive 50.3 percent rate -- the highest of his career.

Kimbrel is inducing a swing-and-miss rate of 20.4 percent this year, which is elite for any single pitch let alone a pitcher's entire repertoire, and it's no surprise this is the highest mark of his career. He's also getting batters to chase off the plate more often, jumping from 31.2 percent to a career-high 37.2 percent, which explains his rise in strikeouts.

But here's where things get interesting. Batters are hitting nearly the same in 2017 against Kimbrel as they did in 2016 -- .142 against .151. The change in BABIP (.242 in 2016 against .268) combined with a massive growth in strikeout percentage in 2017 (37.3 percent vs. 50.3 percent) can explain their likeness, but then we have the stark difference in ERA (3.40 vs. 1.41), which leaves the sole difference maker: Kimbrel's large walk-rate discrepancy.

Let's turn back to his plate discipline numbers. Save for the massive rise in swinging strike rate, there are two numbers that have gone in opposite directions: his zone and contact rates. He has bumped his zone rate from 42.1 percent to a 48.8 percent clip, yet batters are making dramatically less contact, plummeting from a 78.9 percent contact rate last year to just 69.4 percent in 2017. Wild, but true: Kimbrel is throwing more pitches over the plate, yet batters are making less contact on all swings.

The reason for the dwindling contact rates is because Kimbrel is simply making batters swing more (44.3 percent swing rate in 2016 to 49.1 percent in 2017), as his stuff is still as filthy as ever, except with more pitches now being thrown over the plate. Here's what hitters have to deal with on a regular basis:

If you're asking how you're supposed to hit that pitch, the answer is easy. You don't. Kimbrel has raised his zone rate for sliders massively from 33.1 percent to 44.6 percent, forcing batters to deal with the pitch above constantly. Even Paul Goldschmidt got a taste of the new approach during the All-Star Game, and flinched. Kimbrel made a perennial MVP candidate flinch on a pitch that landed right over the middle of the plate:

In the end, all that Kimbrel needed to do was attack hitters. His stuff is electric. So instead of trying to throw the perfect pitch or worrying about giving into hitters, he has been ferocious on the hill, confident that batters can't touch what he's throwing. By throwing more sliders for strikes, he's able to get ahead of batters quicker, forcing them to swing more often at pitches off the plate as they are immediately on the defensive. With fewer batters getting free passes, he's able to close the door more often. That's how you slice your ERA by two runs, one season to the next.
10. Burning Question of the Week
Major-league baseball has had a wider diversity of championship winners than any of the other big four North American team sports over the past 30 years. This season, we have more parity than anyone knows how to handle, with eight teams sitting within three games of the American League wild-card spot.
If the implication here is that smaller-revenue teams are doomed, that too doesn't fly. Witness the recent success of teams like Cleveland, as well as the Rays a little further back. And none of that counts the roaring Royals, who won back-to-back AL pennants in 2014 and 2015, a World Series in '15 and are now vying for the playoffs again.
So yeah, not really buying the argument that baseball lacks parity. You can win if you spend a lot, and you can win if you spend less. As it should be.
CBS Sports HQ Daily Newsletter
Get the best highlights and stories - yeah, just the good stuff handpicked by our team to start your day.
Please check the opt-in box to acknowledge that you would like to subscribe.
Thanks for signing up!
Keep an eye on your inbox for the latest sports news.
Sorry!
There was an error processing your subscription.
Catch up on all of Tuesday's baseball action right here

Adam Thompson has a three-way parlay that could pay off huge Wednesday

The road is Omaha is complete, now it's time for the College World Series
Machado is a pending free agent and seems likely to be dealt

Strickland punched a door in anger and now will miss a big chunk of the season

The Nationals just traded for Kelvin Herrera, who joins a 'pen with one particularly interesting...