Keri the 10: The Royals are good again, Kluber's best pitch and more MLB notes
Plus Altuve's a fireball, looking back at the Nats-Pads-Rays trade and more from the week in MLB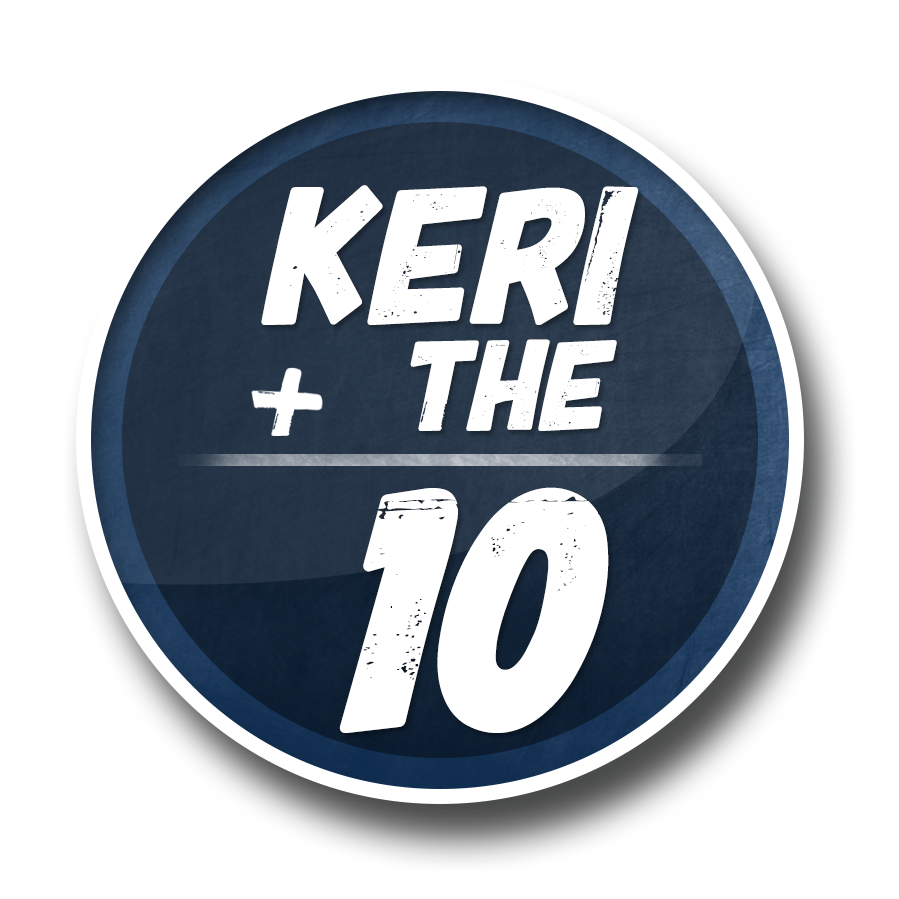 Welcome to this week's edition of Keri The 10! As always, we'll go around the majors with 10 stories that caught our eye from the past seven days. There will be numbers, and occasionally, memes. As always, we will have fun.
1. Break up the Royals ...
... because they might never lose another game. On May 7, Kansas City fell to 10-20. The magical run that netted two straight American League pennants and a World Series title looked like it would end with a crash, with the Royals limping toward the bottom of their division and numerous core players from the team's recent run getting shipped off in deadline deals.
So much has changed since then. The Royals have ripped off eight wins in a row, jumping into one of the AL's two wild-card spots and breathing down the necks of AL Central-leading Cleveland. All told, they've gone 43-27 since that early-May low point, powering their way up the standings, invoking the spirit of those Cinderella 2014-15 teams, and putting any talk of trading pending free agents Mike Moustakas, Lorenzo Cain, Eric Hosmer and Jason Vargas to rest.
They couldn't have done it without Whit Merrifield. The Royals drafted Merrifield in the ninth round out of the University of South Carolina seven years ago and ... weren't expecting all that much. Merrifield never made any top prospects lists, his lone notable season coming in 2014 when he hit .319/.371/.470, but did so at the advanced age of 25 in Double- and Triple-A. He made his big-league debut on May 18, 2016, with about 1/100000000th the fanfare of any top prospect. The Royals weren't very good last year, and Merrifield wasn't expected to make them any better. He hit a respectable .283/.323/.392, showing solid contact skills but little power, as befitting his modest pedigree.
He's a helluva lot more dangerous now. After Merrifield added 20 pounds of bulk over the past two winters, his power has blossomed. Despite nearly identical batting average and on-base numbers, a near-100 point surge in slugging average has turned him into one of the team's best hitters. More recently, he has absolutely exploded. In July, Merrifield is batting a massive .326/.378/.640, including a two-homer blitzkrieg against the White Sox on Sunday. A speed threat who's carrying an exemplary 16/1 stolen-base mark, Merrifield has bumped the punchless Alcides Escobar out of KC's leadoff spot. The result is a top-of-the-order hitter who has energized the Royals (and his fantasy owners) with big numbers.  
Kansas City has already made one sizable deadline trade (more on that below), and might not be done dealing. But whether they keep swapping, having an out-of-nowhere power-and-speed threat turbocharging the lineup would go a long way toward fostering more October baseball in Kansas City. 
2. Smaller Cahill to climb
Even with Merrifield and Vargas putting up shockingly good numbers and roster mainstays like Moustakas and Cain thriving, the Royals spent the first half of this season lacking depth, getting by without enough talent to fill out a strong lineup or complete rotation.
They addressed one of those problems this week. Kansas City dealt pitchers Travis Wood and Matt Strahm, as well as infield prospect Esteury Ruiz to the rebuilding Padres. In return, they acquired relievers Brandon Maurer and Ryan Buchter and right-handed starter Trevor Cahill. With no Justin Verlanders, Yu Darvishes or Sonny Grays to be found in this deal, some classified it as a minor transaction. A closer look suggest it's a fair bit more than that.
In Maurer and Buchter, the Royals acquire two quality relievers. Maurer's 5.72 ERA wouldn't give you the impression of an effective pitcher, of course. But his underlying numbers point to solid skills and bad luck: He has struck out nearly five times as many batters as he has walked this season, with far more less contact allowed than in 2016, only to be undone by some shaky defense and a handful of lousy results with men on base. The lefty Buchter has struggled with walks, but he also induces a ton of whiffs, punching out 47 batters in 38 1/3 innings this year. More broadly, the Royals thrived in 2014 and '15 in large part by fielding tons of bullpen talent. With Maurer and Buchter added to a solid trio that includes Kelvin Herrera, Joakim Soria and Mike Minor, KC has quietly built a bullpen core that might not be far off the great Greg Holland-Wade Davis-Herrera threesome of the glory years.
Then there's Cahill. An extreme ground-ball pitcher who rarely missed bats early in his career, he has evolved into one of the most prolific strikeout artists in the league, with his nasty curveball limiting opponents to a measly .121 batting average. Pair that whiffing ability with a still sky-high 56.8 percent ground-ball rate and you have a pitcher who induces lots of weak contact -- when hitters are making contact at all.
Individually, none of those pitchers look like the top-of-the-marquee types who can carry a team back to playoff glory. But together, they might well offer enough to give the Royals a good shot at it.
3. Playing the long game
Though you won't find any big-name prospects in this trade, the three players the Padres acquired from Kansas City all offer varying degrees of upside. Veteran left-hander Travis Wood has been awful this year, posting a 6.91 ERA. But Friars general manager A.J. Preller had previously expressed interest in him, and the Royals are paying his entire salary for the rest of this season and all of next year, making him a decent no-risk spec play. Matt Strahm underwent season-ending knee surgery earlier this month, but he's a 25-year-old lefty who has struck out gobs of hitters both in the minors and in his short major-league career.
The main attraction, though, is Esteury Ruiz. Just 18 years old, Ruiz has raked in his first exposure to pro ball, hitting .419/.440/.779 with three home runs and nine steals in 21 games for the Royals' rookie-level Arizona League affiliate. Though listed at just 6 feet tall and 150 pounds, Ruiz brings the kind of hit tool and projectable frame that scouts like. Ben Badler of Baseball America Ben Badler compared the teenage second-base prospect to a toolsy former major-league All-Star, saying Ruiz has "a chance to grow into an offensive-minded second baseman in the mold of Alfonso Soriano."
This is exactly why rebuilding teams like the Padres go bottom-fishing for players like Cahill, and showcase their veteran relievers at the deadline: the chance to land even one potential impact player, even if that impact might not be felt until well into next decade.
4. Sometimes, trades take a while to properly evaluate
On Dec. 19, 2014, the Rays, Padres and Nationals hooked up for a huge, three-team trade. Ten players changed clubs in the deal, with the main ones being Trea Turner and Joe Ross to the Nationals, Wil Myers to the Padres and Stephen Souza Jr. to the Rays.
At the time of the trade, the consensus was that the Nats made out best of all. Souza broke into the majors at the advanced age of 25 and didn't come with nearly as much prospect sheen as the two upside guys Washington acquired in the trade, Turner and Ross. The Padres were the team that gave up Turner and Ross, but Wil Myers was a Rookie of the Year winner who was expected to lead the Padres' turnaround. The Rays looked like they got the booby prize in Souza, a decently talented player who never made any top prospect lists and looked like he might be an analytical pickup that was a little too cute for its own good.
Two-and-a-half years later, the Nationals still look like they won the deal, given Turner's youth and massive talent. As for the rest of the trade, check this out:  
Stephen Souza Jr: .271/.373/.510, 140 wRC+, 3.0 WAR (per Fangraphs)
Wil Myers: .248/.328/.469, 108 wRC+, 0.6 WAR
The Rays would not be in the thick of an unlikely playoff chase without Souza blossoming into one of the best hitters in the league. And Souza can't test free agency until after the 2020 season. Not bad.  
5. We interrupt this column to bring you ...
... the Eugenio Suarez rain-delay dance:
6. Jose Altuve is a human fireball
Before Wednesday's game, stats ace Ryan Spaeder tweeted this unbelievable nugget on the Astros All-Star second baseman.
Altuve went 2 for 4 with a double in Wednesday's loss to the Phillies. In the process, he actually lowered his batting average, on-base percentage and slugging average over the past few weeks. The Astros, and their diminutive superstar, are on another planet right now.
7. Sweet, sweet revenge
In a season that could net more home runs than any other in baseball history, at a time when arms keep breaking down, pitchers still retain one advantage over hitters: They can showboat as much as they want, without fear of retribution. Compare that to a hitter, who could get a 97-mph fastball in the ear if he takes 0.00001 seconds too long to admire a home run.
Giancarlo Stanton has had enough of that double standard. First, wildly demonstrative Rangers right-hander Jason Grilli went full fist-pump/scream-to-the-heavens mode after striking out the Marlins slugger Tuesday night. When Stanton faced him the next night and launched one of his trademark monster home runs, he offered an appropriate retort.
8. Adrian Beltre, still the best
Yes, he's a future Hall of Famer. Sure, he's just four hits away from 3,000. But Beltre would be the platonic ideal of a baseball player even if he couldn't hit a lick -- because he's the most entertaining player of his generation.
We already know about his violent reactions to having his head touched. His corkscrew swing that occasionally leads to hitting home runs from his knees. The many flavors of shenanigans he gets into with Rangers infield running mate Elvis Andrus.
With Beltre, new ways to have fun are always just around the corner. Sometimes, it's the little things, like rushing to pick up a ball in the dirt to help the catcher out.
Then other times, it's more-involved forms of hijinks. With the Rangers trailing the Marlins 18-6 in the eighth inning of Wednesday night's game, umpire Gerry Davis decided that was a perfect time to become the most pedantic human being of all time. Beltre was standing a little ways out of the on-deck circle. So Davis told him to get back in the circle. Beltre, bemused by this insistent ump barking orders at him near the end of a 12-run game, decided to take Davis up on his offer ... by dragging the on-deck circle a good 10 feet, so that he could stand safely in it.
We should all live our lives with as much joy as Adrian Beltre does.
9. Klubot Mode: Excited
Corey Kluber might be the most anonymous superstar in baseball. He's a Cy Young winner. He dominated in Games 1 and 4 of last year's World Series (before finally running out of gas after a marathon season of excellence). He consistently ranks among the league leaders in nearly every pitching category imaginable. Yet his quiet, expressionless demeanor has dulled his profile outside the Cleveland area.
The Kluber-robot persona (he goes by "Klubot" at Progressive Field) can't dampen his outstanding performance this season, though. Our pal Nick Pollack, the excellent analyst for PitcherList.com, has more on Kluber's stellar 2017 campaign.
What might be most incredible about this Corey Kluber season is that he had a tough go of it out of the gate. After Kluber's May 2 start, he owned a 5.06 ERA, walking more than three batters per nine innings through his first six outings. He hit the disabled shortly thereafter with a lower back strain. Since making his return on June 1, Kluber has been nothing short of amazing, posting a 1.52 ERA, striking out 13.7 batters per nine innings while walking just 1.7/9 IP.

Numbers are fun so here's another stat to express just how good Kluber has been in those 10 post-DL starts. If his strikeout percentage of 41.2 percent were compared to the major-league leaders, it would be the fourth-best in the MLB … including relievers. Only Craig Kimbrel, Tommy Kahnle and Corey Knebel hold better strikeout rates this season -- no starter has fanned batters as frequently as Klubot has since the start of June.

So what is he doing? How is Corey Kluber debilitating batters better than any other starter in the game, and what has changed since 2016?

Let's get familiar with Kluber's repertoire. His favorite weapon to send batters back to the dugout is a slider that's in a league of its own. It's holding a massive 28.6 percent whiff rate thus far, as batters are chasing it off the plate over 55 percent of the time, and he can throw it for a strike 40 percent of the time. In other words, Kluber can turn to his slider to earn a free strike over the plate, or he can throw it off the plate where batters are willingly chasing it. Here's the pitch in action. and we can all have sympathy for those tempted enough to chase it out of the zone:

Batters are hitting a paltry .083 against Kluber's 392 sliders thrown this season. Only Max Scherzer's slider has generated more value this season, and he has thrown nearly 200 more than Kluber. Kluber's slidepiece is arguably the best in the game, and one that is going to stay elite for a long time.

Kluber can spot his cutter exceptionally well, down and away to right-handed hitters. He has improved the pitch's location dramatically this season, nailing the low-outside corner when he wants to, and sliding it off the edge to get batters chasing when he needs it. No wonder its whiff rate has improved from a pedestrian 14.2 percent to a staggering 25.8 percent mark in 2017.

There is one very odd element to Kluber, though, and it shockingly suggests room for growth from a pitcher already solidified as one of the best in the game. Kluber's fastball has consistently been a weak point, with his sinker generating a negative pitch value in every season of his career. That's a very surprising number when he can do this to batters with the pitch:

It's one of the prettier pitches you'll see, but the problem lies in consistency. For every pitch that fools a batter that badly, Kluber has two more that miss their spots and get laced for a home run (17.7 percent career HR/FB rate) or a double (.225 career ISO allowed). This season, things are a little different, as Kluber has been smarter about his fastball usage. Instead of taking the same approach, he's throwing fewer fastballs, dropping from a 51.5 percent usage rate to 45.5 percent this year, in favor of more sliders.

It makes perfect sense: Throw your best pitch more often, and your worst pitch less often.
10. Burning Question of the Week
One quick and dirty way to do this is to peek at some organizational rankings. Per Baseball America, the five worst farm systems in the game at the start of this season belonged to the Royals, Orioles, Diamondbacks, Angels and the dead-last Marlins.  
The Diamondbacks don't really fit in this group, since a lot of their best young players are on the major-league roster, offering multiple years of controllable service time. But the other four should all make you wonder what their future will hold.
The Fish might be primed for another fire sale this offseason, with trade rumors swirling around their megatalented outfielders, led by Giancarlo Stanton. That kind of selloff, combined with the untimely death of Jose Fernandez last September, could leave the team's soon-to-be new owners in a talent bind for years to come. The Orioles have been awful at developing starting pitchers for years now, failing to come up with even one perennially consistent starter since Mike Mussina. The Royals are the hottest team in the majors at the moment, but 2018 could be ugly with Hosmer, Cain, Moustakas, Vargas and Escobar all facing free agency after this season and very few high-upside players toiling in the minor-league system at the moment. For years, the Angels have drafted poorly, scouted poorly, and punted draft picks due to signing compensation-linked free agents. Mike Trout is the best player in the world, so they should have that going for them for three more seasons. They have a ton of work to do if they want to build a winning core around him, though.
Even dire situations can and do eventually turn for the better. But for at least a couple of those five teams, some lean years might lie ahead.
CBS Sports HQ Daily Newsletter
Get the best highlights and stories - yeah, just the good stuff handpicked by our team to start your day.
Please check the opt-in box to acknowledge that you would like to subscribe.
Thanks for signing up!
Keep an eye on your inbox for the latest sports news.
Sorry!
There was an error processing your subscription.
Keep it right here for all of Sunday's MLB action

Lots of home runs were hit Sunday. Lots and lots of home runs

Mike Trout is amazing, the Nats are in trouble, and the Royals and O's are embarrassing
The game is buried on a Sunday at 4 p.m. ET/1 p.m. PT while 15 MLB games are in progress

With the benefit of hindsight, the Cardinals looked to have messed up

Samardzija had been rumored to be available