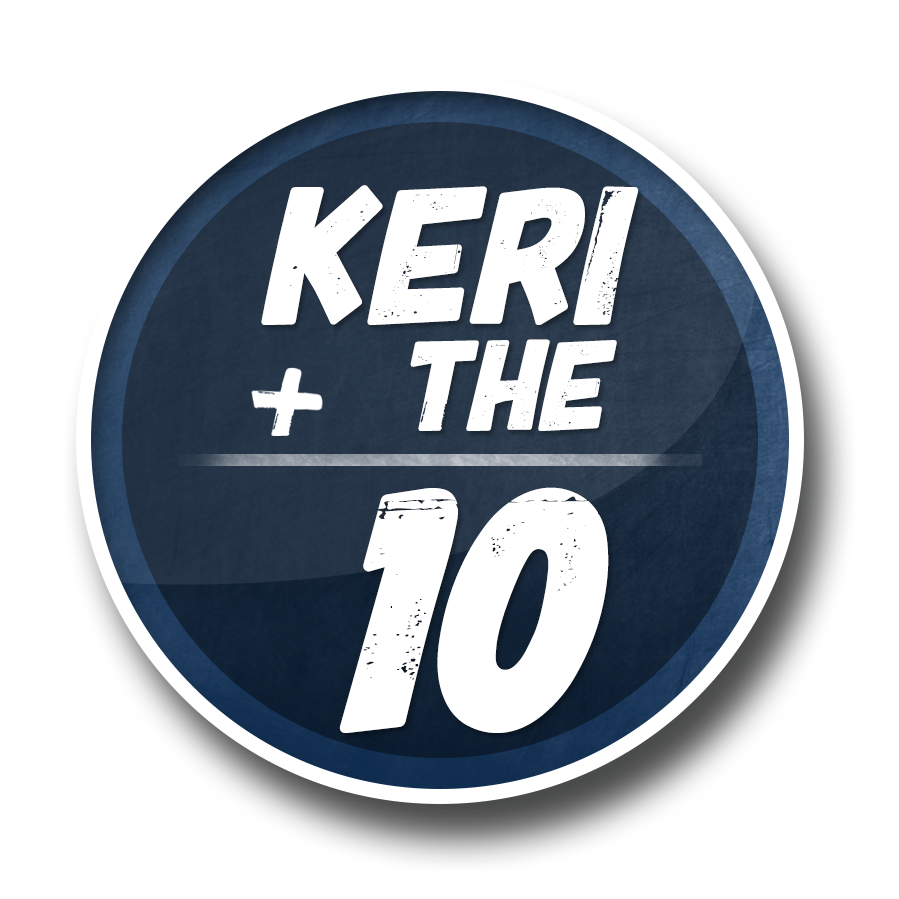 A major pickup by one of the American League's playoff hopefuls upped the ante on an already wild wild-card race. An even bigger pickup at the last possible minute trumped that deal, and threw the waiver deadline into chaos. We take a look at both deals, and more happenings for the stretch run, in this edition of Keri The 10.
1. Justin time
As of midnight ET Thursday night/Friday morning, the biggest trade of the 2017 season looked like it wasn't going to happen. Since I had already written up that non-deal before having to rewrite this column, I'll share that first draft for fun:
Amid all these successful deals over the past few weeks, the Astros came up painfully short on a deal that would've brought them the biggest fish of all.
Late Thursday, just minutes before the waiver trade deadline, Detroit News writer Chris McCosky reported that the Tigers and Astros had agreed to terms on a deal that would send Justin Verlander to Houston, giving the Astros the ace they badly needed and craved and fortifying their position as World Series contenders. Then, this happened:
I have been told that Verlander deal is off. Apparently he didn't waive no trade clause. Again, Verlander deal has been nixed

— Chris McCosky (@cmccosky) September 1, 2017
After a shaky start to the season, Verlander has flashed a 2.31 ERA in his past 11 starts, striking out 84 batters in his past 74 innings and holding opponents to a .190 batting average. Two months from now, when we look back on the 2017 season and the playoffs that followed, we might very well end up fixating on the deal that didn't happen, more than the ones that did.
So much for all that. Anthony Fenech of the Detroit Free Press was the first to report the deal happening after all, with Verlander headed to Houston for three prospects at the absolute last minute before the deadline, with details only emerging some 25 minutes later.
Those prospects on the move are right-hander Franklin Perez, outfielder Daz Cameron and catcher Jake Rogers, rated the third-, 10th- and 20th-best prospects in Houston's system at the start of this season by Fangraphs. (MLB.com's more recent list ranked those three at third, ninth and 11th). That was a significant price for the Astros to pay to land a 34-year-old pitcher who's owed a gaudy $28 million a year through 2019 (plus a potential $22 million vesting option in 2020).
Still, Verlander could be well worth it. In an otherwise wonderful season for the Astros, starting pitching has become an area of concern, with staff ace Dallas Keuchel fighting injuries at various points this season and presumed No. 2 starter Lance McCullers trying to rehab from a back injury, his ability to dominate the way he did early this season in doubt.
Meanwhile, Verlander has laid to rest concerns about his age and ability with his 11-start run of brilliance, culminating in six innings of one-run ball in his most recent start at, of all places, the house of horrors that is Coors Field. As I wrote earlier in August when rumors of the Astros' interest gained steam, a Verlander-to-Houston trade made too much sense not to happen, and the Astros probably just waited until the last possible second to strengthen their leverage in trade.
Turns out, that's exactly what happened. And now one of the few existing major-league franchises without a World Series title has a better chance to end that drought today than it did yesterday.  
2. Upton here
One-half of baseball's best meme of all time has found his way onto a contender, and not a moment too soon.
The waiver deadline acquisition of Justin Upton gives the Angels one of the league's most potent bats. For the season, the 30-year-old outfielder ranks among the league leaders in home runs and slugging percentage. But Upton has been even deadlier in the second half, replicating his 2016 late-season surge by batting .304/.382/.631 since the All-Star break, with an impressive 13 home runs in 168 at-bats.
Few teams could have benefited more acquiring that kind of power-hitting left fielder. The Angels had collectively produced an awful .243/.318/.340 from that position, the 28th-worst showing in the majors on a park-adjusted basis (the Angels flipped incumbent weak-hitting left fielder Cameron Maybin to the Astros in tandem with the Upton pickup). More than just left field, the Angels lineup has been riddled with holes this year, with Mike Trout and Andrelton Simmons playing like MVP candidates followed by a whole lot of question marks elsewhere.
Upton can opt out of the final four years of his $132.75 million at season's end, and he almost certainly will, given the weakness of this year's free-agent class plus a chance to make bigger bucks after a big year. Given the banjo hitters they're replacing in the lineup, Upton merely costing a decent but not elite prospect in Double-A right-hander Grayson Long, and the Angels being just one game out of a wild-card spot at the time of the trade (matched up against a passel of fairly mediocre teams), this could end up being one of the most fruitful in-season trades of the year. Add in the last-minute acquisition of Brandon Phillips, whose .291/.329/.423 line this season makes him look like Ryne Freaking Sandberg compared to the Angels' worst-in-baseball ciphers at second base, and the Angels did extraordinarily well on Thursday.
Score another one for general manager Billy Eppler, whose trade for Simmons and other under-the-radar moves have enabled the Halos to hang in the race. That's a hell of a feat, after inheriting an Arte Moreno-infected roster that previously consisted of Trout, a quarter-billion dollars for Albert Pujols to be one of the worst players in baseball and somewhere between zero and two Bedrosians.
3. Topsy-turvy Twins
We've been all over the Twins bandwagon lately, singing the praises of Byron Buxton, Eddie Rosario and others who've keyed an unlikely run from last year's cellar dweller to potential playoff entrant in 2017.
But Thursday started off as a pretty ugly day in Minnesota's unlikely playoff quest. First, a report on Buxton suggested he might have a fractured hamate bone in his hand, an injury that would've likely knocked him out for the season. Then came Matt Belisle's ugly afternoon. The 37-year-old right-hander had been pitching brilliantly over the previous two months, posting a 1.40 ERA and limiting opponents to a .156 batting average since July 1. So when Belisle came into a tie game in the ninth Thursday and gave up a home run, a single and a walk, it looked like another bitter pill to swallow.
Then again, maybe this is the Twins' year. Belisle's ugly ninth resulted in just one run allowed. Then Minnesota stormed back in the bottom of the ninth with two runs, pulling out a 5-4 victory over the White Sox. They also learned that Buxton had merely suffered a bone bruise, an injury more likely to keep him out a few days than a few weeks, thus keeping the all-world gloveman and sudden offensive star in the team's plans for the home stretch.
Multiple obstacles remain. The offense could sputter at some point if Miguel Sano remains on the shelf with his leg injury. Moreover, the wild-card field remains crowded, and having one of the Twins' closest competitors for that spot nab a big bat like Justin Upton only makes life more difficult. But for a team to go from 103 losses one year to sitting in playoff position as the calendar flips to September the next year is still a hell of a feat.
October baseball in the Twin Cities would be a lot of fun. And if the Twins could find a way to keep winning in the playoffs, Halloween decorations in the clubhouse could make it all extra enjoyable.
4. Aerial reinforcements
When the Baby Bombers nickname started gaining traction in the Bronx, it was meant to encapsulate multiple different top prospects. Gary Sanchez and Aaron Judge made their major-league debuts last season, flashed impressive power and laid the foundation for breakthrough 2017 campaigns. Several other promising youngsters offered hope for the future, including Clint Frazier, Gleyber Torres and others.
Greg Bird became the guy lost in the shuffle. The lefty-swinging first baseman broke into the big leagues with a bang in 2015, batting .261/.343/.529, with 11 homers in just 46 games. His impressive power, combined with Yankee Stadium's short right-field porch, portended a potential future star. Then injuries struck. First, a shoulder injury in spring training of 2016 wiped out that entire season. Then, Bird suffered a major ankle injury in early May this year, knocking him out of the lineup for nearly four months.
Now he's back and starting to rake. In Thursday night's opener of a pivotal four-game series against the Red Sox, Bird homered, singled and knocked in three runs, fueling a 6-2 win that shaved Boston's division lead to 4 1/2 games and kept the Yankees in command of the AL's top wild-card spot. That standout performance followed a huge game for Bird in the nightcap of Wednesday's doubleheader against Cleveland, when he launched a homer and knocked in four. With first-half AL MVP Judge going ice-cold in the second half as pitchers adjust and blow him away with pitches up in the zone and lukewarm hitters like Jacoby Ellsbury, Todd Frazier and Chase Headley still seeing too much playing time, Bird taking flight would be a huge development for the contending Yankees.   
To borrow a theme from his more famous teammate, a big final few weeks of the season for Bird, after all the setbacks he's endured, would offer some sweet, sweet justice.
5. Shortstop steal
Something really weird happened in the baseball world Thursday: The Orioles lost. That was an unlikely outcome, given that Baltimore had ripped off seven wins in a row heading into its series opener against the Blue Jays. Even with that loss, though, the O's remain a very manageable 2 1/2 games behind the Twins in the race for the AL's second wild-card spot.
One streak that didn't stop during the O's loss Thursday night: Tim Beckham hitting like a man possessed. The 27-year-old shortstop went 3 for 5 from the leadoff spot against Toronto, giving him an unfathomable 50(!!!) hits in August. Those numbers coincide exactly with Beckham's tenure as an Oriole. On July 31, facing a surplus of infielders and fed up with Beckham's performance over the years given his pedigree as a No. 1 overall pick, the Rays flipped him to the Orioles for rookie-ball right-hander Tobias Myers. With those 48th, 49th and 50th hits in August, Beckham closed the month hitting a gigantic .394/.417/.661.
None of this is sustainable of course, not with Beckham whiffing 25 times against just three walks in August, and not with an off-the-charts batting average on balls in play of .445 for the month. Still, a month ago the Orioles appeared all but dead in the wild-card race, and had nothing resembling a viable option at shortstop with starter J.J. Hardy on the disabled list. That is, until a division rival swooped in and handed them a free gift.
6. #RaysUp
Tip of the cap to the Tampa Bay Rays for hosting this week's Rangers-Astros series at Tropicana Field after Hurricane Harvey (and some botched negotiations) forced the games to move from Houston. The Rays further announced that all proceeds from the game, including tickets, concessions and parking, would go toward hurricane relief efforts. Granted, the Trop only drew about 13,000 combined fans for the three mid-week games, and it was a bit weird hearing three or four idiot fans trying to yell and whistle as loud as possible in the middle of the game so they could be heard in the mostly empty stadium. But the gesture was genuine, and the proceeds will be real, and much needed.
And hey, the in-game entertainment was top notch.
He's a perfectionist. He's an all-time great. He's funny as hell. And as he showed with a kind gesture toward a young fan Thursday, he knows how to give of himself too.
8. Walk-off block-off
If a home run that ends a game is a walk-off, what should we call a spectacular catch that prevents a winning home run from occurring, thus ending the game? Suggestions welcome. Keon Broxton will be here waiting for the result.
9. Jake's back
If there's one pitcher who can rival Justin Verlander for staging a dramatic in-season turnaround this season, it's Cubs right-hander Jake Arrieta. Our resident pitching analysis guru Nick Pollack of PitcherList.com checks in with his take on Jake.
The first 16 starts of 2017 were a nightmare for Jake Arrieta, as he simply could not command his pitches -- resulting in a 4.67 ERA. But the 2015 Cy Young winner has turned things around in his past 11 starts, with a sparkling 1.69 in 69 1/3 innings. Something has changed, so let's find out what it was.

Let's get the obvious answer out of the way. Both iterations of Arrieta have dealt with the extremities of luck. Since July 2, Arrieta's .217 batting average on balls in play is second lowest to Gio Gonzalez among qualified starting pitchers, while his 7.6 percent HR/FB rate ranks 11th. This means his xFIP -- Fielding Independent Pitching that incorporates the average HR/FB rate -- is a highly mediocre 4.23 in these 11 starts. Conversely, Arrieta held a better xFIP in his first 16 starts of the season -- 3.91 -- as his BABIP was more than 100 points higher at .318, with a 15.9 percent HR/FB rate. xFIP isn't the end-all-be-all of stats, but it does suggest that these two sides of Arrieta aren't so far apart.

Still, Arrieta has made some adjustments and they seem to be working. Recently, he has turned away from his four-seam fastball and pulled back on his curveball to bump his sinker usage from 55.6 percent to 68.1 percent. Watch what Arrieta's sinker can do, and you can understand the change:
The pitch produces ground balls half the time, and batters have hit just .232 against it this year. Arrieta improved his ability to throw it for a strike, raising its zone rate from 50 percent in 2016 to 54.5 percent this year.

But Arrieta's sinker isn't the only pitch that has taken a leap; his slider has vastly improved as well. Through his first 16 starts this year, hitters batted .354 against the slider. Since July 2, however, that number has yielded a tiny .125 batting average. The reason for such a split is quite apparent: location, location, location.

Here is the heatmap for Arrieta's slider locations across the first 16 games:
And here it is for the more recent 11 starts:
Arrieta has gone from throwing the pitch over the heart of the plate to using it as a chase pitch and stealing a few strikes on the outer half of the plate to right-handed hitters. This might be a result of improved command, or it could be a change in approach that stems from his ability to throw more sinkers for strikes early in the count. Now that Arrieta doesn't have to use his slider to steal a strike early in counts, he can save it as a putaway pitch and induce weak contact.

After struggling to find an answer to his problems, Arrieta increased the usage of his sinker while improving its command, while also changing the approach with his signature breaking ball. And it worked. Let's hope it can stick.
10. Burning Question of the Week
Balancing the needs of the teams, players, playoff hopes and fans, how would Commissioner Keri structure September call ups? #KeriThe10

— Dan Smith (@FisCon) August 31, 2017
I've always favored a system similar to the one we see in hockey. During the regular season, allow 26-man rosters, with one player designated to sit each night. That would make long extra-inning games more manageable, and give managers the ability to field stronger benches, if they can resist the urge to blindly go with eight-man bullpens every night anyway.
Then on Sept. 1, you can still expand the rosters to 40 men, allowing teams a good look at prospects they want to evaluate at the big-league level. Except same active roster rules apply: You can only make 25 players available for action each night, so make your picks count.