Keri the 10: Yankees 'blockbuster,' trade buzz, Mariners revival and more MLB notes
Plus Giancarlo Stanton's power surge, the Justin Verlander enigma, the great Alex Wood and more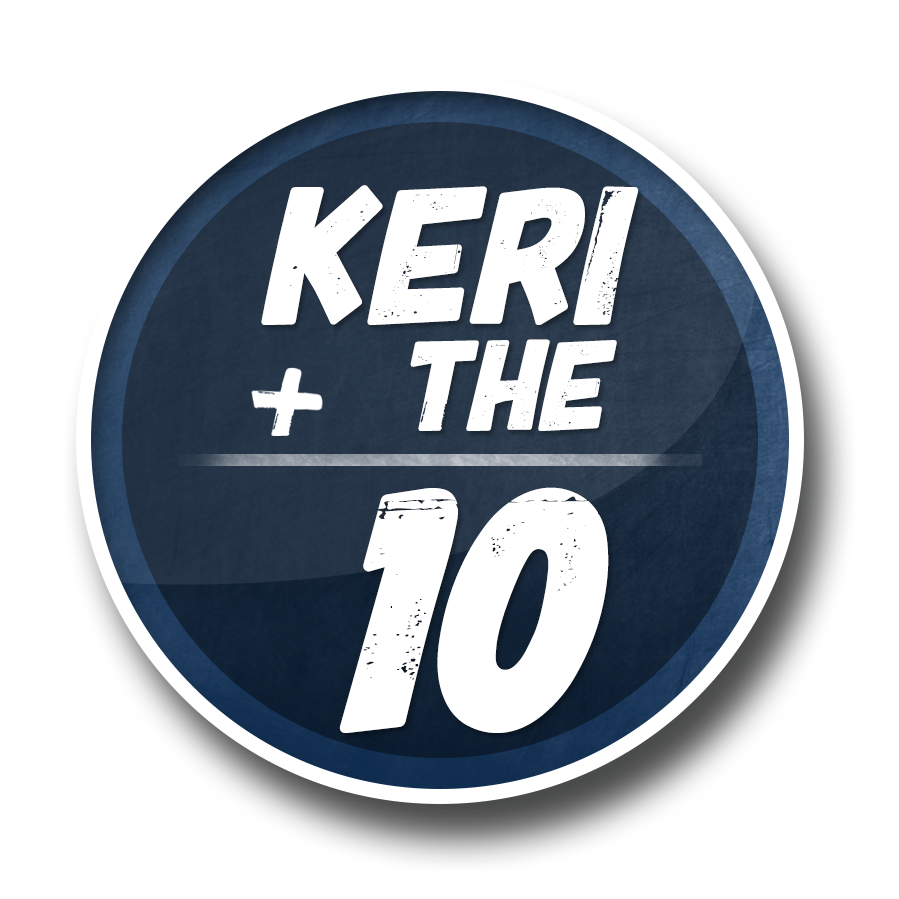 Welcome to this week's edition of Keri The 10! As always, we'll go around the majors with 10 stories that caught our eye from the past seven days. There will be numbers, and occasionally, memes. As always, we will have fun.
1. That supposed Yankees-White Sox blockbuster? Not that big a deal
There were a lot of names involved, to be sure. The White Sox sent third baseman Todd Frazier plus relief pitchers David Robertson and Tommy Kahnle to New York for reliever Tyler Clippard and three prospects, including highly-rated minor league outfielder Blake Rutherford.
This is ... fine. The Yankees have undead Chase Headley at third base and a bag of peanuts at first so Todd Frazier counts as an upgrade, whether or not you're enamored with kid pics of Frazier standing next to Derek Jeter. But he's just a league-average hitter despite the 16 home runs, his ample walk rate negating at least a decent chunk of his rock-bottom .206 batting average. David Robertson offers depth and experience for a bullpen that's dealt with periodically shaky setup work and even surprisingly pedestrian results from previously unhittable closer Aroldis Chapman. But he's also not quite the world beater he used to be, walking one full batter per nine innings more than he did two years ago and carrying the highest home-run rate of his career.
Of the three pickups, Tommy Kahnle's likely to be the biggest contributor. Among all major-league relievers this season, only Kenley Jansen and Craig Kimbrel have been stingier by park-adjusted, fielding-independent pitching. The 27-year-old right-hander has struck out an absurd 62 batters in 37 innings, while allowing just six unintentional walks. He's been everything the Yankees hoped Chapman and Dellin Betances would be, before Chapman's ability to miss bats started slipping, and Betances started walking everyone in the ballpark.
The other welcome benefit is to deny the Red Sox. Boston's collection of third basemen have been criminally awful this year, with the offseason trade of 2017 hitting machine Travis Shaw opening the door for a legion of lousy players and for the Pablo Sandoval mess to end with him becoming a Giant, on the Red Sox' dime. Their relievers not named Kimbrel have also scuffled lately. The three players the Yankees acquired would have helped addressed Boston's strikingly similar needs.
So yes, there are real benefits here. And Brian Cashman's done some impressive work in shepherding the Yankees through a rebuild without the mountains of losing that come with a scorched-earth approach, with the Yankees' best moments likely still to come, once Gleyber Torres and other promising prospects crack the majors, and the Yankees make a run at big post-2018 free agents. But this is still a team that badly needs starting pitching help, and that still has a huge hole at whatever corner infield position Frazier doesn't play. If the Yankees have hopes to win not only in the future but also now, this isn't great news.
2. The great White Sox stockpiling continues
By acquiring Blake Rutherford from the Yankees, the White Sox now employ five of the top 50 prospects in baseball. Even more remarkable, since December they've traded for seven of the top 70 prospects in the game, per MLB.com.
I wrote last week about the South Siders' all-in approach to rebuilding and the many intriguing prospects they've acquired. But Rutherford in particular still has a lot to prove. The 18th overall pick in the 2016 draft, Rutherford was seen as a talented but slightly raw player who could blossom into a star with experience. That could certainly still happen, given that he's just 20 years old and playing in his first full season in the minors.
But this was still a sell-low move by the Yankees, one that comes with risk for the Sox. Given that Rutherford projects as a future outfielder -- a position that demand big offensive production -- he'll need to hit a ton to make an impact in the big leagues. So far this year, Rutherford's hit just two home runs in 71 games for Class A Charleston.
Rutherford still has lots of time to figure things out. And top prospect Yoan Moncada's Sox debut Wednesday night offered a jolt of excitement for fans who've watched several of the team's most recognizable players get shipped out of town. But merely collecting highly-rated prospects offers no guarantees. GM Rick Hahn and company are doing the right thing by aggressively loading up on young talent. The future of the White Sox will rest on talent ... and also hope.
3. Orioles move to sell mode
Ken Rosenthal reported this week that Orioles ownership granted GM Dan Duquette permission to trade several veteran players, including relievers Zach Britton, Brad Brach, and Darren O'Day, as well as outfielder Seth Smith.
None of those moves would cut particularly deep. Yes, the O's built much of the successful run that started in 2012 on the strength of their bullpen. But Duquette and company also recognize that relievers are almost always starters who weren't good enough to cut it in the rotation, and thus fickle, volatile, and easily replaceable commodities. If a bullpen-needy team wants to pay through the nose for the 2016 version of Britton, the Orioles would be foolish to pass on such an opportunity. (Giving up two runs on two hits with a wild pitch and a walk Thursday against the Rangers didn't help Britton's market value.)
Still, we'll have to wait and see if these potential moves amount to little more than rearranging a few deck chairs. Baltimore's rotation has been unfathomably bad, and it's going to take some major work to make things right on that front ... even if Kevin Gausman actually starts to live up to his potential at some point. In a division headed by a strong Red Sox club and a Yankees team starting to thrive with its young talent, half-measures might not be enough.
That limbo position, combined with a ticking free-agency clock, has fueled some speculation that Manny Machado could get dangled in trade talks too -- rather than have his value plummet as we approach his 2018 walk-year. Don't buy it. The O's have made the playoffs three times in the past five seasons by making mostly incremental moves, befuddling pundits along the way. Trading away a few relievers (even very good ones) plus a platoon outfielder won't deter them from their goal: to become the new kings of #EvenYear.
4. Alex Wood is reeeeeally good
As incredible as an 11-0 record and 1.56 ERA might appear, those stats don't even fully do justice to the preposterous hot streak Wood is currently on. Here's what the 26-year-old left-hander has done in his past 10 starts: 62 innings, 74 strikeouts, 53 baserunners and one home allowed, a 0.87 ERA, and an opponents' batting line of .164/.229/.211. He's given up one run or fewer in nine of those 10 starts, with six of the 10 being scoreless outings.
Wood's track record of injury issues has prompted the Dodgers to be cautious with his workload, which is why he's a few innings short of qualifying for the ERA title (he would easily blow Max Scherzer's 2.01 and Clayton Kershaw's 2.07 out of the water otherwise). But even with that limited innings count, Wood has to be considered No. 3 in the NL Cy Young race, behind only his all-world teammate and Mad Max. Not bad for a guy who lasted all of 60 innings just a year ago.
5. Bring back Tal's Hill
The weird incline in dead center field at Minute Maid Park has gone the way of the Dodo bird. But you'll find a similar hill leading up to the 428 sign at Isotopes Park, home of the Albuquerque Isotopes.
And that's where you'll find Raimel Tapia, recently sent back to Triple-A but still doing his thing.
6. Stanton smash
You had to feel for Giancarlo Stanton last week. With the All-Star Game being played in his adopted home city of Miami, and Stanton the brightest of the Marlins' stars, the midsummer classic seemed like a great opportunity to shine some light on one of the most devastating sluggers of this generation. Instead, Stanton fielded question after question about Aaron Judge.
"He's hitting a lot of homers, huh?"
"Yes."
"Isn't it funny how you both sort of look alike?"
"Yes."
Those might've been Stanton's polite verbal answers to the media. On the field, he's issued a stronger statement: Judge, Shmudge. In his past 11 games, Stanton has belted nine home runs -- including four in the six games since the All-Star break. That ties him for the major-league lead with -- you guessed it -- Frank Stallone. (OK, it's actually Judge.)
For much of his career, injuries have tamped down Stanton's numbers, preventing him from posting the gigantic home-run totals you'd expect for someone with his power. This year, he's on pace to blow by his career high in games played for a season, and also to destroy his best single-season home run mark of 37.
As great a story as Judge has been this year, here's hoping we see Stanton crush about 30 more of these before the 2017 campaign is done.
7. The Mariners are back! (Probably! Maybe!)
As the final days count down before the trade deadline, every game takes on an extra level of importance, particularly for teams on the edges of the playoff race. String together a few wins and sellers become buyers. Drop three or four in a row and suddenly you're looking ahead to 2018 and beyond.
The Mariners are right in that make-or-break zone. And contrary to the team's recent history, they're actually faring pretty well. Even with Thursday's 4-1 loss to the Yankees, Seattle has enjoyed six wins in its past eight games, including two out of three on the road against the best-in-the-league Astros. James Paxton's back and dominating, Nelson Cruz is on fire, and GM/compulsive trader Jerry Dipoto finally got his fix, dealing four prospects for valuable reliever David Phelps.
Just save some love for Jean Segura. Acquired over the winter in a huge, multi-player deal with the Diamondbacks (just hook it to Dipoto's veins!), Segura ranks second in the American League with a .344 batting average.And while advanced defensive metrics are lukewarm on his performance with the glove, Segura's athleticism enables him to do stuff like this:
For a Mariners team trying to snap the longest playoff drought in the league, they'll take all the help they can get.
8. We interrupt this column to bring you ... a hug
9. The biggest enigma in baseball this year is ...
Justin Verlander. The big right-hander pitched so well last year, his fiancee Kate Upton flew into a Twitter rage after Baseball Writers Association of America writers named Rick Porcello the AL Cy Young winner instead. This season, it's been an entirely different story. Verlander's stumbled to a 4.54 ERA, with multiple disaster starts on his ledger -- six runs allowed against the Astros on May 25, plus seven- and nine-run meltdowns against the Indians.
What's gone wrong? And does Verlander still have the stuff to be an elite pitcher, especially with the Tigers reportedly exploring trade possibilities for the former Cy Young and MVP winner? For the answers to these questions, we turn to our ace pitching correspondent, Nick Pollack of PitcherList.com:
"2016 Justin Verlander was a tale of two men. His end-of-season numbers outlined a strong Cy Young candidate, but some may recall that the Detroit veteran struggled mightily across his first six starts, holding a ghastly 6.49 ERA and 1.44 WHIP before exploding for a 2.42 ERA and 0.92 WHIP in his final 28 games. In 2017, Verlander has a 4.54 ERA in 20 starts, yet holds a 3.05 ERA across nine of his last 10 starts, with a sparkling seven innings allowing two earned runs against the Royals on Wednesday night. Could this be the same transition to dominance we saw last season?

First, it's important to identify how Verlander reclaimed his title as the ace of the Tigers in 2016. I went into detail last year about his adjustments, which can be summed up quickly by an increase in velocity and an improved slider. Verlander steadily increased his velocity over the year, while altering his slider from a slow and loopy offering to a harder, cutter-like pitch with more bite. The pair made a great impact on his game and propelled him through the year.

But that was last season. This year, something else has been dragging him down, leaving us wondering what the causes of his struggles have been, and if he can get himself out of the same hole.

The clear number that's been an imposter among Verlander's stats is his atrocious walk rate, which has inflated to a massive 10.6 percent clip – a far cry from 2016's 6.1 percent rate. In fact, since 2009 Verlander's highest walk rate was an 8.1 percent mark in 2013; this season's iteration is the fifth-highest in the majors among all qualified starters. Additionally, batters are hitting .254 off of Verlander in 2017, a good distance from his career .234 mark and even further away from last season's .204. These two problems may seem separate, but they can be traced to one fault.

The root of Verlander's issues is exposed in one statistic, his first-strike percentage. Across Verlander's career, he has thrown a strike to lead off an at-bat at a 61.4 percent rate, which grew to 64.2 percent across 2016. This year, that number has fallen dramatically to 59.8 percent, putting him in the bottom 20 of all qualified starters in the majors. Additionally, batters are chasing just 31.3 percent of Verlander's pitches off the plate this season, down from a 34.7 percent mark in 2016.

Pairing these deficiencies together, Verlander is struggling to get ahead of batters early, granting them the comfort to lay off his breaking balls later in the count. This would normally lead to better contact on pitches inside the zone ... which is exactly what is happening. Verlander is allowing a monstrous 36.7 percent hard-contact rate this season, after allowing a rate above 30 percent just once in his career. Both his slider and curveball have increased their allowed batting average by around 80 points; his hits allowed per nine have risen to 9.0 after an elite 6.8 mark in 2016. That all stems from falling behind early.

Just like in 2016, there is a path to regaining his ability: attack the zone early. If Verlander can pitch inside the zone right away, batters will be on the defensive faster and more willing to chase balls off the plate. Bats will find the barrel less often and walks will dwindle in a hurry. This is well within the realm of possibility, and we can only hope Verlander can make the adjustment soon."
10. Burning Question of the Week
Let's get one thing established first: Barry Larkin deserves to be in the Hall of Fame. With an MVP award, 12 All-Star appearances, three Gold Gloves, 379 stolen bases, park-adjusted offensive numbers in line with other Hall of Fame shortstops like Joe Cronin and Lou Boudreau, and an array of advanced stats that support his candidacy, Larkin earned his way in.
But here's the thing: Trammell might've been an eyelash better. Jay Jaffe developed a metric called JAWS, which gauges both a player's career value and his peak value (denoted by his seven best seasons), then compares that player to all Hall of Famers at his position. If you're above the average score among Hall of Famers at your position, you're considered Hall-worthy; if you're below, you're not.
By JAWS, Larkin rates as better than the average Hall of Fame shortstop, raking 13th all-time at his position. Meanwhile, Trammell ranks ... 11th, a smidge above Larkin, and some fellow named Derek Jeter.
JAWS considers only regular-season performance and not playoffs/rings, so you can safely bump Jeter above either of these shortstop predecessors. But even the act of merely discussing Trammell in the same breath as Jeter, with comparable or even slightly better numbers than Larkin, leaves us puzzled. Trammell was a better and more valuable all-around player than George Bell in 1987; had the Tigers shortstop won the AL MVP that year instead of the Blue Jays left fielder, maybe Trammell would have already punched his ticket.
As things stand, Hall voters have done a  lousy job of properly rewarding greatness among players who toiled in the 1980s (and to some extent the 1970s). Lou Whitaker, Bobby Grich, and others of that era have great Hall of Fame cases, better ones in fact than plenty of players who've already gained induction. As the Hall welcomes its new class of inductees next weekend, here's hoping the voters who consider players no longer on the regular ballot circle back to evaluate those stars of the '70s and '80s ... Trammell included.
CBS Sports HQ Daily Newsletter
Get the best highlights and stories - yeah, just the good stuff handpicked by our team to start your day.
Please check the opt-in box to acknowledge that you would like to subscribe.
Thanks for signing up!
Keep an eye on your inbox for the latest sports news.
Sorry!
There was an error processing your subscription.
Here are your hot stove rumors for Wednesday

Yankees signed Ellsbury to a seven-year deal in December 2013

David Samson discusses Pat Williams' press conference on his podcast
Former Orlando Magic GM Pat Williams presented his vision for an Orlando MLB team on Wednesday

Crane reportedly kept a barricade of law enforcement officers between himself and media members

This umpire had just about enough of the crowd's criticism
The Nationals' improbable October run ended with a championship

The Nationals won their third road game of the series Tuesday night