Kershaw, Koufax, waffles carry the day in Dodgers' opener
Dodger manager Don Mattingly's first move to the bullpen in 2013? Summoning Sandy Koufax?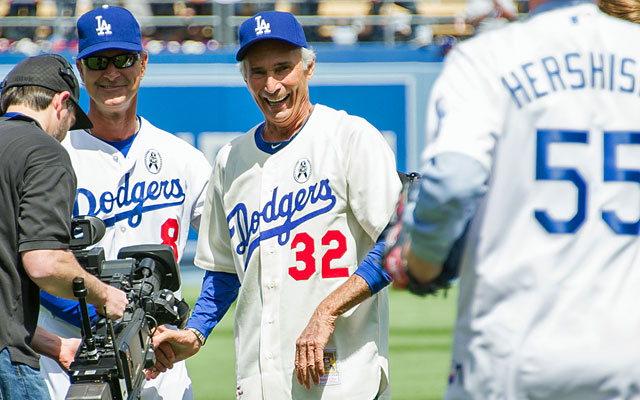 LOS ANGELES -- We knew the Dodgers were loaded, but this is preposterous.
Manager Don Mattingly's first move to the bullpen in 2013, and he summons Sandy Koufax?
Wave the white flags now. All hail the Dodgers. They weren't kidding. Today, the NL West. Tomorrow the rest of the major leagues and the History Channel. Next month, maybe Europe.
Under new ownership, still under construction and now no longer under wraps, this wasn't just another opening day for the New Dodgers. This was a tour de force.
On an afternoon that heightened expectations and moved this franchise ever further from its toxic recent past, we're still not quite sure what part of Monday was real.
Open one door, and Koufax emerges to throw the first pitch.
Open another, and Clayton Kershaw launches to throw all the rest.
How many more doors do these guys have?
What other tricks can they pull?
In breaking the seal on 2013 with Kershaw's complete-game 4-0 masterpiece over the defending World Series champion Giants, the Dodgers put their result where their money is.
While dazzling the Giants on the mound, Kershaw stunned the sellout crowd of 53,138 and a national television audience by taking a sledgehammer to a 0-0 game in the eighth, rifling his first career home run.
Reliever George Kontos, who fired the 92 m.p.h. hit-me fastball, was the victim. The Dodgers may be funding a record $230 million player payroll and they may be talking with Kershaw about a gazillion-dollar extension … but trust us, none of those dollars are going toward his bat.
You can't dream this stuff up … except, the Dodgers did. And are.
One day into the season, thanks to Kershaw, Koufax is still the only reliever called for by Mattingly.
It was a pitch-perfect start to the new owners' first opener, a moment that seemed to culminate with the deafening roar when one of those owners -- Earvin "Magic" Johnson --went to the mound to throw the ceremonial first pitch.
Except, Mattingly came to the mound to make his first pitching "change" of the season.
Koufax, the iconic and reclusive Dodger who still makes grown men tingle, came trotting in and the place went absolutely nuts.
"I was working on my acting skills today, pretty much," Mattingly said. "I was thinking, 'This wouldn't be a bad lefty to bring in.'"
Everything old was new again for a franchise determined to win its first World Series title since 1988.
Ownership poured more than $100 million into a Dodger Stadium makeover over the winter, building the home team a new clubhouse, installing a new batting cage and workout room on the visitors' side and modernizing the place with an interview room, among many other features.
When Mattingly arrived in his office at 6:15 a.m. Monday, he said, there was a "guy in the rafters" working on cables.
Just before Koufax's appearance, 20 minutes or so before Kershaw's first pitch, they ran a clever scoreboard video incorporating all sorts of Hollywood celebrities wishing the club well. Two dozen celebs from Kobe Bryant to George Lopez to Eric Stonestreet and Jesse Tyler Ferguson (the Modern Family guys) to Jessica Alba and Britney Spears and Blake Griffin tossed a baseball from one clip to the next.
"Go Dodgers, beat the Giants," actor Samuel L. Jackson declared. "On second thought, beat everybody."
Toward the end, Kareem Abdul-Jabbar appeared, telling Magic to take it from here, and then Magic was on the mound and then he was being hooked by Mattingly for Koufax.
Next thing anybody knew, Kershaw was looking like Koufax.
"I'd be lying if I said that didn't flash through my mind in the sixth inning when the guy was rolling," Mattingly said.
Kershaw absolutely killed. He allowed only one Giant as far as second base. He didn't allow anybody beyond first base after the first inning. He whiffed seven and walked none.
At one point, he retired 23 of 25 hitters. Of the 30 Giants who faced him, only four reached base.
"I was able to throw it for strikes, and that's key," Kershaw said. "As soon as they see the spin, they can't just take it."
Then he became the first pitcher since Joe Magrane in 1988, and the first Dodgers pitcher since Don Drysdale in 1965, to belt an opening day homer.
The crowd went bananas. They kept it up during Carl Crawford's at-bat, wanting a curtain call.
They did not get one.
"I had to think about getting three more outs before thinking about tipping my cap," Kershaw said.
Though he appeared capable of doing whatever he wanted on this day, it probably was the correct decision. Whether it is the third game of the Cactus League schedule or the eighth inning against the Giants, Kershaw's maniacal focus remains sharp. It is why he well could win a second Cy Young award in three seasons this summer.
Because he was only at 85 pitches after the eighth inning, there never was a question in the Dodgers' dugout whether to send Kershaw back for the ninth, even though it was a 0-0 game and he was due up first in the bottom of the eighth.
"If I pinch hit, I might get a hit," Mattingly said. "But I'm giving up our best guy."
No way is that trade worth it.
The Dodgers have seen it before from Kershaw.
As for Koufax, even though he spent time with them this spring and wished them well pregame in their clubhouse, him trotting to the mound in a vintage Dodgers' No. 32 jersey was a total surprise.
"It made the day complete," catcher A.J. Ellis said. "With him throwing the first pitch and with Clayton throwing the last pitch, it was almost a passing-of-the-torch kind of day.
"Two iconic left-handers on the same mound on the same day. I was blown away that I was a part of it."
So was everybody but the poor Giants.
How convincing were the Dodgers?
Midway through the game, the scoreboard people did a bit in which several players answered a question regarding which is better, waffles or pancakes?
"Waffles," outfielder Carl Crawford answered. "They're MUCH better."
On this day, there was no doubting. Clearly, waffles are way better than pancakes. It's not even close.
J.D. Martinez is reportedly headed to Boston on a free-agent contract

Keep tabs on the top 50 free agents on the market right here

Arizona didn't waste much time turning to its fallback option following Martinez's deal with...
The former AL MVP has been one of baseball's best players in recent years

The free-agent slugger will join the Red Sox after all

Harper would prefer if reporters respect his wishes