Kershaw otherworldly as historic season heads toward October
Clayton Kershaw has been so good this season he should wind up being a unanimous Cy Young winner. MVP votes? He'll get some. And in passing 1,000 career innings pitched earlier this season, his 2.63 ERA is one for the books. Here's the skinny on the key figure in the Dodgers' Renaissance.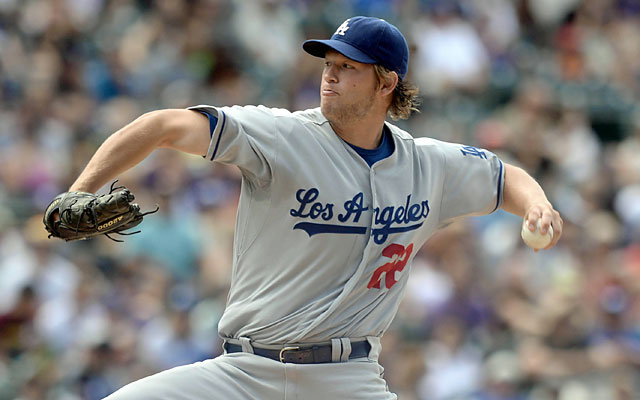 LOS ANGELES -- Clayton Kershaw was waiting on the mound. And he already had all of the answers.
A start in April, perhaps, that helped kick off this dominant and historic season? An outing in July, maybe, by which time he already had lapped nearly everyone else in the NL Cy Young race?
Ha. No. Try two Septembers ago, when the Giants sent a nondescript hitter to the plate late in a game, a minor-league recall who had just a handful of appearances during the season.
Reflexively, Dodgers pitching coach Rick Honeycutt jogged to the mound for a quick review with Kershaw and his catcher. You know, make sure they remembered "the book" on this little-known guy.
And?
Lowest Career ERA since 1920*
Player, Team
Years
ERA
Clayton Kershaw, Dodgers
2008-13
2.63
Whitey Ford, Yankees
1950, 1953-67
2.75
Sandy Koufax, Dodgers
1955-66
2.76
Spud Chandler, Yankees
1937-47
2.84
Jim Palmer, Orioles
1965-67, 1969-84
2.86
"As soon as I get there, Clayton is spouting off about what this guy's weaknesses were, how he was going to attack him and how he was going to finish him off," Honeycutt said.
Forget, for a moment, that Kershaw has the physical tools alone to extinguish just about any hitter he faces. No small part of the reason why he is standing atop the hill today with a laughably microscopic mid-September 1.92 ERA is because of moments like the one against the Giants' no-name. Moments in which he not only has the tools to dispatch hitters on sight, but ones in which he already has plotted exactly how he's going to choke the air out of them.
"The best way I can describe what he's doing -- and this is a compliment -- is that he's like a method actor on set who never breaks character whether he's playing Abraham Lincoln or speaking in a British accent," Dodgers catcher A.J. Ellis said.
"On game day, he's locked in from the moment he walks through the clubhouse door until Donnie [Mattingly, Dodgers manager] shakes his hand and takes the ball."
Those are among the rare occasions when the baseball may not land in the precise spot Kershaw had planned. The Dodgers lefty has seized this summer the way few pitchers have controlled a summer over several decades. Since Bob Gibson's iconic 1.12 ERA in 1968, only eight other pitchers have produced full season sub-2.00 ERAs -- and only three (Kevin Brown, 1.89, 1996; Pedro Martinez, 1.90, 1997 and Roger Clemens, 1.87, 2005) since the great Greg Maddux did it in consecutive seasons, 1994-1995.
Kershaw currently leads the majors in ERA, innings pitched (216) and WHIP (0.92). He ranks third in the majors in strikeouts (208) and opponents' batting average (.194). The Cy Young, for all intents and purposes, was locked up long ago.
But, that ERA. One Nine Two!
ONE
Start after start this summer, Kershaw -- NL Cy Young winner in 2011 and runner-up to R.A. Dickey last year -- has set the bar so high that anything short of near-perfection on a given night looks like a clunker of a day at the office.
Reds lefty Jay Bruce belts two homers in Cincinnati, sticking the Dodgers with a 3-2 loss? What's wrong with Kershaw? The Rockies pounce on him for five runs and 11 hits in only, gasp, five innings in Denver on Labor Day? Huh?
The way Kershaw figures it, these last two outings that raised his ERA from 1.72, that's all grist for others to chew on. What he knows is that his own expectations are higher than anybody else's, anyway.
"Win every start," Kershaw said during a wide-ranging conversation in the Dodgers' dugout this week. "Simple. I don't have a lot of goals. I don't set all that stuff. I just want to win every start."
Yeah. Simple.
Three starts remaining, one of the goals is not necessarily to keep his ERA under 2.00.
"I don't really think about that a whole lot, honestly," Kershaw said. "The one stat I do keep up with is innings pitched. That's one of my goals, to pitch a lot of innings. I feel like that's a team thing.
"If you're pitching deep into games, it works a lot better for everybody. You're probably going to give your team a chance to win. You're giving your bullpen a bit of a breather every time out and it just sets things up for the next day."
"An artist at work," outfielder Carl Crawford said.
Kershaw, 25, has never led his league in innings pitched, though this is the fourth consecutive season he's clocked in with 200 or more innings. No small part of his dominance is because his command has ascended with his development. Or, perhaps, it's the other way around?
In 2009, his first full major-league season, he averaged 4.8 walks per nine innings. He's more than chopped that in half, down to 2.1 per nine this season.
One key mile marker along the way came in the visitors' bullpen in Philadelphia's Citizens Bank Park in May, 2009: He added a slider to his repertoire, which already consisted of a four-seam fastball, a nasty 12-to-6 curve and a changeup. At the time, his ERA was 5.21.
"It was a point where he was maybe a little frustrated with himself," said Honeycutt, who showed Kershaw a couple of different slider grips to try. "It was a combination of him seeing where his misses were and, more than anything, he's an intelligent guy. He wants to be good."
At the time Kershaw mostly was a fastball-curveball pitcher. But his curve has a big break and, when it's ornery, can be difficult to throw for a strike.
"So when you get behind in counts, you've got to pump heaters in there and guys can hit heaters at this level," Kershaw said.
Now, Kershaw throws his slider more frequently than the curve. It's easier to throw for a strike, inherently dependable when he needs to get back into the count.
NINE
Exactly how otherworldly is Kershaw? His great uncle discovered Pluto.
Kid you not.
"It's true," he said. "I was probably 2 or 3, but I did meet him. It's in the family. My mom's maiden name is Tombaugh."
Pluto, discovered by astronomer Clyde Tombaugh, originally was classified as the ninth planet. But in a stunning astronomy setback, it was demoted to "dwarf planet" in 2008. The Kershaw family is still chapped by that (can you blame them?).
A Dallas native, Kershaw grew up with Lions quarterback Matthew Stafford -- they remain buddies -- played center on his high school football team (center!) and loves to play ping pong.
The Dodgers picked him seventh overall in the 2006 draft, and surely will sign him to a gazillion-dollar contract before he is eligible for free agency following the 2014 season (Kershaw on talks: "Nothing new to report"). Yes, at this pace and given the Dodgers' largesse, he might actually command baseball's first gazillion dollar salary -- especially now that he's drawing comparisons to Sandy Koufax as one of the two greatest pitchers in Dodgers history.
Koufax loves him.
"He's a special guy on the mound and off the mound," the Hall of Famer said this spring.
Dodgers legend Don Newcombe practically melts at the mention of Kershaw's name, too.
"This young man is a hard worker with a fine family background who is a good humanitarian," Newk said. "I wish I had the words in my vocabulary to say it stronger."
Kershaw married his high school sweetheart, Ellen, and, together, after a missionary trip to Africa, they raised money to build an orphanage in Lusaka, Zambia. They named it "Hope's Home", in honor of an HIV-positive 11-year-old named Hope that the Kershaws met in Zambia. They returned to Zambia in 2012, and they also are actively involved in charities in both Los Angeles and Dallas.
In 2012, he was honored with the Roberto Clemente Award, major league baseball's top humanitarian award, and a couple of weeks ago, he was named as the 2013 Branch Rickey Award winner, given by the Rotary Club of Denver to a major leaguer in recognition for exceptional community service.
Just don't get in his way on days he pitches.
TWO
Ellis is one of his best friends on the team. And yet. ...
"Some days I come in and I've got so much to talk to him about," Ellis said. "Something I saw on TV, something I saw on Twitter, whatever. And then I think, 'I can't talk to him today.'"
Not if he's starting. That Huck Finn face can be deceiving.
Kershaw's four-seamer averages 93 mph. His slider clocks in between 84 and 87. His curve generally is around 74. And, as they say, he can throw each of his pitches at a different depth.
But it's far more than that.
"I don't think anybody realizes the amount of homework he puts in for each start," Honeycutt said. "His preparation is off the charts. He prepares as good as anybody I've ever seen."
Some of it may be attributable to Greg Maddux's layover with the Dodgers in 2008. As soon as one of his starts was finished, Maddux would beat nearly everyone to the clubhouse the next day, arriving about the same time as Honeycutt, to begin preparing for his next start.
Young and impressionable back then, Kershaw soaked that up. Scouting reports. Video. Statistical trends. Every edge he can get on every hitter before his next start. He will not be outworked -- physically, or mentally.
Which helps explain why there has been no letup this summer. In seven of his 30 starts, he has allowed no earned runs. He's surrendered just one earned run in nine starts, and only two earned runs in six starts.
"With Nolan Ryan, every time he toed the rubber you said, 'This guy might throw a no-hitter,'" Diamondbacks hitting coach Don Baylor said. "With Kershaw, it's 'He's going to strike out 10 to 12.'"
Pause. Smile.
"So don't take your good bats up against him. Take the ones with a couple of nails in them."
Just don't be surprised if he uses them to nail your coffin shut.
Only discernable flaw this year is in Kershaw's power game: After belting an opening day home run (while throwing a complete-game shutout), he hasn't hit one since. So he's slowed from a 33-homer pace to being stuck on one.
"I lost my power stroke, I don't know," he said, grinning. "I must have peaked early, I guess. I'm not sure."
As it is, his career arc is ascending toward the historical, and you wonder where that peak is. In Dodgers history, only Don Drysdale (six), Koufax and Don Sutton (five each) have had more consecutive 200-strikeout seasons than Kershaw (four).
And among all major league pitchers since 1920, among those with at least 1,000 innings pitched and 100 games started, Kershaw's 2.63 ERA currently ranks No. 1. Whitey Ford (2.75) and Koufax (2.76) are two-three.
"I've got a long time to screw that up," he quipped. "I can definitely screw that up pretty easy.
"It's definitely a humbling stat, to be associated with those names. I've been pitching for five-plus years now. Hopefully I can pitch for 10 or 15 more. I definitely got plenty of time to make it worse, for sure."
Besides, for him, it still comes back to workload. Yes, he's noticed that he currently leads the majors in innings pitched.
"I definitely take a little bit of pride in that," Kershaw said. "That's one stat I try and maintain more than anything. I feel like a lot of the other stuff is out of your control, but you can control battling."
Hang those four words around Kershaw's résumé as a descriptor, and you could do far worse: You can control battling.
"He's now to the point where he's irritated if he walks a guy," Honeycutt said. "When he comes to the park, I think he expects to get everybody out.
"It's unrealistic. But that's him. From my standpoint, it's up to me to make sure he doesn't get frustrated because he has a so-so inning sometime."
Our Latest Stories
Gallardo spent the first eight years of his career in Milwaukee

MLB revenues are at a record high right now, but teams aren't spending it on players

Chicago added Tyler Chatwood earlier this offseason but might not be done adding to the ro...
The Dodgers and Braves pulled off a whopper on Saturday

Sabathia will reportedly spend a 10th season in the Bronx

Fowler suffered a knee injury at Chicago's Guaranteed Rate Field