Kershaw's streak should provide greater appreciation for Hershiser's
In looking at how impressive Clayton Kershaw's scoreless streak was, I couldn't help but focus on how unbelievable Orel Hershiser's record streak was.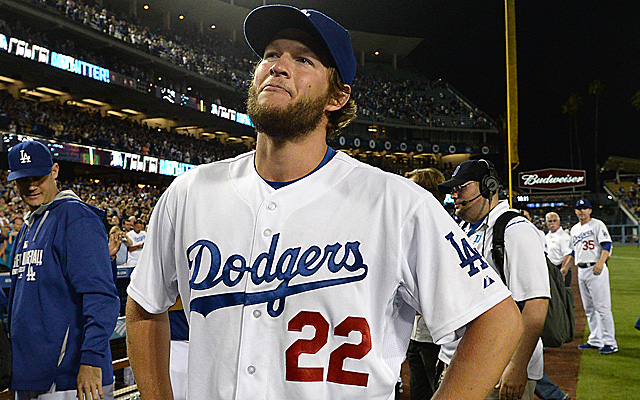 MORE: Headley HR ends Kershaw streak at 41 IP
So that's it. The great Clayton Kershaw has been scored upon for the first time since June 13. It was an amazing streak, but most of all, what it did for me was illustrate just how next-level amazing Orel Hershiser's streak in 1988 was.
To get there, first consider how good the Dodgers ace has been.
•Heading into Thursday's outing, Kershaw sported a 1.85 ERA on the season, and this was including a 1 2/3 inning disaster in which he allowed seven runs to Arizona on May 17. In all other outings, his ERA was 1.16.
•During Kershaw's scoreless streak, he threw a no-hitter against the most prolific offensive team in baseball (caveat: Yes, it was the Rockies away from Coors Field) and took down two teams with winning records.
•During Kershaw's streak, he struck out more than twice as many men as he allowed on base. 
•This was a man who had the best ERA in baseball three straight seasons, winning two of the last three NL Cy Youngs and finishing second the other season. And this was the best he'd ever been. That's saying something.
•Kershaw's most recent start came in Coors Field, the most hitter-friendly park in baseball, where the Rockies hit .313/.364/.508 as a team and average 5.79 runs per game. He held them to two hits and a walk in eight shutout innings while striking out eight. The Rockies have only been shut out six times all season, twice by Kershaw.

Take that all in, and then factor in the following:
•Kershaw's Thursday night opponent, the San Diego Padres, are the worst offensive team in baseball. They are on pace to be historically bad from several different points of view. They came into the game hitting .216/.276/.338 as a team while averaging 2.99 runs per game. They had already been shut out 12 times this season. 
And yet, it was the Padres who broke up the streak with one crack of the bat -- a Chase Headley home run.
That's how easily it can happen. It's baseball. One of the worst hitters in the league (Headley's not -- I'm speaking abstractly now) can square up one pitch against one of the best pitchers in the league on any given day and that's that.
In Kershaw's case, a talented player who hasn't been very good for a few years got him on one pitch and it was enough to vanquish the progress he had made toward one of baseball's most impressive records. No shame in that. He ended up going on to finish the game in most impressive fashion, allowing only three hits and one run in a complete game while striking out 11 and walking just one. He got the win and is now 11-2 with a 1.78 ERA.
But ponder this for a second: Kershaw was still 18 innings away from the record 59 innings.
All that dominance gone with just one (possibly flukey) swing and Kershaw was still two shutouts away from history. That's a lot of innings through which to successfully navigate.
Yet that's exactly what Hershiser did in 1988.
In September alone that season, he threw five consecutive shutouts before 10 scoreless innings on his final outing of the season to set the record. It was a superhuman stretch that dwarfs Kershaw's superlative 41-inning streak.
There will be lots of focus in the aftermath of Thursday's game on the masterful Clayton Kershaw, and rightfully so, as he's the best pitcher in baseball who just finished the best stretch of his (still young, amazingly) career. I just couldn't help but think how much his streak put in perspective the extent to which Hershiser's 1988 streak was impressive.
Our annual look back at the preseason predictions and rankings shows lots of good and bad

Keep it locked right here for everything you need to know about the world of baseball Tues...

There have been several racially charged incidents at Fenway Park this year
Washington's right fielders have sputtered offensively since Harper went down

The good news? Wichita still has a chance to win the series Tuesday night

The 2017 season is going to shatter the all-time collective home run record