Kevin Towers brings new offensive identity to the Diamondbacks
GM Kevin Towers has remade the Diamondbacks' offense since taking over the team in September 2010, preferring contact ability to power.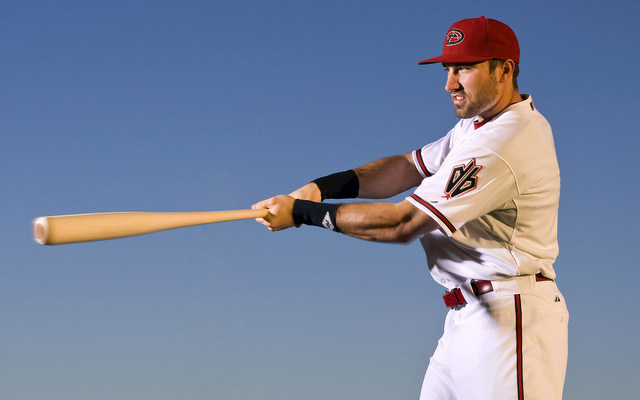 When the Diamondbacks hired GM Kevin Towers in September 2010, he inherited a team that hit .250/.325/.416 (94 OPS+) overall that season. They hit the third-most home runs in the NL (180) but also led baseball in strikeouts (1,529) -- and not by a small margin, either. The Marlins were second with 1,375 strikeouts.
"With power comes strikeouts; they usually go hand-in-hand," Towers said during his introductory press conference. "You're going to have a couple of guys in your lineup that have high strikeouts, and hopefully the homers come with them. Personally, I like contact hitters. I like guys that have good pitch recognition. Strikeouts are part of the game. But if you have four or five or six guys in your lineup, it's hard to sustain any sort of rally."
Towers responded by completely overhauling his offense. Adam LaRoche (25 HR, 172 K) was allowed to walk as a free agent while Mark Reynolds (32 HR, 211 K) was traded that offseason. Kelly Johnson (26 HR, 148 K) was traded during the 2011 season, then Chris Young (14 HR, 79 K in 363 PA in 2012) and Justin Upton (17 HR, 121 K) were traded this past offseason. Towers rid his team of nearly every powerful, low-contact hitter during his 30 or so months at the helm.
Johnson was traded for Aaron Hill, who has struck out 100+ times in his career only once, and that was way back in 2007. Young was traded for Cliff Pennington, who also has struck out 100+ times just once in his career (2011). Upton was traded for Martin Prado, who has only once struck out more than 70+ times in a season (2010), never mind 100+. Outside of slugger Paul Goldschmidt, the D-Backs don't project to have any huge strikeout guys in 2013:
2013 ZiPS Projections for Diamondbacks' Lineup (via FanGraphs)
Player
PAs
AVG/OBP/SLG
HR
K
CF Adam Eaton
719
.275/.359/.389
7
114
2B Aaron Hill
624
.271/.327/.444
20
81
C Miguel Montero
506
.267/.356/.428
14
103
LF

Jason Kubel

515
.260/.331/.485
24
120
3B Martin Prado
659
.293/.343/.434
13
67
1B Paul Goldschmidt
645
.259/.342/.467
26
174
RF

Cody Ross

517
.260/.324/.448
19
113
SS Cliff Pennington
541
.258/.316/.380
8
94
OF Gerardo Parra
509
.273/.332/.400
8
94
The team that Towers inherited in 2010 had four players with 20+ homers (all four had 25+) and five with 120+ strikeouts (all five had 140+). The projections for 2013 -- which aren't predictions, they're an attempt to measure a player's current talent level -- gives them three players with 20+ homers (one with 25+) but just two with 120+ strikeouts (one with 140+) for 2013. Towers cut down on the strikeouts without sacrificing a ton of power, though they definitely lost some.
What they haven't lost is any on-base ability. The 2010 team had four regulars with a .340+ OBP (five with .330+), and the 2013 club projects to also have four guys with a .340+ OBP (six with .330+). The collective batting averages are a little higher as well, as you'd expect given the focus on contact hitting. Obviously, the need for more base hits is greater since they'll hit fewer homers.
Quality of contact is much more important than quantity of contact, and the loss of power will inevitably hurt the club in some situations. It's tough to string together a multi-hit rally to score a run against, say, an ace pitcher like Clayton Kershaw or a dominant closer like Craig Kimbrel. Sometimes you're only going to get one decent pitch to hit and will have to make it count. Did Towers add enough contact ability to improve (or at least not lessen) the team's offense? That won't be answered until the season begins, but Towers definitely went all in hoping it will.
For more baseball news, rumors and analysis, follow @EyeOnBaseball on Twitter, subscribe to the RSS feed and "like" us on Facebook. Also, individually interact with us on Twitter: @MattSnyder27, @daynperry and @mikeaxisa.

Keep it locked right here for everything you need to know about the world of baseball Tues...

There have been several racially charged incidents at Fenway Park this year

Washington's right fielders have sputtered offensively since Harper went down
The good news? Wichita still has a chance to win the series Tuesday night

The 2017 season is going to shatter the all-time collective home run record

Ferrell somehow avoided going to the ground