Kris Bryant tops Joey Gallo for minor-league home run title
Cubs prospect Kris Bryant hit 43 homers in the minors this season, and that was enough to edge out Rangers slugger Joey Gallo.
All affiliated minor-league regular seasons have concluded, and Cubs prospect Kris Bryant claimed the home run title with 43 bombs on the season. His tally edges out that of Rangers prospect Joey Gallo, who ended the season with 42 homers. 
As for Mr. Gallo, let's just say his final clout of 2014 was rather authoritative ... 
In the interest of equal time, here's Bryant booming his 39th of the season ...
The 22-year-old Bryant this season batted a rather ludicrous .325/.438/.661 with 86 walks and 325 total bases in 138 games at the Double- and Triple-A levels. Against top-20 pitching prospects this season, he batted .278 with nine homers, 23 walks and 44 strikeouts in 161 plate appearances. Meanwhile, Gallo, 20, authored a line of .271/.394/.615 with 87 walks and 270 total bases in 126 games at the High-A and Double-A levels. And here he is against top-20 pitching prospects in 2014: .265 AVG; 11 HR, 54 K, 14 BB in 150 PA.
While Bryant is considered the superior overall prospect, it's worth noting that Gallo is roughly two years younger and put his numbers up in generally more pitcher-friendly circuits. Both are third basemen perhaps not long for the position. 
Beyond that, the two phenoms are somewhat different power hitters. Here's the left-handed Gallo's spray chart from this season (via MLBFarm.com) ...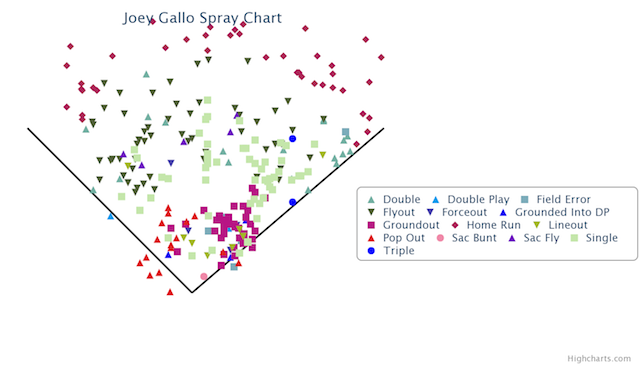 And here's the right-handed Bryant's (via MLBFarm.com) ...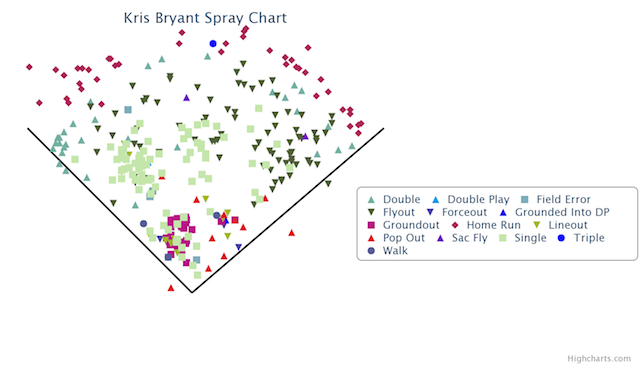 While Gallo is certainly capable hitting the other way with power, there's a definite pull-field drift to his chart. As for Bryant, he's pretty much a central-casting example of power to all fields. In fact, he seems to prefer to go to the opposite field. 
In either instance, we're obviously talking about a young hitter with tremendous power potential at the highest level. It also so happens that Gallo and Bryant -- Las Vegas natives, both -- faced each other in high school. The guess here is that they'll be yoked together for a long time, in a very good way. 
The Nats will host the All-Star Game in 2018

The Orioles are looking to trade Machado heading into his walk year

The Cardinals have been linked for a while to the Baltimore star
Gallardo spent the first eight years of his career in Milwaukee

MLB revenues are at a record high right now, but teams aren't spending it on players

Chicago added Tyler Chatwood earlier this offseason but might not be done adding to the ro...