Kris Bryant's girlfriend posts video of them doing 'Frozen' duet
Bryant's lip-syncing is top notch, but is it the right song for him? For them?
Jessica Delp and her boyfriend, Cubs rookie Kris Bryant, reportedly have been dating since they were sophomores in high school in Las Vegas, which means they've been together between seven and eight years. A hike. But, as the song "Love Is An Open Door" from Disney's "Frozen" tells us, you don't have to be dating for long in order to do stuff like this:
Hans: I mean it's crazy

Anna: What?

Hans: We finish each other's—

Anna: Sandwiches!

Hans: That's what I was gonna say!

Anna: I've never met someone

Both: Who thinks so much like me Jinx! Jinx again!
And what prompted Delp to publish such a cheesy, er, adorable lip-sync duet so that everyone could see?
jessica_delp: In honor of @kris_bryant17 being Elsa today for rookie dress up, let's keep this whole Frozen theme going with a little throwback video. He may or may not kill me for this...love you babe
Bryant dressed up as Elsa from "Frozen." What would that look like?
Princess Elsa pic.twitter.com/V6j7FaQHaD

— Dexter Fowler (@DexterFowler) October 1, 2015
Kind of hot. Anyway, as to his reaction, Bryant probably won't "kill" over it because he's apparently a perfect human. He'll probably say the video is, well, adorable, because he always seems to say the right thing. And it's the right thing to say it's great. He hits the ball perfectly, he plays multiple positions, he knows the words to "Frozen" songs. Is there nothing Kris Bryant can't do?
Here's the thing, though, about the song Delp and Bryant chose for their big duet. The characters singing in the movie are not, in reality, perfect for each other like the lyrics and melody imply. The male vocal, Hans of the Southern Isles, is totally scamming Anna into a relationship. So, it's cute and all, certainly a catchy song, with nice mouthing of the words, but the song is all wrong for a couple who have been together for as long as Delp and Bryant. They're so together, they actually might finish each other's sandwiches. (Although, ick, peanut butter and jelly. Never!)
Anyway, they should pick another song and duet that, and put it on social media. "Do You Want To Build A Snowman?" for example. Then they could build one, and make it look like Joe Maddon. It's relationship neutral.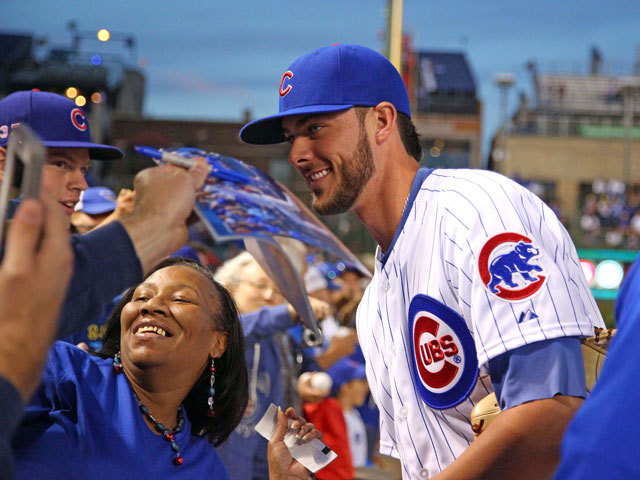 CBS Sports HQ Newsletter
We bring sports news that matters to your inbox, to help you stay informed and get a winning edge.
Please check the opt-in box to acknowledge that you would like to subscribe.
Thanks for signing up!
Keep an eye on your inbox for the latest sports news.
Sorry!
There was an error processing your subscription.
By all appearances, players and owners remain far apart in their negotiations

Strong words from the World Series champion pitcher

The current tensions between players and owners aren't going away
MLB shared its economic proposal with the MLBPA earlier this week

MLB and MLBPA are continuing to negotiate, and tensions seem to be rising
The MLB commissioner was asked plenty of questions about the Astros on Sunday

The results of the BBWAA vote for the 2020 Hall of Fame class were announced on Tuesday