Kyle Lohse has been here before ... sort of
Kyle Lohse is still a free agent, with pitchers and catchers reporting to camp for some teams Sunday. Oddly enough, this isn't the first time Lohse has been in this situation.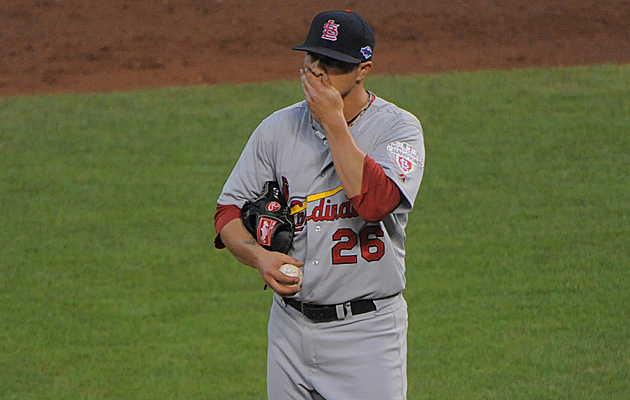 Still-jobless Lohse has been in this spot before, sort of. (US Presswire)
Sunday is Feb. 10. In looking at the pitchers and catchers report dates for camp this spring, one might notice that the Red Sox, Cubs, Indians and Rockies have a pitchers-and-catchers report date of Feb. 10. So, yes, Sunday will officially mark the end of the offseason and the beginning of spring training.
And free-agent starting pitcher Kyle Lohse still hasn't signed with anyone. He is 34 years old and coming off a season in which he went 16-3 with a 2.86 ERA and 1.09 WHIP. He finished seventh in NL Cy Young voting.
After turning down a qualifying offer of $13.3 million from the Cardinals in order to become a free agent, he's still without a job.
The funny thing is, last time Lohse was a free agent he entered camp jobless as well. After the 2007 season, Lohse became a free agent and went into mid-March without a job. That season, Lohse didn't sign until March 13, when he got his deal with the Cardinals.
Now, there's a difference in the two scenarios. At that point, Lohse was coming off a season in which he went 9-12 with a 4.62 ERA and 1.37 WHIP. He was 63-74 with a 4.82 ERA and 1.43 WHIP in his career at that point. Under the circumstances, it wasn't entirely shocking -- even if a little surprising -- for him to enter spring jobless.
Since then, though, Lohse has gone 55-35 with a 3.90 ERA and, again, is coming off a career year. In the past two seasons, he's 30-11 with a 3.11 ERA (122 ERA-plus) and 1.13 WHIP with just about 200 innings per season (399 1/3 total). He's obviously older, though not ancient and doesn't have any lingering injury issues or questions about his attitude.
So, yes, this time around I do consider it shocking Lohse still hasn't been signed. But, coincidentally enough, he has been here before. Sort of.
For more baseball news, rumors and analysis, follow @EyeOnBaseball on Twitter, subscribe to the RSS feed and "like" us on Facebook. Also, individually interact with us on Twitter: @MattSnyder27, @daynperry and @mikeaxisa.

Get 15 percent off any order of more than $75 at CBS Sports Shop

Get your sports fans something that they'll wear all year

No, you're not imagining things. This MLB offseason has been very slow compared to the last...
Francesa will retire from radio next month, so he'll have plenty of free time next summer

The Twins need help in the rotation, and they may look to the trade market to find arms

Here are the bullet-points of what went down Tuesday regarding MLB and the Braves' punishm...