La Russa's with MLB for now, but friends say he could join a team
Tony La Russa has taken a job with MLB's New York office but he's seen as a candidate for a big job with a team and will likely jump if the right opportunity arises.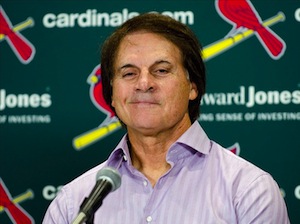 Just-retired iconic manager Tony La Russa has taken a job with MLB for now, but people who know La Russa say he'll jump at his first good opportunity to help run a franchise.
La Russa was reportedly in line to be a key part of Connecticut hedge fund giant Stevie Choen's failed bid to buy the Dodgers, and people close to La Russa say his competitive juices flow to the point where he's anxious to get back into the game with a team. It isn't certain whether La Russa could be a candidate for the winning biddder, the group led by basketball ledgend Magic Johnson and longtime baseball executive Stan Kasten.
La Russa is said by a Cardinals person to have had at least a very cordial relationship over the years with Kasten, the former Braves and Nationals president. The Dodgers' new team plans to keep GM Ned Colletti, at least in the forseeable future, but La Russa's likely executive role wouldn't be as GM, anyway. La Russa, a Northern California resident, is said to be willing to entertain opportunities with other teams, as well.
In the meantime, La Russa will serve as an adviser/consultant to
MLB
, working on special projects. His salary isn't known but it is believed far less than the reported $2.5 million. He will not be required to work out of the New York office.
One more thing seems pretty clear regarding La Russa's chances to join a franchise: those opportunities aren't as likely to come with the Astros, whose new GM is Cardinals executive Jeff Luhnow, or the Cardinals. La Russa had an long impressive tenure with the Cardinals that resulted in two surprise World Series championships and a long run of success, but it's pretty well known throughout baseball circles that he had a sometimes sticky relationship with several of his Cardinals bosses. 
Francisco leads the Dominican Winter League with seven home runs

Thome deserves enshrinement and here's why the case against him does not hold up

The Twins have already fortified the bullpen with Addison Reed, and now they want to address...
The Orioles likely want pitching, and the Indians have plenty of it

Halladay died in a November plane crash off the coast of Florida

The power-hitting outfielder is headed to Toronto