Lack of pitching depth getting exposed during Tigers' recent slide
The Tigers have lost eight of their last 14 games, mostly because their lack of pitching depth is starting to get exposed.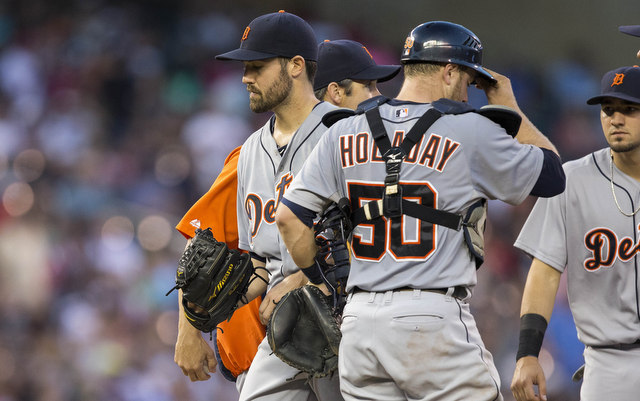 The weekend did not get off to a good start for the Tigers. They opened their series with the Twins with an ugly 20-6 loss on Friday night (box score), which is no fun. But this is baseball and blowouts happen every once in a while. Take the beating and move on.
Unfortunately for Detroit, they moved right on to another blowout. They lost the first game of Saturday's doubleheader to the Twins by the score of 12-4 (box score), so the Tigers allowed 32 runs to a Minnesota club with a 99 OPS+ in the spand of 20 hours or so. It wasn't pretty.
What stands out from these two games are the starters for the Tigers. They're in the middle of two heated races for postseason spots -- both the AL Central and second wild-card spot are up for grabs -- and these are the pitchers they ran out there:
Friday: LHP Robbie Ray -- six runs in 1 1/3 innings
Saturday: RHP Buck Farmer -- seven runs in 1 1/3 innings
There have been nine instances of a starter allowing at least six runs in no more than 1 1/3 innings this season, and only the Tigers have two of them. The club has now allowed at least six runs seven times in their last 14 games, pitching to a 5.11 ERA and going 6-8 during that time. That includes their 8-6 win in the second game of Saturday's doubleheader (box score).
Detroit had to turn to Ray and Farmer because Anibal Sanchez (pectoral) and Justin Verlander (shoulder) are both hurt. Verlander returned to the mound in the second game of Saturday's doubleheader -- he took a 4.76 ERA with him, the 88th highest among 96 qualified starters -- and allowed four runs in 5 2/3 innings.
The Tigers have had a powerhouse rotation over the years, with Sanchez and Max Scherzer joining Verlander while others like David Price and Doug Fister came and went. Rick Porcello was a nice complementary piece who has taken a big step forward this season. Every day they were running a quality starter out there.
That is no longer the case. Scherzer and Price are outstanding and Porcello has indeed broken out. Verlander is no longer the Justin Verlander of old, however, and Sanchez is currently on the disabled list for the second time this year. (He missed time with a finger injury back in May.) Fister is now with the Nationals following a questionable offseason trade that only looks more confusing at this point.
The duo of Scherzer and Porcello -- Detroit's rotation mainstays this year -- have combined for a 3.08 ERA in 341 1/3 innings this year. The rest of the rotation has a 4.42 ERA in 448 innings. That includes Sanchez (3.46 ERA in 145 innings) and Price (2.35 ERA in 30 2/3 innings). Ray (7.09 ERA) has made six starts while Farmer (15.54 ERA) has made two and Drew VerHagen (5.40 ERA) has made one.
The subtraction of the ultra-reliable Fister and the sudden demise of Verlander has left the Tigers with two big holes in their rotation, one they filled by acquiring Price. That trade was not a luxury, it was a necessity. Sanchez's pectoral injury created another rotation hole, one GM Dave Dombrowski has been unable to adequately fill internally.
If they make it to the postseason, the Tigers are set up better than any AL team thanks to Scherzer, Price, Porcello and a healthy Sanchez. If not Sanchez, then Verlander in the fourth spot. That's a formidable rotation for a short postseason series. Power arms who miss bats. It's a great recipe for success against fatigue-slowed bats in October.
Getting to the postseason is another matter. Sanchez is hurt and Verlander has not pitched well basically all season. Ray and others have not helped either. The Tigers are three games back in the AL Central and one game back of the second wild-card spot, and right now there are too many cracks in the pitching dam for them to keep pace during the day in, day out grind of regular season baseball.
The Marlins got a better return for Ozuna than Stanton or Gordon

The two teams are going about things in very different ways

The Marlins are indeed in teardown mode under new ownership
The Marlins still have more attractive pieces

The A's need outfield help, and the Cardinals have a glut

Minnesota has designs on the best starting pitcher available on the free agent market