Lance Berkman really, really hates Wrigley Field
The Rangers make a rare visit to Wrigley Field this week, and several Rangers players told a reporter they are excited to play in the venerable venue. Lance Berkman, however, is not. He hates Wrigley.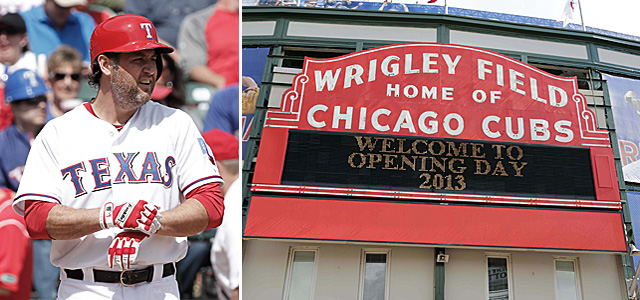 More MLB: Scoreboard | Standings | Probable Pitchers | Sortable Stats | Odds
Monday, the Rangers spent an off day in Chicago, preparing to play the Cubs in a three-game series at Wrigley Field this week, weather permitting. In light of how infrequently the Rangers visit Wrigley, Rangers beat writer Jeff Wilson (Fort Worth Star-Telegram) gathered quotes from several Rangers players who were excited to play there -- including Derek Holland, Mitch Moreland and former Cub Geovany Soto.
Lance Berkman, however, doesn't like Wrigley. And that's not a strong enough word to describe his feelings, it would appear.
"If they're looking for a guy to push the button when they blow the place up, I'll do it," he said (star-telegram.com).
And later: "Chicago's one of the worst places in baseball … really for anything," he said (star-telegram.com).
If there ever was a novelty to playing in Wrigley for Berkman, it long since went away. He's accrued 355 plate appearances in his career in Wrigley Field.
This really isn't all that surprising. For one, Berkman is a favorite of reporters everywhere because he always speaks his mind and provides a money quote. For another, there's no secret Wrigley is completely outdated -- especially for the players used to all the modern amenities available in the new stadiums. It's one of the many reasons the Cubs are looking to do a $500 million renovation project to restore their historic yard.
Still, I'm sure many Cubs fans will be angry about the above quotes and many non-Cubs fans will rush to the comments section to tell us all how much of a dump Wrigley is -- what would Al Gore's Internet be without the anonymous in-fighting?
L.A. manager Dave Roberts indicated that Puig's benching was related to more than one inci...

Manager Torey Lovullo said so on Monday

Let's see how SportsLine forecasts the race for MLB's 10 playoff spots
Monday kicks off the final week of MLB action. Let's take a look at everything that went d...

No other rookie in baseball history has hit more home runs than Judge has this year

Jays have said goodbye to Encarnacion and will to Bautista. Should they move on from Donaldson,...