Lance Lynn lets down Cardinals again
Lance Lynn has made two starts for the Cardinals this postseason -- both times he's dominated three innings before giving up four runs and failing to make it out of the fourth. Could Jake Westbrook return to the rotation in his spot if the Cardinals advance to the World Series?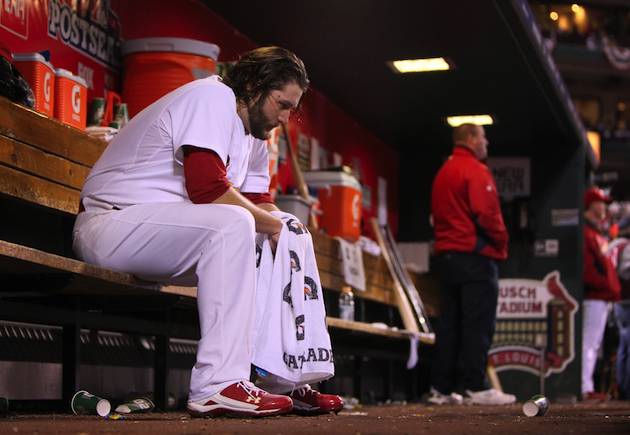 Lance Lynn's Game 5 start ended exactly as his Game 2 start did -- in the dugout in the fourth inning. (AP)
ST. LOUIS -- The Cardinals should have Jake Westbrook available for the World Series, and at this point, they may consider inserting him into the rotation. Rookie Lance Lynn pitched out of the bullpen in the wild card game and then three times in the National League Division Series against Washington.
Lynn made his second start in the National League Championship Series on Friday, and it was nearly identical to his first -- three dominating innings and a four-run fourth that saw Joe Kelly clean up his mess.
More playoff coverage
ALCS: Tigers vs. Yankees
NLCS: Cardinals vs. Giants
If the Cardinals can win another game, Westbrook has declared himself ready after throwing a simulated game earlier this week. The 35-year-old Westbrook hasn't pitched since Sept. 8 with an oblique injury, but he said following Friday's game that he was "ready to go."
In his first full Major League season, the 25-year-old Lynn was 18-7 with a 3.78 ERA, but was sent to the bullpen in August before returning to pick up victories in his final five starts after replacing the injured Westbrook in the rotation.
He didn't pitch particularly well in his three relief outings in the NLDS, but the Cardinals needed a starter after being stretched to five games in the best-of-five round, so he was the man to start Game 1. In San Francisco, he didn't allow a hit until the four-run Giants fourth, when he gave up five, including a triple and a double.
Friday he was even better to start -- retiring the first six batters he faced, including four in a row on strikeouts. He walked the first batter of the third, but got out of that unscathed. And like Game 1, he unraveled in Game 4, giving up back-to-back singles to start the inning, before recording his sixth strikeout of the game, getting Buster Posey for the first out. But his own throwing error on Hunter Pence's dribbler would be his undoing -- his throw to shortstop Pete Kozma hit the bag and bounced into the outfield, allowing a run to score. He then started struggling with his command, walking Gregor Blanco with two outs and then going to a full count with shortstop Brandon Crawford, who eventually singled in two more runs. When Barry Zito laid down a push bunt down the third-base line to score the Giants' fourth run of the inning, Mike Matheny came to get his right-hander.
"I thought he was as good as we've seen him all season those first three innings. He looked like he was untouchable," Matheny said. "He was mixing his off-speed pitches very well and executing his fastball instead of trying to throw past people. He was pitching."
After the game, Lynn answered all questions about his performance in terse terms, using usually a sentence or less. He took full responsibility for the runs, including his error, but didn't elaborate much.
As for his place in the rotation, Matheny wouldn't commit to anything immediately after the game.
"Moving forward, he's been a very, very good pitcher for us this season," Matheny said. "And we don't look any further past right now, for right now. And he's done a nice job for us, came out and I knew we were going to see a different pitcher, and I just was hoping it would last a little longer than it did."
For now, the Cardinals don't need to make that kind of decision, and obviously wouldn't want to alienate one of their young, talented starters by yanking him from the rotation when it's not even sure they'll need him to pitch again. But if St. Louis does win again, they will have to take a good look at how Westbrook is throwing and then make a difficult decision. While Westbrook won't dominate like Lynn can, he may also be less prone to blow-ups like the ones we've seen from Lynn in both his postseason starts.
For more baseball news, rumors and analysis, follow @EyeOnBaseball on Twitter, subscribe to the RSS feed and "like" us on Facebook.
Five months is mid-to-late March, so this could impact the 2018 season

Cubs manager Maddon becomes the first manager ever ejected twice in one postseason series

Closer Wade Davis pitched two innings in Game 4 to help force a Game 5
Also, how much did the Cubs increase their chances?

Los Angeles will have another chance to close the series out on the road

They're alive in the NLCS after their Game 4 win over the Dodgers