Leaderboarding: 500 HR, more unintentional walks than strikeouts
In honor of new Hall of Famer Frank Thomas, let's take a look at the hitters who combined power and discipline in the rarest of ways.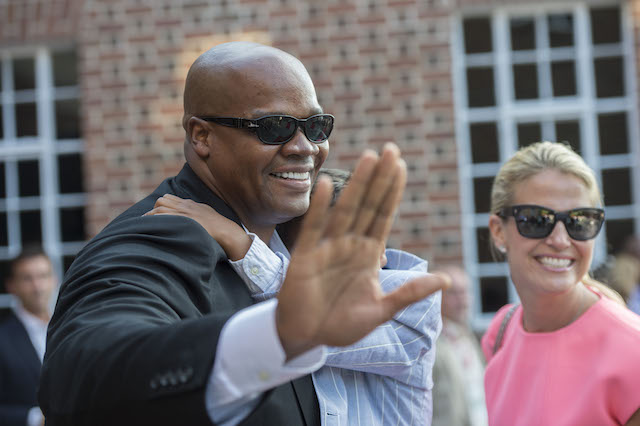 More MLB: Power Rankings | Expert Picks | Latest news & notes | Fantasy news
Slugger Frank Thomas went into the Baseball Hall of Fame on Sunday, so let's devote this episode of Leaderboarding to hitters of his rare skill-set. 
Specifically, how many hitters tallied 500 or more home runs, as Thomas did, while also racking up more unintentional walks than strikouts, as Thomas did? As the thinking goes, power requires a powerful swing, but powerful swings lend themselves to whiffs. Rare is the player like Thomas, who commands the strike zone while also putting up gaudy power numbers. 
Now let's have a look, sorted by career home runs, of those 500-HR club members who had more UBBs (i.e., intentional walks are excluded when possible) than Ks. As will soon be explained, we'll have to make some assumptions when it comes to those who played in the era before intentional walk data were tracked ... 
500 or more home runs, more unintentional walks than strikeouts
Player
Home Runs
Strikeouts
Unintentional walks
Barry Bonds
762
1,539
1,870
Babe Ruth*
714
1,330
2,062 total walks
Frank Thomas
521
1,397
1,499
Ted Williams
521
709
1,935 (estimated)
Mel Ott*
511
896
1,708 total walks
Gary Sheffield
509
1,171
1,345
First, an explanation about the asterisks (*) above. In the cases of Ruth, Ott and Jimmie Foxx (not listed), who all have more walks than strikeouts, we're making some assumptions. This is because they played before intentional walk data was kept. The walk-strikeout margins of Ruth and Ott are, in my opinion, sufficient to assume that they'd qualify. In Foxx's case, however, his walks exceed his strikeouts by a figure of "just" 141, and the guess here is that "the Beast" had more than 141 free passes in his career. So he's left off. 
In the case of Williams, we have only partial data, but the gap is wide enough to assume safely that he meets the criteria. 
As for Thomas, you can see that he has the third most homers of any player to notch more unintentional walks than strikeouts. Also bear in mind that, like Bonds and the under-appreciated Sheffield, Thomas toiled in a higher-strikeout era than did Ott, Ruth and Williams. 
These days, it's a feat for a power hitter to log more walks of any kind than strikeouts in a single season. But the Big Hurt, who, lest we forget, played not too long ago, combined power and restraint over his entire 19-year career like few others ever did. 
A Hall of Famer indeed. 
Our Latest Stories
Another team rumored to be interested in Stanton has confirmed their interest

Chris Woodward has spent the last two seasons with the Dodgers

We heard about it being awful for years, but was it?
Then again, three trades in four days might be behind Jerry Dipoto's usual pace

Ohtani is arguably the best hitter and pitcher in Japan

The O's need rotation help, and Cobb is available for hire