Leaderboarding: Albert Pujols' statistical ranks among 500 HR club
Albert Pujols joined the 500 home run club on Tuesday. Where does he rank among his peer in various other stats? Let's find out.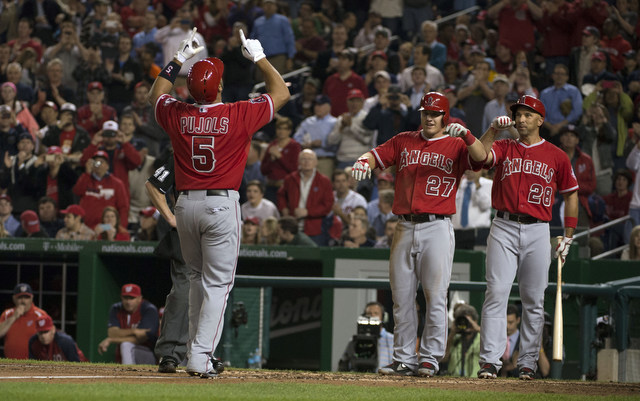 More MLB: Power Rankings | Expert Picks | Latest news & notes | Fantasy news
On Tuesday night, Albert Pujols swatted two home runs to become the 26th member of the 500 home run club. The milestone may have become diluted a bit in recent years but it is still an impressive career total. There's no doubt Pujols is already among the all-time greats.
Just how great has Pujols been to this point of his career? Here is where he ranks among 500-homer club members in various categories.
BATTING AVERAGE
1. Ted Williams -- .344
2. Babe Ruth -- .342
3. Jimmie Foxx -- .325
4. Albert Pujols -- .320
5. Manny Ramirez -- .312
ON-BASE PERCENTAGE
1. Ted Williams -- .482
2. Babe Ruth -- .474
3. Barry Bonds -- .444
4. Jimmie Foxx -- .428
5. Mickey Mantle -- .421
...
9. Albert Pujols -- .409
SLUGGING PERCENTAGE
1. Babe Ruth -- .690
2. Ted Williams -- .634
3. Jimmie Foxx -- .609
4. Barry Bonds -- .607
5. Albert Pujols -- .598
OPS
1. Babe Ruth -- 1.164
2. Ted Williams -- 1.116
3. Barry Bonds -- 1.051
4. Jimme Foxx -- 1.038
5. Albert Pujols -- 1.007
OPS+
1. Babe Ruth -- 206
2. Ted Williams -- 190
3. Barry Bonds -- 182
4. Mickey Mantle -- 172
5. Albert Pujols -- 165
HITS
1. Hank Aaron -- 3,771
2. Willie Mays -- 3.283
3. Eddie Murray -- 3,255
4. Rafael Palmeiro -- 3,200
5. Frank Robinson -- 2,943
...
21. Albert Pujols -- 2,370
DOUBLES
1. Hank Aaron -- 624
2. Barry Bonds -- 601
3. Rafael Palmeiro -- 585
4. Eddie Murray -- 560
5. Manny Ramirez -- 547
6. Albert Pujols -- 529
TRIPLES
1. Willie Mays -- 140
2. Babe Ruth -- 136
3. Jimmie Foxx -- 125
4. Hank Aaron -- 98
5. Ernie Banks -- 90
...
24. Albert Pujols -- 15
RUNS DRIVEN IN
1. Hank Aaron -- 2,297
2. Babe Ruth -- 2,214
3. Barry Bonds -- 1,996
4. Alex Rodriguez -- 1,969
5. Jimmie Foxx -- 1,922
...
23. Albert Pujols -- 1,512
WALKS
1. Barry Bonds -- 2,558
2. Babe Ruth -- 2,062
3. Ted Williams -- 2,021
4. Jim Thome -- 1,747
5. Mickey Mantle -- 1,733
...
24. Albert Pujols -- 1,074
STRIKEOUTS
1. Ted Williams -- 709
2. Albert Pujols -- 842
3. Mel Ott -- 896
4. Gary Sheffield -- 1,171
5. Ernie Banks -- 1,236
STOLEN BASES
1. Barry Bonds -- 514
2. Willie Mays -- 338
3. Alex Rodriguez -- 322
4. Gary Sheffield -- 253
5. Hank Aaron -- 240
...
15. Albert Pujols -- 94
WAR
1. Babe Ruth -- 163.0
2. Barry Bonds -- 162.4
3. Willie Mays -- 156.2
4. Hank Aaron -- 142.6
5. Ted Williams -- 123.1
...
13. Albert Pujols -- 93.7
They still would much rather grab the AL East, however

Sale becomes the first AL pitcher to reach 300 strikeouts since 1999

Steve Balboni's long-standing record of 36 has finally fallen
Several players called for the netting to be extended down the base lines following Wednesday's...

Maria made landfall as a Category 4 on Wednesday

The players are trying to do their job and don't want to see anyone hurt