Leaderboarding: Bonds, Clemens and the best non-Hall of Famers
Which eligible players who aren't in the Hall are tops according to WAR? Let's find out.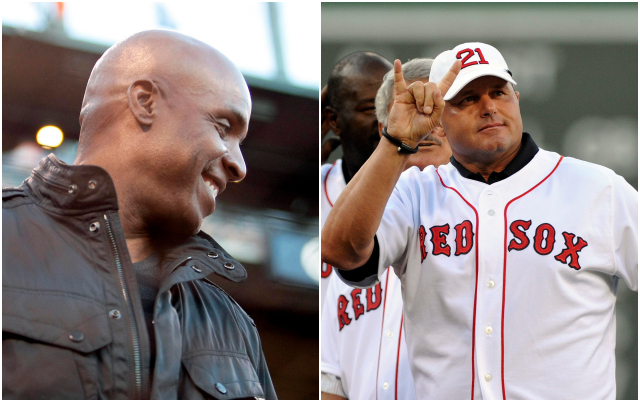 MORE: The Hall of Fame case for Barry Bonds | The Hall of Fame case for Roger Clemens
While on the topic of the 2014 BBWAA Hall of Fame vote, let's take a brief detour and have a look at the best players who are or have been eligible for induction but aren't in the Hall of Fame. More specifically, which post-1900 players who have appeared on the BBWAA ballot at least once in the past but did not earn the necessary 75 percent have the highest career WAR?
To clarify, active players like Alex Rodriguez and Albert Pujols aren't eligible for inclusion on the list to come. The same goes for retired players appearing on the ballot for the first time in 2013-14 (e.g., Greg Maddux and Frank Thomas) or in the years to come (e.g., Randy Johnson and Chipper Jones). Just those players who have appeared in the ballot at least once before and didn't make it are being considered. 
Preemptive strike: No, WAR -- or Wins Above Replacement -- is not the final word in player valuation, but it demonstrably is a useful way to gauge the general worth of a player with one single statistic. So we're using it for these purposes.
Obviously, Barry Bonds and Roger Clemens figure to feature prominently, but what other players make it? Are they one and all those of a recent vintage who have been kept out because of PED suspicions? Let's find out ...
Highest career WAR by eligible non-Hall of Famers
Player
Career WAR (with all-time rank)
Highest BBWAA vote %
Barry Bonds
162.5 (4th)
36.2%
Roger Clemens
140.3 (8th)
37.6%
Curt Schilling
79.9 (62nd)
38.8%
Jeff Bagwell
79.5 (63rd)
59.6%
Lou Whitaker
74.8 (77th)
2.9%
Larry Walker
72.6 (85th)
22.9%
Rafael Palmeiro
71.8 (87th)
12.6%
Bobby Grich
71.0 (90th)
2.6%
Alan Trammell
70.4 (94th)
36.8%
Rick Reuschel
70.0 (98th)
0.4%
There's Bonds and Clemens -- two of the best ever -- and there's Bagwell, who's been unfairly lumped in with known PED users. Then there's Palmeiro, of course, and that's the extent of the "steroid era" casualties. As for Schilling and Walker, their omissions have more to do with faulty perceptions of their value rather than PED suspicions.
Every player on the list is, per WAR, one of the 100 greatest of all-time, as you can see. As for the voting percentages, Bagwell's is the only one that portends future election (he's on the ballot this year for just the fourth time, so 11 more to go), barring unforeseen changes to the electorate. Since players fall off the ballot once they fall below 5.0 percent, it's hard to overstate the extent to which Whitaker got screwed by the voters. The same goes for Grich, albeit to a lesser extent. 
For those wondering, Pete Rose (career WAR of 79.4), who'd be a first-ballot selection absent that gambling scandal and absent his not being eligible, would slot in just behind Bagwell on the list above. 
Our Latest Stories
The Yankees are still looking for rotation help

The Rangers' lefty and wife Heidi have done a very good deed

Will J.D. Martinez be Boston's next target?
Could catcher J.T. Realmuto be the next Miami player to be traded?

If the slow-play for Martinez, Hosmer and Arrieta sounds familiar, it should

The Nats will host the All-Star Game in 2018