Leaderboarding: Craig Biggio and the power-speed combo
Hall of Fame candidate Craig Biggio was flashed both power and speed. Now let's see where he ranks among the best hard-hitting speedsters.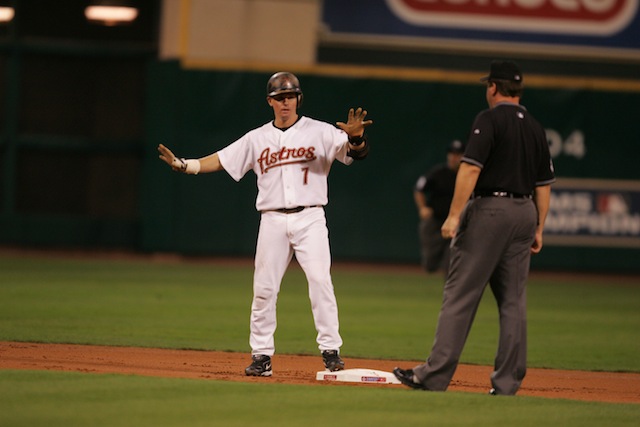 Related: Breaking down Biggio's Hall of Fame case 
If you survey the Hall of Fame case of Astros legend Craig Biggio, you'll note he was one of those rare players who boasted both power (more than 1,000 career extra-base hits) and speed (more than 400 stolen bases). Such a union of skills is a rare find. 
After all, when we think of sluggers, we often think of large-bodied corner defenders who bang the ball over and off the wall but don't do much else. And when we think of speed merchants, we tend to think of slightly built shortstops and center fielders who slash line drives around the park, beat out infield singles, pilfer bases and pick it in the field. Some of the very best players in baseball history, though, combined the top attributes of both kinds of players.
In order to get an idea of who was the most adept at hitting for power while flashing chops on the bases (and, to an extent, in the field, as foot speed relates quite strongly to defensive excellence), we'll turn to a simple Bill James concoction called the "power-speed number." It's not meant to be any kind of tool for rigorous analysis or statements of player value. Rather, it's a quick-and-dirty number that James came up with to put a value to the sentiments behind the "30-30 club" and similar designations. Here's the (very) simple formula:
2(HR x SB)/(HR+SB)
Like we said, quick and dirty. And now, the all-time career leaders in "power-speed number" ... 
Highest career power-speed numbers
Player
Career power-speed number
Barry Bonds
613.90
Rickey Henderson
490.41
Willie Mays
447.45
Alex Rodriguez
431.53
Bobby Bonds
386.01
Joe Morgan
385.90
Andre Dawson
365.78
Hank Aaron
364.22
Craig Biggio
341.77
Sammy Sosa
338.09
As you can see, the list is populated by some of the very best names in baseball history. Among them you have five Hall of Famers, one soon-to-be Hall of Famer (Biggio) and three would-be-Hall-of-Famers-under-normal-circumstances in Bonds, A-Rod and Sosa. In this rather narrow sense, Biggio is indeed walking with baseball gods like Mays and Aaron.
In terms of single-season power-speed number, A-Rod holds the all-time record with his mark of 43.91 in 1998.