Leaderboarding: Hard-hitting second basemen
In honor of Jeff Kent's Hall of Fame case, let's see where he ranks among the best offensive second basemen of all-time.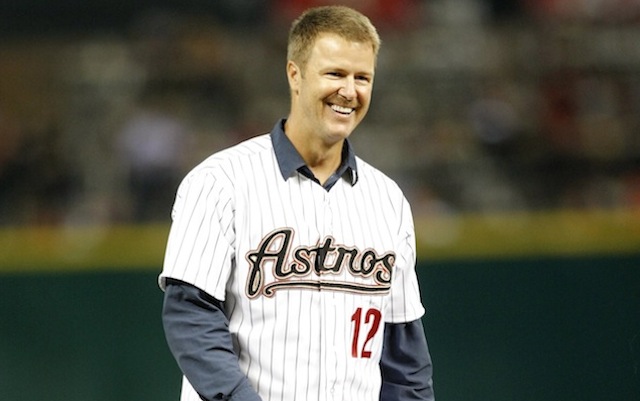 MORE: FA tracker: position players | FA tracker: pitchers
Earlier in this very space we ran down the Hall-of-Fame pros and cons of Jeff Kent, longtime, hard-hitting second baseman. As noted, Kent's raw offensive numbers are deeply impressive by the standards of the position, but they're leavened somewhat by the hitter-friendly era in which he played. So how do those two dueling considerations play out?
To put Kent and other great-hitting second basemen in context, we'll turn to a statistic we often use here: OPS+. OPS+ is simply the more familiar OPS (i.e., on-base percentage plus slugging percentage) adjusted to reflect league and ballpark conditions. An OPS+ of 100 means average, a figure of fewer than 100 is worse than average and a figure of more than 100 is better than average. For instance, an OPS+ of 110 is a park-adjusted OPS that's 10 percent better than the league mean, while an OPS+ of 87 is 13 percent worse than the league mean. 
Now, in this episode of Leaderboarding, let's rank those players who logged at least 5,000 career plate appearances and played at least 75 percent of their career games at second base according to career OPS+. 
To the big board ... 
Second basemen, sorted by career OPS+
Player
OPS+
Plate appearances
Nap Lajoie
151
8,256
Eddie Collins
142
12,041
Joe Morgan
132
11,329
Chase Utley
126
5,671
Larry Doyle
126
7,382
Robinson Cano
125
5,791
Bobby Grich
125
8,220
Charlie Gehringer
124
10,244
Jeff Kent
123
9,537
Tony Lazzeri
121
7,314
Among the 10 names above you find five Hall of Famers (Lajoie, Collins, Morgan, Gehringer and Lazzeri). As for Kent, as you can see he checks in at ninth all-time, so he could rake even by the high offensive standards of his era. Kent also places fourth on this list in terms of total plate appearances. 
Other observations ... Yes, Utley has been that good on a rate basis. Yes, so has Cano. And, yes, Bobby Grich should probably be in the Hall (ditto for Lou Whitaker and his OPS+ of 117). Where's Rogers Hornsby? He was the greatest right-handed hitter of all-time (career OPS+ of 175), but he just misses the "at least 75 percent of career games must be played at second base" criterion. 
Our Latest Stories
This would undoubtedly be the worst trade in Miami Marlins history

The Pirates recently shipped Gerrit Cole and Andrew McCutchen to Houston and San Francisco,...

Surely, Martinez and his agent are holding out for more
The reliever had a very good 2017 season with the NL Central champs

We don't need to discuss Chipper's Hall of Fame case, so let's have fun instead

Dioner Navarro still hopes to return someday