Leaderboarding: Home run leaders since Hank Aaron's 715th homer
Forty years ago today, Hank Aaron broke Babe Ruth's long-standing home run record. Who has gone deep the most times since then?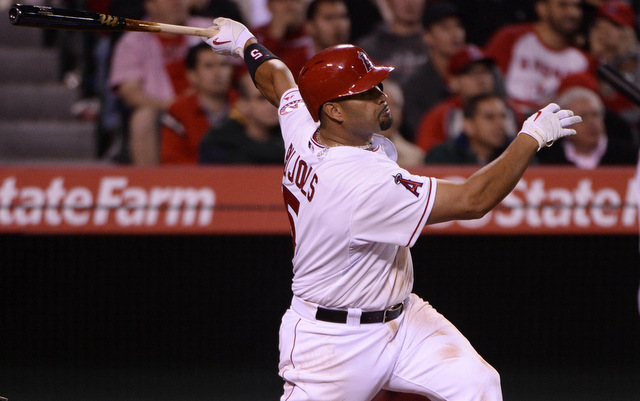 More MLB: Scoreboard | Standings | Probable Pitchers | Sortable Stats | Odds
On this date way back in 1974, Hank Aaron swatted his 715th career home run to become the all-time home run king, breaking Babe Ruth's record. He finished his career with 755 homers, and he held the record until Barry Bonds hit his 756th career dinger in 2007.
Just about every baseball fan knows Bonds, Aaron and Ruth have hit the most, the second most and the third most home runs in baseball history, respectively. But what about the home run leaderboard since Aaron broke Ruth's record? Obviously Bonds sits atop that list, but who comes after him?
In this edition of leaderboarding, we're going to look at the baseball's home run leaderboard since the date Aaron broke Ruth's record, so April 8, 1974. I was surprised to see just how few of these players are still active. With an assist from the Baseball Musings Day-by-Day Database, here is the leaderboard:
Barry Bonds -- 762 home runs
Alex Rodriguez -- 654
Ken Griffey Jr. -- 630

Jim Thome

-- 612
Sammy Sosa -- 609
Mark McGwire -- 583
Rafael Palmeiro -- 569
Manny Ramirez -- 555
Mike Schmidt -- 528
Frank Thomas -- 521
Gary Sheffield -- 509
Eddie Murray -- 504
Fred McGriff -- 493
Albert Pujols -- 492
Carlos Delgado -- 473
Chipper Jones -- 468
Dave Winfield -- 462
Jose Canseco -- 462
Jeff Bagwell -- 449
Vladimir Guerrero -- 449
Only 10 other players have hit as many as 400 home runs since Aaron broke Ruth's record. Of the 30 guys with 400+ homers since Aaron's record breaker, only seven are still active: A-Rod, Pujols, Adam Dunn (442), Jason Giambi (438), Paul Konerko (434), David Ortiz (432) and Alfonso Soriano (406). Saying A-Rod is active is generous as well.
Maxwell joins a growing movement across sports

The Yankees punched their ticket to the playoffs with a win over the Blue Jays on Saturday

Sabathia's stance seems to be an increasingly popular one among athletes
Plus the A's and Brewers have hope, Giancarlo goes deep again, and much more

Matt Chapman and Matt Olson give the A's hope

Despite an awful month, the Dodgers are again NL West champions