Leaderboarding: Jackie Robinson's great, late production
Jackie Robinson is among many all-time greats when we examine numbers only from the age-28 (Robinson's age at his debut) season on.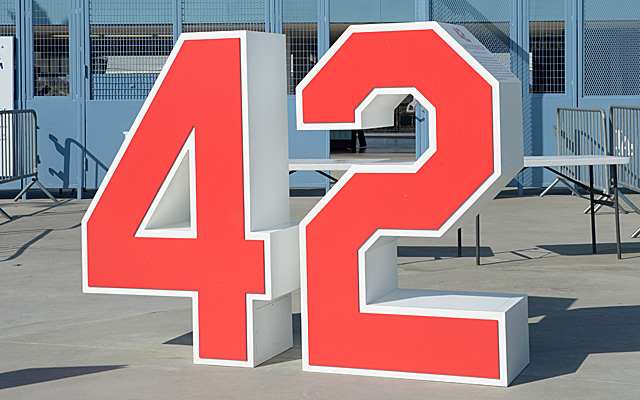 More MLB: Power Rankings | Expert Picks | Latest news & notes | Fantasy news
With Tuesday being Major League Baseball's annual celebration of Jackie Robinson's debut -- and breaking of the color line in the process -- I figured I'd delve into some of his numbers. As I mentioned earlier, his career was about much more than numbers, but he did put up some pretty impressive numbers nonetheless.
Due to segregation, Robinson didn't even debut until he was 28 years old. So his career counting stats aren't knock-you-over-the-head ridiculous, but we have to realize that it comes with the caveat that he only got 10 full seasons when he very well could have had 15 or more in a different era.
With that in mind, let's take a look at some of the top performers when we start with every players' age-28 season. Who collected at least 1,500 hits and 100 home runs while hitting over .300 and getting on base at over a .400 clip going from their age-28 seasons through the rest of their careers? Twelve guys, Robinson included. Here they are, sorted by hits.
Thanks, as always, to the excellent baseball-reference.com play index.
Top Age-28-on performers
Player
No. of seasons
Hits
HRs
AVG
OBP
Stan Musial
15
2405
365
.323
.412
Edgar Martinez
14
2034
296
.314
.422
Babe Ruth
13
2027
517
.344
.479
Barry Bonds
15
1951
586
.312
.477
Charlie Gehringer
12
1933
144
.321
.412
Chipper Jones
13
1855
315
.304
.404
Ted Williams
14
1729
356
.340
.480
Todd Helton
12
1728
213
.309
.413
Manny Ramirez
12
1642
357
.315
.417
Lou Gehrig
9
1582
306
.338
.451
Jackie Robinson
10
1518
137
.311
.409
Harry Heilmann
10
1518
112
.364
.437
I intially was going to throw in stolen bases, but that wouldn't have been too much fun. Only Robinson (197) and Bonds (263) had more than 100. Overall, it's a pretty impressive list for sure. The goal was to show that Robinson could have had pretty stellar counting stats had his career been a full one at the MLB level and that was achieved.
Of course, I couldn't help but let my mind wander to what could have been done by the likes of Oscar Charleston, Cool Papa Bell, Satchel Paige and Josh Gibson, among others, absent segregation. Alas, we'll never know.
Regardless, it's a day to celebrate Robinson instead of dreaming about what could have been. What we do know is that his 10-year career was outstanding.
Mark Appel was one of the players being moved about on Monday night

Garrett Cooper is the answer to a trivia question

We still don't know if Ohtani will be jumping to the majors yet
Kinsler is a free agent next winter

Opening Day will be Thursday, March 29 -- the earliest opening day in MLB history

The World Series champion and big-time wrestling fan was on hand Sunday night