Leaderboarding: Mike Fiers' rare, strikeout-happy outing
Brewers starting pitcher Mike Fiers had 14 strikeouts in just six innings pitched Thursday. How rare is that? Here's a list of the guys who struck out at least 14 in six or fewer innings since 1914.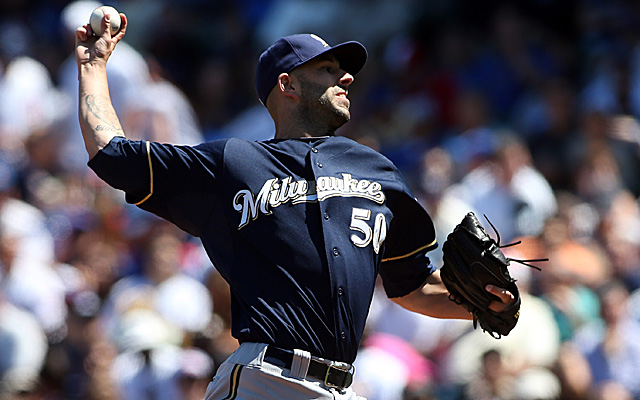 More MLB: Power Rankings | Expert Picks | Latest news & notes | Fantasy news
The first-place Milwaukee Brewers managed to salvage a four-game split in Wrigley Field against the Cubs this week, thanks to a 6-2 win Thursday. It was a team effort, but starting pitcher Mike Fiers deserves a bulk of the credit, as he worked six shutout innings, allowing only three hits and one walk while striking out 14.
Yes, Fiers recorded 18 outs and 14 of those were strikeouts. It was just the eighth time since 1914 (and likely MLB history, since strikeouts generally weren't racked up at a high pace prior to 1914 -- it's just that baseball-reference.com's play index doesn't go back any further).
Here's the updated list, from most recent:
Aug. 14, 2014: Mike Fiers, 6 IP, 14 strikeouts
May 30, 2010: Max Scherzer, 5 2/3 IP, 14 strikeouts
June 12, 2007: Kelvim Escobar, 6 IP, 14 strikeouts
July 6, 2005: A.J. Burnett, 6 IP, 14 strikeouts
June 3, 2001: Randy Johnson, 6 IP, 14 strikeouts
April 27, 2001: Kerry Wood, 6 IP, 14 strikeouts
July 25, 1989: Nolan Ryan, 6 IP, 14 strikeouts
Sept. 18, 1966: Sam McDowell, 6 IP, 14 strikeouts
Fiers' outing was one of just two in which zero runs were allowed, with Scherzer being the other. Scherzer didn't finish the sixth and walked four, however, so Fiers has the best outing on this list.
With Matt Garza on the disabled list, Fiers was called upon to plug the hole in the rotation. Not only did he dominate Thursday, but on Saturday he only gave up three hits, one walk and one earned run in eight innings while striking out five and picking up the win against the first-place Dodgers.
Not bad work for a fill-in, huh?
Nice work, Mr. Fiers.
Yelich's agent recently asked the Marlins to trade him before the spring

I've only been in the BBWAA three years, but here's what my ballot would've looked like this...

In the last two votes, Clemens has gained nearly 17 percent in Hall of Fame voting
The results of the BBWAA Hall of Fame vote are revealed Wednesday, Jan. 24

Does the Jackson signing mean the Giants are out on Lorenzo Cain?

Acuna edged out Shohei Ohtani and Vladimir Guerrero Jr.