Leaderboarding: Most infield hits, bunts for hits
What players have the most infield hits this season? Further, what players have specifically done so via the bunt most often? It's time for Leaderboarding.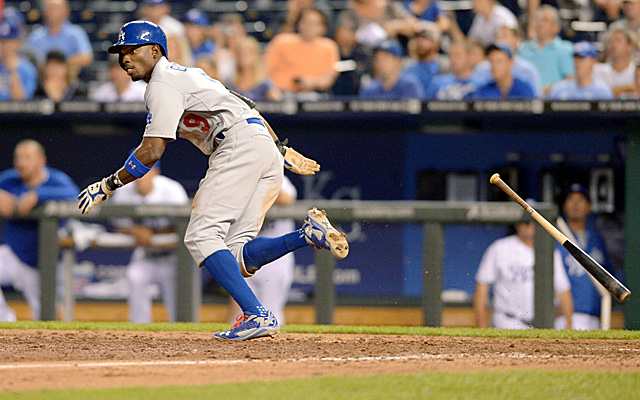 Previously in Leaderboarding: Best pitchers at leaving guys on base
In a version of leaderboarding last week, we took a look at the players who most often take the extra base. Let's again concentrate on speed -- seriously, the power hitters and power pitchers get plenty of attention -- but go back to players getting from home plate to first base.
That is, which speedsters have gotten to first base via the infield hit most often this season (hat-tip to James Smyth on Twitter). After that, let's check out who have done so via the bunt most often.
To the Leaderboarding machine.
MLB leaders in infield hits (via baseball-reference.com AL/NL)
1. Dee Gordon , Los Angeles Dodgers , 39
2. Billy Hamilton , Cincinnati Reds , 26
3. Jean Segura , Milwaukee Brewers , 24
4. Jose Altuve , Houston Astros , 23
4. Adam Jones , Baltimore Orioles , 23
6. Adam Eaton , Chicago White Sox , 22
6. Yasiel Puig , Dodgers, 22
6. Alexei Ramirez , White Sox, 22
9. Carlos Gomez , Brewers, 21
10. Elvis Andrus , Texas Rangers , 20
10. Howie Kendrick , Los Angeles Angels , 20
Obviously one won't find any slow players on here, but it's good to see the hustle from guys with good power like Jones, Puig and Gomez. No surprise that Gordon and Hamilton sit at the top, but it's at least mildly surprising just how big that gap is.
The difference, though, can't be attributed to speed. Gordon's batted ball rates show that he's putting himself in a far better position to succeed on this front and considering the respective skill sets here. He's at 58.1 percent groundballs right now compared to 20.1 percent fly balls (the 21.8 percent line drives are the rest). Hamilton, meanwhile, is at 40.1 percent grounders and 36.9 percent fly balls. Hamilton does have a touch more power, but he might be able to up that on-base percentage -- which is ultimately what his team needs the most from him -- by taking the approach Lou Brown required Willie Mays Hayes to take.
The Gordon approach here would seem to be of that ilk. Only 10 players in all of baseball have hit the ball on the ground at a higher rate this season. 
As far as bunting for a hit, though, the two are at a dead heat.
MLB leaders in bunt hits (via baseball-reference.com AL/NL)
1. Dee Gordon, Dodgers, 12
1. Billy Hamilton, Reds, 12
3. Danny Espinosa , Washington Nationals , 9
4. Erick Aybar , Angels, 7
4. Asdrubal Cabrera , Cleveland Indians , 7
4. Jarrod Dyson , Kansas City Royals , 7
4. Jean Segura, Brewers, 7
8. Nori Aoki , Royals, 6
9. Alejandro de Aza, White Sox, 5
9. Craig Gentry , Oakland Athletics , 5
9. Carlos Gomez, Brewers, 5
9. Anthony Gose , Toronto Blue Jays , 5
9. Brandon Guyer , Tampa Bay Rays , 5
9. Bryan Holaday , Detroit Tigers , 5
9. Leonys Martin , Rangers, 5
9. Michael Saunders , Seattle Mariners 5
9. Denard Span , Nationals, 5
Not surprisingly, you'll find a mix here of some of the game's better speedsters and leadoff men in addition to some lesser hitters who have great speed. A few like Cabrera and Saunders were mild surprises, but neither are slow by any stretch.
The biggest surprise is easily Holaday, a catcher with fewer than 100 plate appearances. Lots of circumstances were involved in his specific case, but it's impressive nonetheless.
Maybe as the game evolves in terms of defensive shifts we'll start to see some big-time lefty power hitters make a mark, but for now the best we have is Chicago Cubs slugger Anthony Rizzo with three (two coming in the same game).
From 1 to 25, the L.A. Dodgers have the squad to overcome the pitfalls of October baseball

After Tuesday night's win over the Cubs, the Dodgers are now 6-0 in the 2017 playoffs

Los Angeles beat Chicago once more in Game 3 of the NLCS in Chicago
The 2017 World Series begins Oct. 24

The Astros will need Dallas Keuchel and Justin Verlander to take the pressure off in Games...

Judge and Sanchez played huge roles in the Game 4 comeback