Leaderboarding: Randy Johnson and best lefty strikeout artists ever
There are nine left-handers in baseball history with at least 2,000 strikeouts who struck out at least seven batters per nine innings. At the top of the list is Randy Johnson.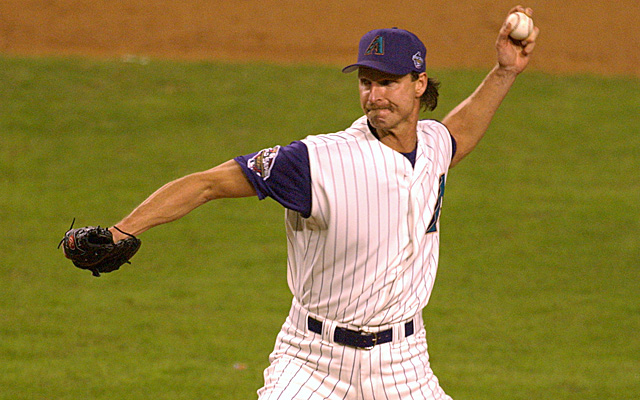 Throwback Rumor: Big Unit almost went to Cleveland in 1998
Earlier Sunday, we hopped in our virtual time machine and went back to the summer of 1998, when the Indians nearly landed Randy Johnson. As we now know, the Big Unit put together a Hall of Fame resume and went down in baseball history as one of the greatest strikeout pitchers of all-time.
If we narrow the discussion to left-handed pitchers, however, there's little doubt that Unit was the best ever at striking out opposing hitters.
In fact, by several measures, it isn't even close.
Here are the nine pitchers in baseball history who were/are left-handed, with at least 2,000 career strikeouts and a strikeout rate (strikeouts per nine innings or K/9) of at least seven. We'll also include strikeout-to-walk rate (K/BB), the percentage of opposing batters faced that were struck out (K%) and raw strikeout total (K). Just for kicks, I also included WAR.
Johnson's lead in every category is quite imposing. The chart is sorted by K/9, but interestingly enough, the K% also lined up.
Best left-handed strikeout pitchers ever
Name
K
K/9
K%
K/BB
WAR*
Randy Johnson
4875
10.61
28.6
3.26
104.1
Sandy Koufax
2396
9.28
25.2
2.93
53.2
Sam McDowell
2453
8.86
23.2
1.87
42.9
CC Sabathia
2389
7.75
20.7
2.86
54.4
Mark Langston
2464
7.49
19.6
1.91
50.2
Chuck Finley
2610
7.35
19.1
1.96
58.4
Rube Waddell
2137
7.23
n/a**
2.94
55.2
Steve Carlton
4136
7.13
19.1
2.26
84
Mickey Lolich
2832
7.01
18.7
2.58
48.9
Where Johnson ranks among the best left-handed pitchers in baseball history is something we'll tackle next offseason -- when he's eligible for the Hall of Fame -- but for our purposes here, there shouldn't even be an argument: Randy Johnson is the best left-handed strikeout pitcher in baseball history.