Leaderboarding: Top free-agent stat projections for 2014
Which 2013 free agents -- signed or still on the market -- figure to provide the most value in the season to come?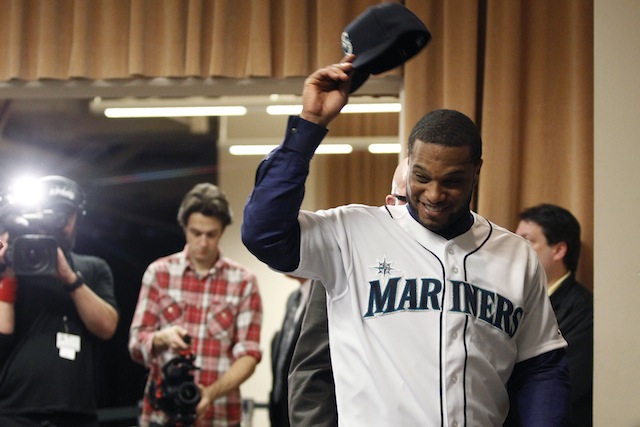 Previously in Leaderboarding: 100-mph pitches | Relievers stranding runners | Quality starts | Hitters in 0-2 counts | RBI percentages | Taking the extra base | Looking strikeouts|Pitch-framers | Best hitting pitchers | Arencibia All-Stars | Relievers in tough spots | Pitchers and GIDPs
It's time for another lucky-best episode of Leaderboarding!
In this edition, we're going to cast forward to 2014 and look at which of the current crop of free agents -- already signed or still on the market -- figure to provide the most value in the season to come. We're not considering "value on the dollar" or likely performance trends beyond 2014; it's simply about what kind of on-field value they'll provide next season and next season alone.
Obviously, this is all about guesswork, and for said guesswork we'll lean on the Steamer projections available at FanGraphs. We'll sort the two lists (one for position players, one for pitchers) by estimated 2014 WAR, but we'll also include some more rank-and-file stats for context.
First up, the hitters (note: we're not including any players who had options exercised for 2014, just actual free agents). By way of reminder, WAR for position players takes into account not only batting but also performance in the field and on the bases ...
Class of 2013 free-agent projections for 2014 season: Position players
Player/Projected stats
AVG/OBP/SLG, HRs
WAR
Robinson Cano, Mariners
.292/.363/.487, 23
5.2
Jacoby Ellsbury, Yankees
.276/.334/.417, 15
3.8
Brian McCann, Yankees
.255/.334/.452, 24
3.7
Shin-Soo Choo, unsigned
.272/.385/.432, 18
3.2
Juan Uribe, Dodgers
.242/.304/.396, 17
2.8
Carlos Ruiz, Phillies
.274/.344/.415, 9
2.7
Jhonny Peralta, Cardinals
.265/.325/.400, 11
2.7
David Murphy, Indians
.266/.334/.420, 15
2.4
Omar Infante, Royals
.288/.325/.407, 9
2.2
Corey Hart, Mariners
.257/.325/.456, 23
2.2
No surprise to see Cano at the top of the heap. Also no surprise to see Ellsbury in second place, what with the pricey market valuations of those two players. As you can see, the Yankees did a nice of job of papering over the eventual loss of Cano with the signings of Ellsbury and McCann, although, obviously, that value is spread over two roster spots rather than one. Sayeth Steamer, Choo is the best position player left on the market, and I would agree.
As for conspicuous absences, Mike Napoli of the Red Sox just misses with a projected 2.1 WAR for 2014, and Curtis Granderson of the Mets is next in line with a WAR forecast of 2.0 for the season to come.
Now for the hurlers. Bear in mind that FanGraphs' version of pitcher WAR is largely informed by the elements of the game over which the pitcher has the most control -- i.e., strikeouts, walks and home runs allowed ... 
Class of 2013 free-agent projections for 2014 season: Pitchers
Player/Projected stats
ERA, Innings
WAR
Masahiro Tanaka, unsigned*
3.69, NA 
4.5#
A.J. Burnett, unsigned
3.49, 192
3.8
Hiroki Kuroda, Yankees
3.94, 192
3.4
Gavin Floyd, unsigned
3.73, 153
2.7
Josh Johnson, Padres
3.60, 182
2.7
Scott Kazmir, Athletics
3.67, 163
2.6
Jeff Francis, unsigned
4.08, 192
2.6
Jason Hammel, unsigned
4.11, 182
2.4
Ervin Santana, unsigned
3.81, 153
2.4
Jerome Williams, unsigned
4.12, 182
2.4
 Data courtesy of Steamer, FanGraphs and NOM Projections
(Some quick housekeeping ... *Tanaka has not yet been posted by his NPB club, but that's expected to happen at some point this offseason. #Tanaka's estimated WAR comes from NOM Projections, which estimates a 2014 WAR of between four and five for the import right-hander -- hence, the 4.5 listed above. Innings forecast not available at this time.)
Interesting! As you can see, several Steamer-approved arms are still on the market. Notably absent are free agents Matt Garza (projected WAR of 1.9) and Ubaldo Jimenez (projected WAR of 1.4), so beware of overpay there. Joe Nathan, like almost any modern reliever, simply can't compare to even mid-line starters in terms of overall value (that's a consequence of pitching just 60 to 70 innings per season), which explains his absence. In light of the above, is Gavin Floyd the potential "stealth pitching value" of the winter? That seems an uncertain proposition, what with him coming off Tommy John surgery in May, but the underlying skills are there. 
As always, we have you covered on this front with our updated free agent tracker. 
Our Latest Stories
The Grapefruit League and Cactus League seasons started on Friday

Data will be collected and then used to determine whether humidors are necessary in 2019

Spring training play began on Friday, and the Stoneman Douglas tragedy was on the mind of MLB...
Baseball players forced to take pictures usually lead to fun for all of us

One of the most celebrated programs in baseball is looking to continue its run

A closer look at the teams in the Cactus League and Grapefruit League