Leaderboarding: Tyson Ross' underrated, consistently good season
How many pitchers in all of baseball have had more starts with at least seven innings pitched and one run or fewer allowed than Padres' starter Tyson Ross? Just one.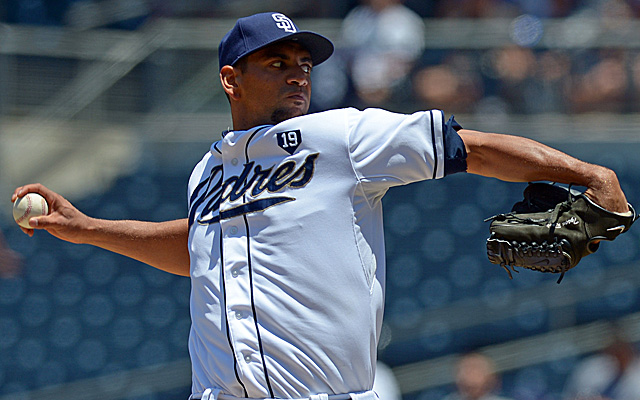 More MLB: Power Rankings | Expert Picks | Latest news & notes | Fantasy news
Padres starting pitcher Tyson Ross threw a shutout Wednesday, helping his team to complete a three-game sweep of the previously white-hot Reds. And though Ross is pretty unheralded -- sporting a 7-8 record on a bad team will do that for you -- he's actually having a pretty great season.
Please, as you should do much of the time, ignore the record. That's a team stat and the Padres have a historically bad offense supporting their poor hurlers.
Ross has a 2.93 ERA, 1.20 WHIP and 111 strikeouts in 116 2/3 innings. By no means are those elite numbers, but they are very good and certainly worthy of attention. Few pitchers have put together more gems than Ross this season, too.
Let's go to baseball-reference.com's excellent play index to illustrate.
Ross has 11 starts with at least six innings pitched and two or fewer earned runs. Here are the guys who have done it more often:
1. Johnny Cueto, Reds, 15 times
2. Adam Wainwright, Cardinals, 14
2. Julio Teheran, Braves, 14
2. Felix Hernandez, Mariners, 14
5. Jason Vargas, Royals, 13
5. Aaron Harang, Braves, 13
7. Mark Buehrle, Blue Jays, 12
7. Masahiro Tanaka, Yankees, 12
Let's up things to seven innings with no more than two earned runs. Only six pitchers have done that at least 10 times.
1. Wainwright, 13
1. King Felix, 13
3. Cueto, 12
4. Teheran, 11
5. Tim Hudson, Giants, 10
5. Ross, 10
How about at least seven innings pitched with one run or fewer allowed? We're talking elite company.
1. Wainwright, 11
2. King Felix, 8
2. Teheran, 8
2. Ross, 8
5. Cueto, 7
5. Alfredo Simon, Reds, 7
Six players have done it six times and 10 players have done it five times. So a total of 22 pitchers this season have had at least five outings with at least seven innings pitched and allowed no more than one earned run. And Tyson Ross has done it a whopping eight times.
Most of the above pitchers will be named to the All-Star team -- and rightfully so -- later this week. My guess is Ross won't even get a sniff and that Seth Smith [or Huston Street, as noted in the comments] will be the lone San Diego representative.
Ross ranks 13th in the NL in ERA, fifth in innings pitched, sixth in strikeouts, 19th in WHIP and opposing hitters have managed a .228/.300/.336 line against him this season.
So why isn't his record better than 7-8? Well, the hapless Padres have scored two runs or less in nine of his 18 starts. Only seven NL pitchers have had worse run support throughout the season, including two teammates and the unsurprising "leader," Jeff Samardzija (the Cubs average 2.41 runs per game when he starts).
Let us be better than allowing ourselves to be distracted by a win-loss record attached to an individual and instead focus on the context. Tyson Ross is having an outstanding season, regardless of how little support his offense gives him.
L.A. manager Dave Roberts indicated that Puig's benching was related to more than one inci...

Manager Torey Lovullo said so on Monday
Let's see how SportsLine forecasts the race for MLB's 10 playoff spots

Monday kicks off the final week of MLB action. Let's take a look at everything that went d...

No other rookie in baseball history has hit more home runs than Judge has this year