Leaderboarding: Who's been tops in 2014 at taking the extra base?
Let's devote this installment of 'Leaderboarding' to an overlooked aspect of base-running.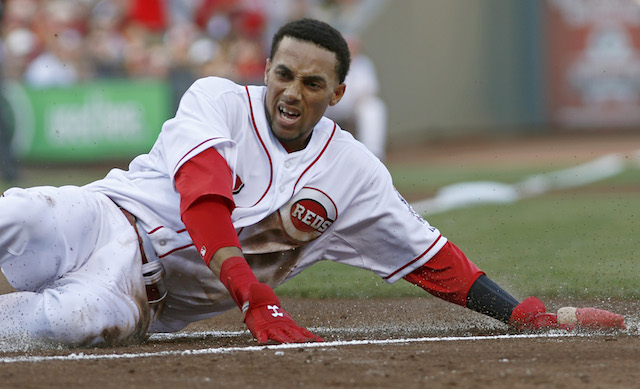 More MLB: Power Rankings | Expert Picks | Latest news & notes | Fantasy news
Typically, when we talk about base-running excellence, we talk about stolen base totals or a player's raw speed out of the box. Those are important elements, to be sure, but a large part of base-running value is the ability to take the extra base a high percentage of time. 
Thanks to God's own Baseball-Reference, we have at our disposal the relevant data. B-Ref, with its "Extra Base Taken Percentage," tracks how often each base-runner successfully takes two (or more) bases on a single or goes from first to home on a double. Obviously, batted-ball placement and batted-ball authority on the part of the hitter have more than a little something to do with taking the extra base, but the runner's speed (think Billy Hamilton) and instincts (think Albert Pujols in his prime) also play a big role.
Now, let's see which qualifiers lead MLB this season in Extra Base Taken Percentage (EBT%). Note: Figures are rounded ... 
Extra Base Taken Percentage leaders, 2014
MLB rank
Base-runner
2014 EBT%
1.
Jean Segura, Brewers
78%
2.
Elvis Andrus, Rangers
76%
3.
Brian Dozier, Twins
67%
4.
Dee Gordon, Dodgers
65%
5.
Desmond Jennings, Rays
64%
6.
Scooter Gennett, Brewers
63%
7.
Adam Jones, Orioles
63%
8.
Billy Hamilton, Reds
62%
9.
Ian Kinsler, Tigers
62%
10.
Anthony Rendon, Nationals
62%
Now for some quick obersvations on these and other data ... 
- Surprised to see any of the above names? You shouldn't be. By and large, these guys are fast and or adept at avoiding outs on the bases. It's certainly not shocking to see the hasty likes of Gordon and Hamilton on here. 
- Segura's defense at short is spotty, he's struggled with the bat this season, and he's been caught stealing eight times in 23 attempts. That said, he's adding value by taking the extra base such a high percentage of the time. As you can see, he and Andrus are ahead of the remainder of the field by a comfortable margin.
-  He didn't make the cut, but Jayson Werth of the Nationals leads MLB this season when it comes to going first to third or scoring from first on a single. He's done that 17 times in 2014. For those who are curious, Werths EBT% checks in at 56.
- Speaking of those who didn't make the list, Hunter Pence of the Giants (2014 EBT% of 57) leads MLB when it comes to scoring from first on a double. He's pulled that feat off nine times thus far. 
- Where's Ben Revere? The Phillies' fly-catcher leads MLB in base-running WAR (in a related matter, he's 26-of-29 in steals this season), and while he obviously didn't make the top 10 he still has a respectable EBT% of 58. 
- The Pirates Josh Harrison would've made the top 10 with his EBT% of 68, but his 265 plate appearances to date fall short of qualifying status.
- A number of non-qualifiers have taken the extra base 100 percent of the time, but none of them has played very much. Matt den Dekker leads the "100 percent club" with 49 plate appearances on the season. He's been on base just 11 times this year. 
- As for the somewhat-related "bases taken" stat -- which includes advances on sac flies, passed balls, wild pitches, balks and defensive indifference rulings -- who leads in 2014? You might be surprised to hear that it's Marlins slugger Giancarlo Stanton, who's taken advantage of 22 such opportunities.  
- When it comes to a team-wide knack for taking the bonus bag, the Dodgers, Brewers and Mariners top the loop with a percentage of 47. Pulling up the rear? The Astros have an EBT% this season of just 33. 
Our Latest Stories
The Astros scored seven runs in Game 6 after scoring nine runs total in Games 1-5

The Astros are still alive, and Justin Verlander is the reason why

With a six-run lead in the ninth, the Astros used closer Ken Giles for 23 pitches
On Saturday night in Houston, it'll be CC Sabathia against Morton

The ALCS will go the distance after all with the Astros offense coming back to life in Game...

Verlander's stuff was insane during Game 6 of the ALCS