Leaderboarding: Who's the best at working the opposing pitcher?
Let's take a look at the most patient hitters of 2014, per one illuminating measure.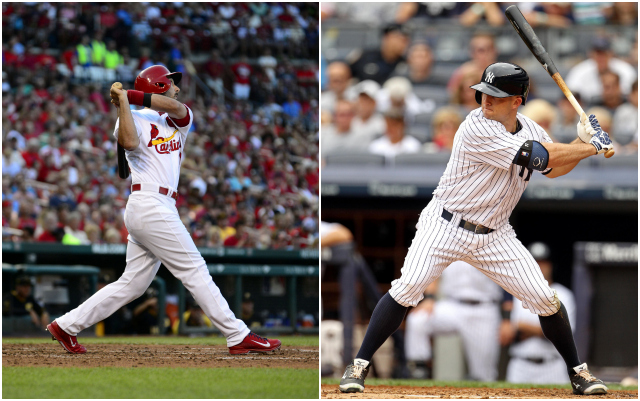 More MLB: Power Rankings | Expert Picks | Latest news & notes | Fantasy news
It's good to be patient at the plate. By taking pitches not in your wheelhouse, you often work your way to pitch you can crush or, absent such an offering, work your way to first via the walk. None other than Ted Williams would advocate such an approach. There's also the added benefit of making the opposing pitcher work harder, thus perhaps hastening his exit. 
When it comes to those hitters in 2014 who've been the best at making the opposing twirler break a sweat, we've got 10 names for you. They'll be sorted by average number of pitches seen per plate appearance, and the list of leaders in this category includes some very familiar names.
To the leaderboard ... 
Pitches seen per plate appearance, 2014 qualifiers
Rank
Hitter
Pitches/PA
Total pitches seen
1.
Mike Napoli, Red Sox
4.49
1,775
2.
Mike Trout, Angels
4.46
2,316
3.
Brett Gardner, Yankees
4.45
2,212
4.
Carlos Santana, Indians
4.37
2,058
5.
Adam Dunn, White Sox
4.36
1,701
6.
Matt Carpenter, Cardinals
4.35
2,265
7.
Christian Yelich, Marlins
4.23
1,935
8.
Brock Holt, Red Sox
4.19
1,588
9.
Chris Davis, Orioles
4.18
1,745
10.
Brian Dozier, Twins
4.18
2,193
Featured prominently is, of course, Mike Trout, who's emerged as the preeminent "take and rake" guy in the game today (a bit surprised not to see Jose Bautista on here -- he ranks 30th this season). There's also the famously patient likes of Dunn. It's also not surprising to see Carpenter on here, as he seems to take a preternatural delight in working the count. Carpenter and Trout, it so happens, have seen the most total pitches in all of baseball this season. That's what happens when a patient approach meets uncommon durability. 
The most impressive presence on the list might be Carpenter's and Gardner's. Gardner, despite his outburst of sorts this season, isn't a power hitter, so he's not feared by pitchers in that specific sense. More than 60 percent of the pitches he sees are strikes. When he offers at pitches, he makes contact almost 85 percent of the time, and he's struck out swinging less than 10 percent of the time. Carpenter, who like Gardner isn't a frontline power threat, fares even better in these regards. 
It's one thing to be a power hitter who's getting pitched around and thus runs up counts. It's another thing to be getting challenged and still be able to work the pitcher thanks to a deep understanding of the strike zone. That's the area in which Gardner and Carpenter -- primary leadoff hitters, both -- stand out.  
Make the pitcher throw strikes. It's old, obvious advice, but not everyone follow it. These 10 guys very much do. 
Our Latest Stories
There's no reason to run over the cases for and against Bonds, so let's have fun instead

The coveted right-hander would certainly be a fit in Milwaukee

We rate the best mustaches from random baseball cards because, why not?
Colon wants to break a Dennis Martinez record

The Twins have been rumored to be interested in Darvish all winter

Rolen is one of the best third basemen of all time, but you wouldn't know it based on this...