Lefty Scott Rice wins job in Mets' bullpen after 14 years in the minors
Left-hander Scott Rice won a job in the Mets' bullpen this spring after spending 14 years in the minors and independent leagues.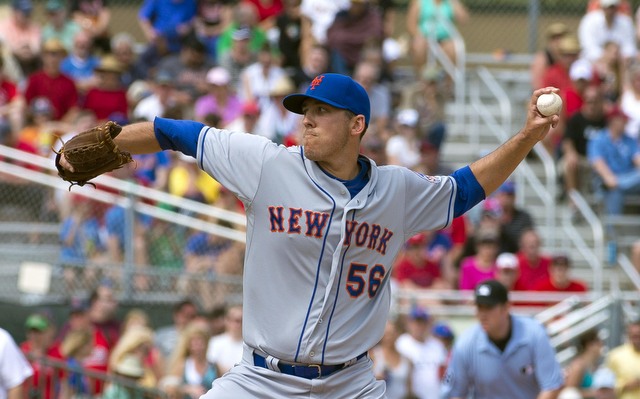 Now here's a pretty neat story. The Mets announced on Friday that left-handed reliever Scott Rice has been added to the 40-man roster and will open the season in the team's bullpen. Players win bullpen jobs in camp all the time, but it's not often they do it after 14 years in the minor leagues.
Rice, now 31, was the 44th overall pick way back in the 1999 draft. The Orioles selected him out of a Southern California high school and he remained in their farm system for eight years, not reaching the Triple-A level until 2006. Since then he's bounced between four different organizations and three different independent league clubs.
Along the way, Rice made 54 starts and 426 relief appearances in the minors leagues. He pitched to a 4.08 ERA with a 1.44 WHIP in 805 innings, but never once made it to the big leagues. Rice almost made the Dodgers out of spring training last year, but they took veterans Mike MacDougal and Jamey Wright instead.
Rice had a solid spring -- 3.18 ERA with 10 strikeouts in 11 1/3 innings -- and will presumably serve as manager Terry Collins' second lefty reliever behind Josh Edgin. Minor League Central says Rice posted a 10.5 K/9 and a 62.7 percent ground ball against left-handed hitters in Triple-A last year, which is promising.
After 14 years of riding buses and peanut butter and jelly sandwiches, I'm sure that first big-league paycheck and solo hotel room on the road will be extra special. Congrats to Rice for not giving up his dream and finally making it to the show. I truly hope he sticks around awhile.
In other roster news, the Mets announced RHP LaTroy Hawkins , RHP Scott Atchison , OF Marlon Byrd and C Anthony Recker have all made the team. LHP Robert Carson was sent to Triple-A after losing the roster battle with Rice. IF Reese Havens and LHP Darin Gorski were designated for assignment to clear 40-man roster space.
The lefty starter is coming off a terrible season

After acquiring Ian Kinsler and Zack Cozart in recent days, the Angels are trending upward

Cozart's coming off a big season as the Reds' shortstop
The veteran slugger spent the last eight seasons with Cleveland

The Padres may be poised for an active winter

Yes, Bryce Harper is going to make a lot of money next winter